Pink Talking Fish just announced their 2019 fall tour which includes festivals, headlining at premier venues, multiple night runs, and a variety of concept shows including the debut of a PTF Kids show. Pink Talking Fish perfectly fuses the sounds of Pink Floyd, Talking Heads and Phish, creating a fresh and exciting experience for fans. The band features Eric Gould on bass, Richard James on keyboards, Zack Burwick on drums and Cal Kehoe on guitar.
Fall tour kicks off Labor Day Weekend on the beach at Ocean Mist in Rhode Island, before other stops like the Umphrey's McGee after-party in Asbury Park, NJ and Lake George for the Adirondack Music Festival. The band will close out their festival season at the Harvest Jazz & Blues Festival in New Brunswick, Canada. Throughout October, Pink Talking Fish will stay on the East Coast with shows in Washington DC, Virginia, Georgia, North Carolina, Ohio, Pennsylvania and a stop at Buffalo Iron Works in Buffalo, NY on October 24. The show in DC will be a special 'Dark Side of the Moon' concept where the band will perform the classic album intertwined with Talking Heads and Phish in between the album cuts. The Halloween show, held at The National in Richmond, VA, will create a 'PTF is Bowie' experience featuring a fusion of music from Pink Floyd, Talking Heads, Phish, and David Bowie.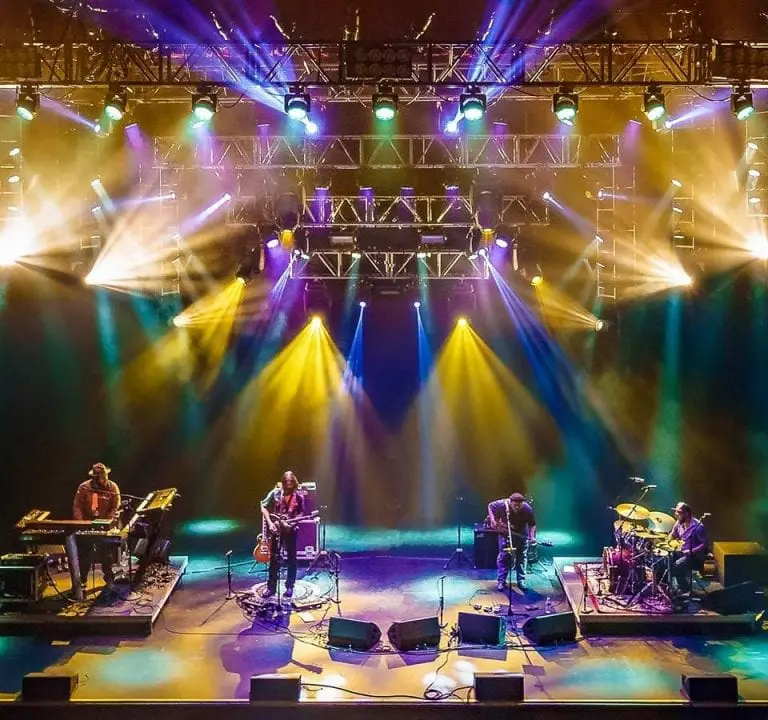 November starts off with a three-night run at Sweetwater Music Hall in California, each day will feature a different theme. On Friday November 1, PTF will perform their 'Animals' concept, combining Talking Heads and Phish with Pink Floyd's Animals album, and Saturday night will see a West Coast twist on the band's 'PTF is Bowie' concept. Sunday afternoon, the band will be putting a very special 'Pink Talking Fish (4 Kids)' show that will be an interactive experience the whole family can enjoy. Throughout December, PTF will be making stops at Montage Music Hall in Rochester, NY and Beachland Ballroom & Tavern in Columbus, OH before going out to Colorado to close out the tour, and then coming back east to Paradise Rock Club in Boston, MA for New Year's Eve. See the full list of upcoming shows below.
For more information and tickets, check out the PTF website.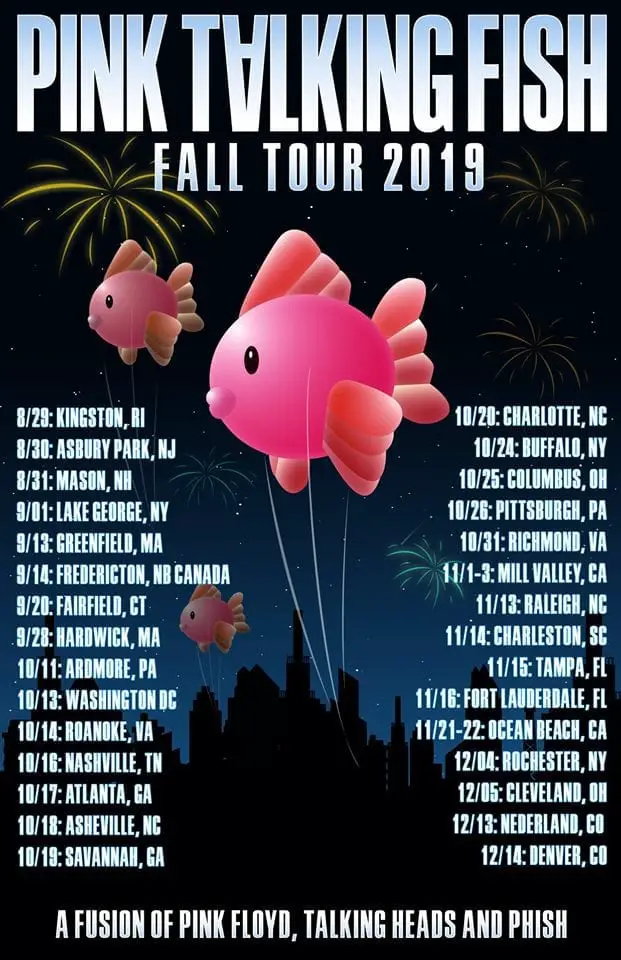 SUMMER TOUR: 
July 19 – Bath, NH – Jerry Jam 
July 20 – Patchogue, NY – Great South Bay Music Festival 
July 24 – Middletown, NY – Orange County Fair  
August 2 – Hartford, CT – Infinity Hall 
August 3 – Waitsfield, VT – Bear North on Sugarbush Mountain 
August 8 – Norwick, NY – NBT Bank Free Thursday Concert Series 
August 16 – Long Beach Island, NJ – Bird & Betty's 
August 17 – Bethel, NY – Yasgur's Woodstock 50th Anniversary Reunion on Yasgur's Farm  
FALL TOUR: 
August 29 – Kingston, RI – Ocean Mist 
August 30 – Asbury Park, NJ – Wonder Bar for Umphrey's McGee AfterParty 
August 31 – Mason, NH – Marty's Summer Concert Series 
September 1 – Lake George, NY – Adirondack Independence Music Festival 
September 13 – Greenfield, MA – Wormtown Music Festival 
September 14 – Fredericton, NB Canada – Harvest Jazz & Blues Festival 
September 20 – Fairfield, CT – The Warehouse at FTC 
September 28 – Hardwick, MA – MTG Pheno Cup Music & Arts Fest 
October 11 – Ardmore, PA – Ardmore Music Hall 
October 13 – Washington DC – The Hamilton  
October 14 – Roanoke, VA – 5 Points Music Sanctuary 
October 16 – Nashville, TN – The Basement East 
October 17 – Atlanta, GA – The Loft 
October 18 – Asheville, NC – Asheville Music Hall 
October 19 – Savannah, GA – Southbound Brewing Company 
October 20 – Charlotte, NC – The Neighborhood Theatre 
October 24 – Buffalo, NY – Buffalo Iron Works 
October 25 – Columbus, OH – Woodlands Tavern 
October 26 – Pittsburgh, PA – The Rex Theater 
October 31 – Richmond, VA – The National
November 1 – Mill Valley, CA – Sweetwater Music Hall
November 2 – Mill Valley, CA – Sweetwater Music Hall
November 3 – Mill Valley, CA – Sweetwater Music Hall – Pink Talking Fish (4 Kids) 
November 13 – Raleigh, NC – Lincoln Theatre 
November 14 – Charleston, SC – Pour House 
November 15 – Tampa, FL – The Orpheum wsg Runaway Gin
November 16 – Fort Lauderdale, FL – Revolution Live wsg Runaway Gin
November 21 – Ocean Beach, CA – Winston's 
November 22 – Ocean Beach, CA – Winston's 
December 4 – Rochester, NY – Montage Music Hall 
December 5 – Cleveland, OH – Beachland Ballroom 
December 13 – Nederland, CO – The Caribou Room 
December 14 – Denver, CO – Summit Music Hall 
NEW YEARS EVE: 
December 31 – Boston, MA – Paradise Rock Club