With a summer tour progressing steadily along, and each subsequent venue seemingly raising the bar higher at each stop, expectations for the upcoming set of Phish shows at Saratoga Performing Arts Center were at a fever pitch. The band never seems to disappoint at this classic Upstate NY shed. Coming off of three stellar shows in Camden, marked with a notably missing "Tweezer Reprise" from the final night, expectations about the SPAC opener (and rest of the show) were rampant and lofty.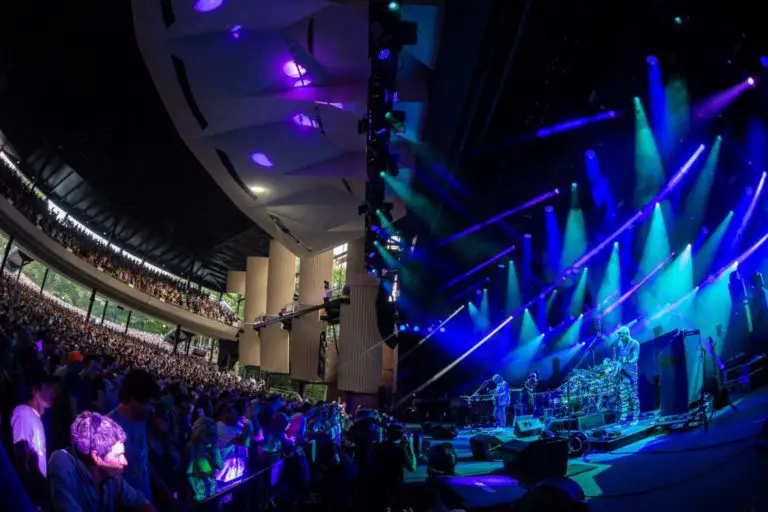 In vintage Phish fashion, the band bypassed the "Tweezer Reprise" opener many expected to happen as a nod to the unfinished business in Camden and replaced it with a first-time-played cover of The Everly Brothers' "Cathy's Clown," leading to a confusing and somewhat mellow start. Afterwards, the expected "Reprise" was delivered in full force which fired up the crowd instantly and began a long stretch of high energy rock anthems, including "Carini," a song that's already opened two previous shows this tour. A silky smooth transition of funk from "AC/DC Bag" to "The Moma Dance" then followed before a mid set "Theme From the Bottom" that served as a respite of sorts. A rare performance of "Home" was a welcome surprise in the first set and set the waves in motion for the powerful "Bathtub Gin" that followed. That would have been more than sufficient for a complete first set, but Phish had other ideas and tacked on the perennial "Walls of the Cave" set closer in typical high octane, raucous fashion.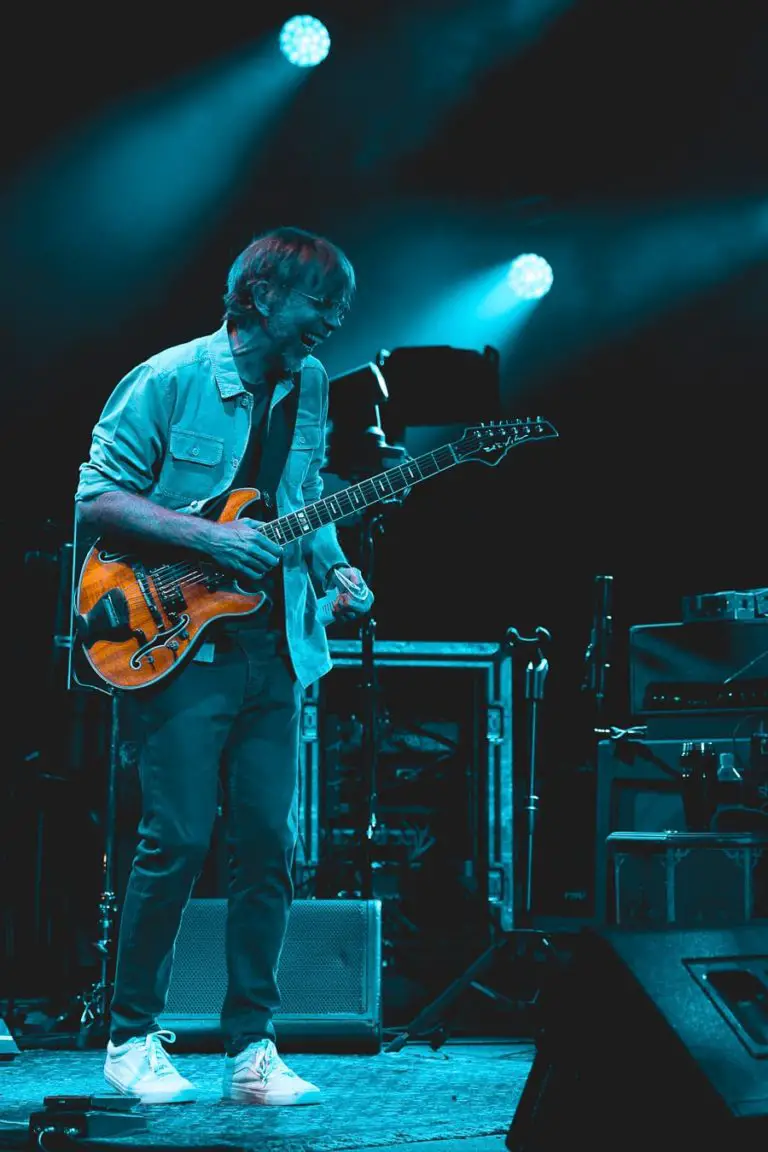 After a brief "Cool Amber and Mercury" to open Set 2, Mike Gordon provided the opening bass slaps to "Down with Disease" and with that we were off and running with a 21 minute gem of a jam. This instant classic found its way into the full "Scents and Subtle Sounds," complete with intro which was soundchecked earlier that night, then dipped into "Twist" to continue a set of deep exploration. From there, the energy was sustained with "Wilson" > "Scent of a Mule" and "Fuck Your Face," before a mild breather in the form of "Halley's Comet." The set closed out with a "Harry Hood" that closed out yet another Phish set that sustained the all killer/no filler trend that has been steady since Camden.
For the encore, much discussion led to Fishman tapping the kick drum to signal the start of "Fee," which found Trey having megaphone issues but still pushed through with the help of the audience. "A Life Beyond a Dream" from Ghosts of the Forest, built up towards a pleasant landing ground, and after slight discussion, Phish wrapped up their second 3-song encore in a row with "First Tube." Trey ran around the and marched from stage left to stage right hamming it up with the fans as he burned through the pinnacle show closer.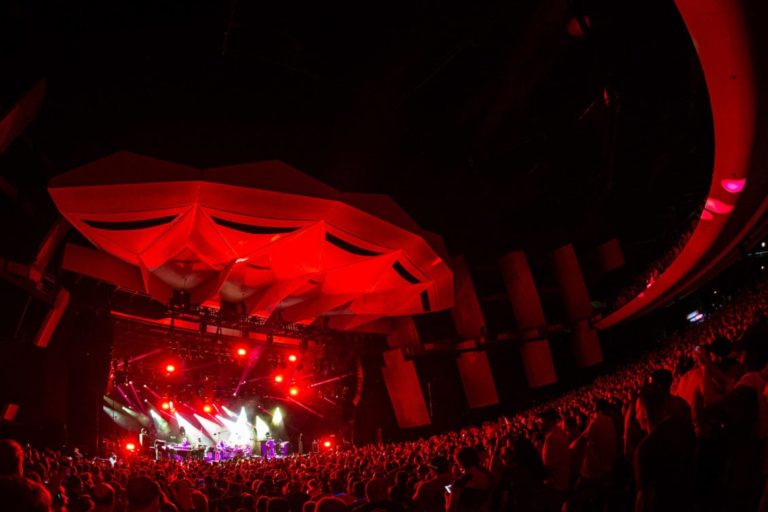 Setlist via Phish.net
Soundcheck: Home, A Life Beyond a Dream, Scents and Subtle Sounds (intro)
SET 1: Cathy's Clown[1], Tweezer Reprise > Carini > AC/DC Bag > The Moma Dance > Theme From the Bottom, Meat, Home > Bathtub Gin > Walls of the Cave
SET 2: Cool Amber and Mercury > Down with Disease[2] > Scents and Subtle Sounds > Twist > Wilson > Scent of a Mule[3], Fuck Your Face > Halley's Comet > Harry Hood
ENCORE: Fee, A Life Beyond The Dream, First Tube
[1] Phish debut
[2] Unfinished
[3] Lyrics changed to reference Cathy's Clown
For round two the following day, Phish dusted off some classics to once again provide a memorable concert experience.  The show opening notes of "Fluffhead" called to mind the explosive opener of their epic reunion show in 2009. And, from there, the hits just kept on coming. "Guyute" the ugly pig finally made an appearance this tour and was followed by a long overdue "Llama." The first set energy may have peaked with a frenetic, Mike Gordon-led "Crazy Sometimes" which gave way to the classic one-two punch of "The Horse" and "Silent in the Morning."
Wednesday's second set centered around some of the newer songs in the Phish canon, like the opening "No Men in Man's Land."  Other notable sequences included a delightful WACTOOB sandwich – that would be the Kasvot Vaxt number "We Are Come to Outlive Our Brains" placed neatly between two pieces of "Plasma." As if that weren't enough, "Tweezer Reprise" then made another brief but ferocious appearance afterwards, a nod to the opener many expected yesterday. Another older Phish staple in "Sneakin' Sally Through the Alley" was then broken out before a sublime "Slave to the Traffic Light" marked the end of the set.  A cover of the Velvet Underground's "Rock and Roll" brought the festivities to a proper close as patrons and vendors alike shuffled out of SPAC slowly, with dreams of the 4th of July and a weekend of upcoming shows in Boston in their head.
Soundcheck: Guyute, Foam, Friend (x2)
SET 1: Fluffhead, Guyute, Martian Monster, Llama, Steam > Poor Heart > Crazy Sometimes > The Horse > Silent in the Morning,Sleep, Drift While You're Sleeping
SET 2: No Men In No Man's Land > Dirt > Plasma -> We Are Come to Outlive Our Brains -> Plasma -> Tweezer Reprise > The Wedge > Sneakin' Sally Through the Alley -> Run Like an Antelope, More > Slave to the Traffic Light
ENCORE: Rock and Roll