Hello readers, I have finally made it back safely from my trip into the paranormal carnival that lives every year on the farm in Manchester, Tennessee. Yes my friends I am of course referring to the annual Bonnaroo Music & Arts Festival, now a larger than life gathering of existence and culture from around the world. I first attended Bonnaroo many moons ago, as a wide-eyed teenager, and it has been an absolute pleasure to return under the NYS Music banner to report back to you on all my findings there. I arrived of course with some foggy memory of what life on the farm was like, but no blurry recollection from years ago could prepare me for my trip through the wormhole and into the fertile cradle of vivacity that is Bonnaroo. Allow me to spin you a yarn of my discoveries as I breathed in all that this country's largest camping festival had to offer.  After all, Bonnaroo is indeed the beautiful mecca of discovery. Come with me as I gaze back at my wonderful weekend.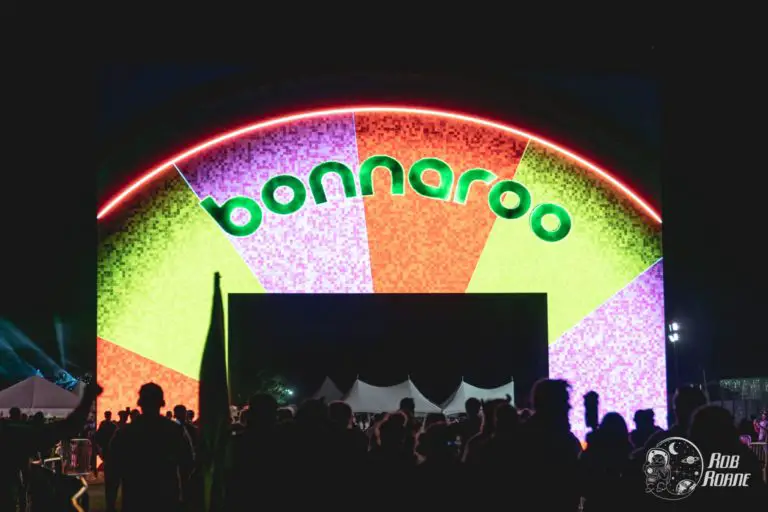 In its seventeenth consecutive installment Bonnaroo hosted a wide array of artists across its numerous official stages and instalments, but it hosted so much more than music. I will of course spotlight some of the incredible sound I absorbed from the stages, and I will also describe some of the additional color qualities that really cement this festival in greatness. Firstly, it is important to establish here too that Bonnaroo is a fierce beast of an endurance test. For four days and nights I sought out to hear old favorites, discover new ones, and bask in the glow in the diversity of the festival, and I did just that.  Let's start with my arrival on the farm.
Thursday
Arriving at a festival is always a special feeling. Those familiar with it know that the Thursday night energy can be something fierce. Patrons are fueled by an anticipation that has been building for months. The evening comes quickly, as Thursday is the only real day in which travelers are not encumbered by heat or other tiring forces that set in once the weekend really gets rolling. As I arrived on the farm, I was immediately reminded how different this place was than anywhere else on earth. I cannot state this enough friends: arrival at Bonnaroo is absolutely electric. As soon as my size 12 touched the hallowed grounds, I was infected with the vibe. Electric neon jumped from every avenue. Sound took over. This year's festival saw 80,000 patrons make land, the most the site has had on it in some time, and the party was indeed completely sold out. Due to traffic, I arrived slightly delayed, but to my delight, Thursday's Grand Ole' Opry set was broadcast on the AM radio. I listened to the sound of Nashville as I set up camp, curated by the great Old Crow Medicine Show. While the reception was a little fuzzy, it came through clearly enough to remind me that while Bonnaroo is the true melting pot of the festival circuit, it is embedded in its Tennessee roots, as it should be. I moved quickly at camp, and finally departed for "Centeroo," the central hub of the festival and venue area. The Nude Party, a twang rock operation from Boone, NC already had the Thursday party in full swing at "That Tent." This sextet of rockabilly troubadours delivered a sound that I can only describe as very full, and present. They're a mountain party in a pressure cooker that is just waiting to break out. The packed house crowd ate their energy up and delivered it back to the stage in a to and fro dance. It was good to be back.
I trekked onto "This Tent" to get my first taste of indulgence in new discovery of the weekend.  Being from NC myself, I was plenty familiar with The Nude Party, but the next group I saw came under several recommendations preceding the festival. The Comet Is Coming is a progressive jazz psych funk trio all the way from London. This trident of a unit comprised of drums, sax, and keys assured the crowd that the comet was for sure coming. Their party consisted of an ongoing flow of rhythm in continues breaks and time changes that saw each member take lead while the others followed. Their little game of follow the leader always culminated a massive crescendo of interplay, which saw each member bursting at the seams with tempo. The jams always came to a boil, leaving the crowd in frenzy after each and every take. With no real soloist element amongst the trio, this was a true sound build band. Completely unrelenting high energy, my first time with The Comet Is Coming was a microcosm for everything that is great about this festival. I discovered my first new favorite band of the weekend, I was filled with intrigue and inspiration, and I left fulfilled, but certainly still hungry for more. The night was still young. Back across the causeway my eyes darted from one luminescent structure to another. This gathering had a heartbeat, the pulse of which is unmatched. I followed my feet to the Magic City Hippies, a new age digital indie funk operation from the majestic city of Miami.
The Magic City Hippies are a true Bonnaroovian outlet. They lace some familiar samples over breaks and supplement them with catchy guitar riffs all while interacting with the crowd, which continued to grow under the loving cloak of "That Tent." They're all fun, all the time, the way a Thursday night at the farm should be. Let me tip my cap to the way this lineup was curated and slotted. Those behind the scheduling at Bonnaroo are absolute masters. As the electro funk party simmered, I got a chance to catch up with the Magic City Hippies and talk about how much it meant to be at Bonnaroo, amongst such great company.
NYS Music: Can you guys talk a little about what it means to bring your block party vibe from Miami all the way to the big stage here at Bonnaroo?
Magic City Hippies: Ah man, you know, we know we're here for a reason, to deliver what we love to deliver and that's music. We come from Miami, a city rich of course with Latino culture so we knew early on that if we were going to make music that it had to make people move. To come here to the big stage, I was cheesing a little bit up there. We used to play sweaty house parties on a Friday night, the ones where it would just be us and twenty people in a room with the fog machine is on way too long and just sweating it out with our friends. The Bonnaroo Beacon called us an alt-pop-party starter band and that's kind of what we are. We're blessed to be here.
Thursday night 'Roo is the party starter, and the Magic City Hippies were right in place. The party was far from over though.
Before Space Jesus descended on the mass to hit the crowd with the first real dose of bass, I stopped in the Snake & Jakes's Christmas Club Barn to take in the Kasvot Växt dance party. The Christmas Club Barn is exactly what it sounds like- a blinking beacon of Christmas decorations complete with a full service bar and DJ booth. This is what Bonnaroo is about, random themed destination installations in which patrons can simply immerse themselves in surrealism, a theme that would reappear throughout the weekend. Strangely, little to no Kasvot Växt, a fictional Scandinavian rock band created by Phish was actually played during this set. Nevertheless, my eyes still gaped wide with stimulation from this interactive candy cane land.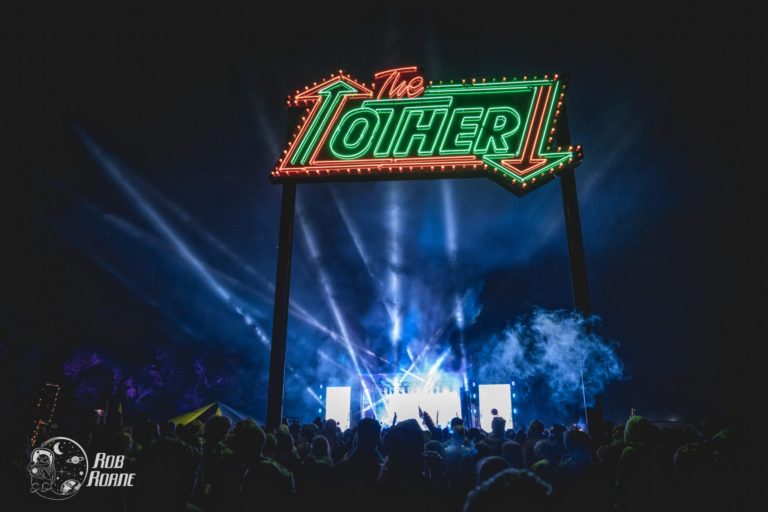 Space Jesus, a New York native, took the throne on "The Other," Bonnaroo's third largest stage. This stage once was a tent, but the cover has long since been removed to form a fully operational stage used mostly for bass music throughout the weekend. Space Jesus wasted no time getting right down to it, as the thump from the woofers got deeper and deeper. I could see immediately that this type of stuff is what many of the patrons craved and was what they came for. This is a snapshot of how Bonnaroo has changed in the years since I once frequented the farm. Not in a bad way though, the bass hawks are devout fans, will follow an artist like Space Jesus wherever he goes, and help establish the diversity in genre that allows for this festivals long term continuance and success. It was nice to see the mostly college aged crowd head banging in unison to the deep melodic womp of Space Jesus. This man came to get down (he came to get down), and being that there were no seats (nor would they be needed), the kids jumped around.
The clock now lingered past two in the morning as I sauntered back to camp, so filled with excitement and purpose. I had finally come home; after all it was this festival that sparked my real love for live music and the culture that surrounds it. One foot back onto the already beaten path leading into the massive campgrounds and another creature of the surreal approached me. A GIANT VW Beetle-like motorist comes cruising down the road, two stories tall, laden with go-go dancers and sewn in all kinds of light, this mechanized creature of the night is apparently a staple of the roadways at the festival, and made its first pass through the hordes. Conceived in some kind of post apocalyptic Mad Max comic book acid trip, this stuff happens only at Bonnaroo my friends, only at Bonnaroo.
Friday
I awoke Friday morning under what Bonnaroovians know to be very mild conditions. A place known for its unbearable heat, most of the weekend's temperatures hovered in the mid seventies, a blessing for all those in attendance. While we did have to brave the heat and subsequent dust bowl circumstances would come later in the weekend, Friday proved to be quite pleasant. The first full day of the festival was now underway, I got my first chance to really hone in on what makes Bonnaroo standalone: diversity. In the prior night's darkness and absolute loony-bin madness it was hard to make out the exact complexions of those sharing the crowd around me. In Friday's daylight I was able to make a first real glance at this feature. I took in some fantastic acts on Friday, including the first dose of the weekend's main headliner Phish, but first let me comment on the array of color at the farm in the form of its main attraction: the people.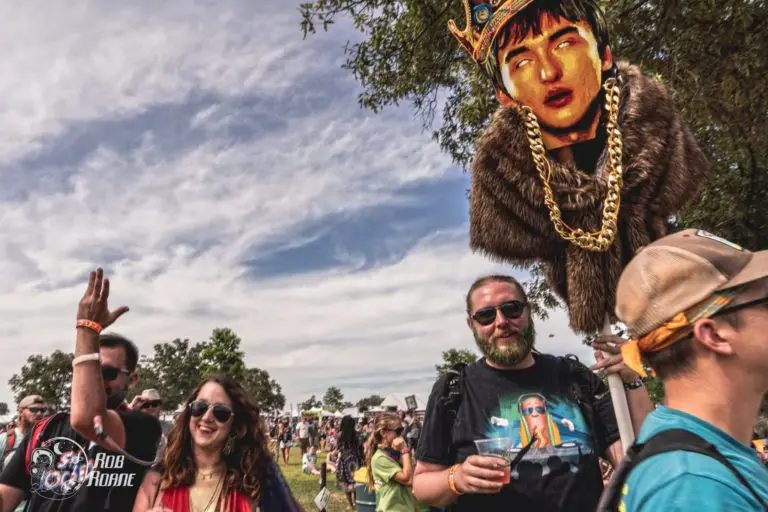 On my morning walkabout I was immediately reminded and attracted to the real feature of Bonnaroo 2019. Bonnaroo is a culture sponge, a tapestry of different walks of life all sewn together under like-mindedness in music and community. There were so many different kinds of people at this festival. Bonnaroo really delivers in this regard. The population at the farm is a far more accurate depiction of the real world than an outsider would imagine. People of all races, genders, and ethnicities are strewn about at every nook and cranny of the grounds. It is beautiful. The diversity in the genres of the bands on the stages finally reflects the diversity of the crowd. Bonnaroo has evolved over time from its jam band central roots, to the diverse cultural quilt that it is now. Congrats to you Bonnaroo, and to you Bonnaroovians, for you are the true testament of the magic and greatness that lives at the farm. Now let's see some music.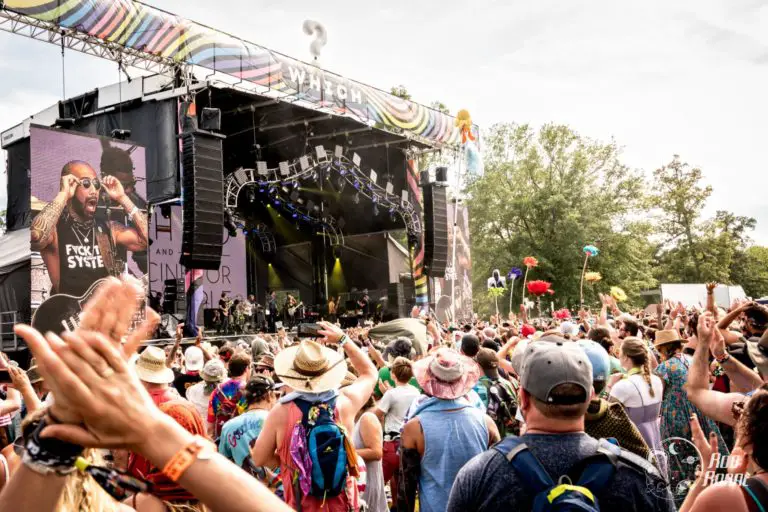 My first parlay at the "Which Stage," Bonnaroo's effective second stage, came with Nahko & Medicine for the People. Nahko brings this justice rich, earthy sound that is meant to inspire change and celebrate the planet. Nahko moved through his big poppers "Budding Trees" and "Black as Night" before I moved on to pop through Catfish and The Bottlemen, and a little of Parquet Courts. The former radiated this wild alt 90's British rock, while the ladder boomed with New York flavor. Paul Vile (Jelloman) slung Jello shots into the crowd as Parquet Courts moved seamlessly through their post-punk catalogue.  The New York sound was alive with Parquet Courts.
My first trip to the famed "What Stage," the granddaddy of the Bonnaroo stages, I came for The Avett Brothers, a personal favorite at the festival, second only to the foursome from Vermont slated later in the evening. The Avetts smoothly laid into their set with "Vanity," before turning the knobs to eleven with a nicely placed "Satan Pulls the Strings."  They queued up crowd pleasers "Ain't No Man," and "I Wish I Was," before finishing strong on "Kick Drum Heart" and "No Hard Feelings." It was great to see these North Carolina boys get their due yet again on arguably the biggest stage in the country. The sun began to sink low as the Avetts concluded, and I turned around backwards to face the mass and drink in this magnanimous movement.
I caught a handful of the GRiZ set before heading back to revamp for the evening, for it was an evening of Phish my friends. GRiZ is simply put: awesome. Not only was this one of the only sets of the weekend which saw a real melding of the ages in the crowd, it was of course full steam from the jump off to the time I departed. GRiZ bridges the gap between today's jamtronica and yesterday's mastery of horns and musicianship. The crowd at the "Which Stage" was a complete arsenal for GRiZ, and to this point in the weekend it was the biggest crowd I encountered. This is demonstrative of GRiZ's appeal, and it's no accident he was chosen to host the G.O.A.T. Superjam later in the night.  More about that shortly, first, let's talk a little Phish.
Phish returned to Manchester for their third romp on the farm, once again to deliver three sets in total. First, their late slot to face plant the crowd into rock. While many devout Phish fans bemoaned them for returning to 'Roo to deliver presumably what they refer to as "a festival set," not standard of a regular Phish show. One that does not involve lots of improv or creativity in the set list. A set that serves a purpose, to expose newer, younger fans to their music, while not going too far out and not getting so weird that the crowd is turned off in the same stroke. Well a big ole poo-poo to those fans, because guess what: Phish came on stage at Bonnaroo and tapped up a complete barnburner from start to finish. This was no average "festival set" people, this was a statement that the boys from Vermont were here, and they were not messing around. Yes, the crowd was notably younger than an average Phish show, but that's a great thing. That ensures the longevity of the music.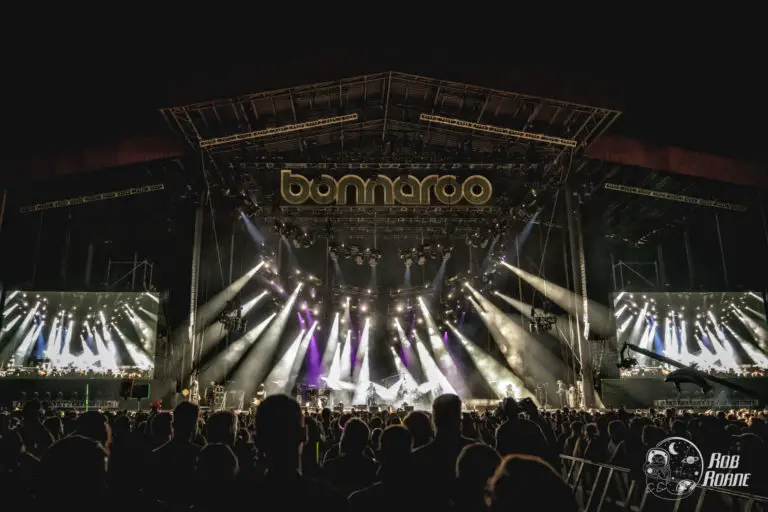 I took in the set with Twitter's Lil' Nug, a young girl who has ascended to Phish fame after trolling the band a few months before, having no idea who they were, or why they were headlining Bonnaroo. A ripping "Carini"-> "Down With Disease" -> "Say It To Me S.A.N.T.O.S." took the opening stanza. The band moved nicely right along through "Everything's Right" before truly introducing the farm to what space smelled like with "Mercury" -> "Tweezer" -> "2001"-> "Steam." Welcome to the land of milk and honey my friends, Phish had arrived at Bonnaroo. Lil Nug got down, I got down, and we all got down. Find a complete set list at the bottom of this recap.
Bonnaroo boasts the largest genre web of any festival of its kind. There is nothing more exemplary of this GRiZ's G.O.A.T.: A Music Legends SuperJam. The jam featured artists from all over the spectrum coming together for one late night exclamation point that pays homage to music legends of the past, without whom events like Bonnaroo with remain only figments of grandiose imagination. This year's jam featured GRiZ bringing one all star after another, including Nahko, Rubblebucket, Sunsquabi, members of Walk The Moon, members of Trey Anastasio Band, and so many more. This ridiculous collection of talent did justice to those that came before them. Climaxes included "So What'Cha Want" (Beastie Boys), "Right Place Wrong Time" (Dr. John), "Respect" (Aretha Franklin), "1999" (Prince), "While My Guitar Gently Weeps" (The Beatles), and a litany of other stellar renditions of fabulous canon classics.  Find the complete set list below.
Of the Superjam, GRiZ said:
"The major point of this thing is to play a bunch of rad music and continue to re-tell stories of the great people who played music in the past." He went on specifically to comment on Dr. John, who had passed on the week before.
"The definition of funk music, which he carved out a large piece of, gave way to re-inventing music however you feel. You don't need to put things in a bo or follow any rules or worry about what your heart feels about the music- you can just let it go." 
Knees quaking, mind melting, I moseyed through Girl Talk for a second before hiking back into the jungle party that lay outside the walls of Centeroo. I was happy to see Girl Talk playing old mixes, reminiscent of when I discovered the blend DJ years before. Exiting a superb Friday night, I was reminded that like New York, Bonnaroo does not sleep.
---
Phish setlist: Carini -> Down with Disease -> Say it to Me S.A.N.T.O.S., Everything's Right -> Mercury -> Tweezer -> Also Sprach Zarathustra -> Steam, Martian Monster, More -> Harry Hood -> Character Zero
E: Possum -> Tweezer Reprise
---
G.O.A.T.: A Music Legends Super Jam with GRiZ set list:
Miserlou (Dick Dale) (Core Band), So What'Cha Want (Beastie Boys) (GRANT INTRO), Right Place Wrong Time (Dr. John) (Core Band), Could You Be Loved (Bob Marley) (Nahko, Nattali Rize), This Land Is Your Land (Sharon Jones) (Deva Mahal), Piece of My Heart (Janis Joplin) (Jennifer Hartswick), Valarie (Amy Winehouse) (Jennifer Hartswick), Respect (Aretha Franklin) (Chrishira Perrier), 1999 (Prince) (K. Flay, Chrishira Perrier), Mary Jane (Rick James) (Chrishira Perrier), DANG! (Mac Miller) (PROBCAUSE, Chrishira Perrier), Grinding All My Love (Nipsy Hussle) (PROBCAUSE), Lithium (Nirvana) (K. Flay), What I Got (Sublime) (GRiZ, MUZZY BEARR), Blackhole Sun (Soundgarden) (Linsay Ell), While My Guitar Gently Weeps (The Beatles) (Linsay Ell), Folsom Prison Blues (Johnny Cash) (HOBO JOHNSON, RKS BASS & DRUMS), Bring It On Home To Me (Sam Cooke) (SAM MELO, Jennifer Hartswick, Linsay Ell), Wake Me Up (Avicii) (NOAH KAHAN, Music City Mystique Drumline), Drumline Interlude (Music City Mystique Drumline), We Will Rock You (Queen) (Walk The Moon, Music City Mystique Drumline), Under Pressure (Queen & David Bowie) (Walk The Moon, Rubblebucket), Let's Dance (David Bowie) (Rubblebucket, BLACKSTAR BAND), Life On Mars? (David Bowie) (Rubblebucket) (BLACKSTAR BAND), Freedom! '90" (George Michael) (Deva Mahal, MUZZY BEARR, Chrishira Perrier).
*Song (Original Artist) (Lead Performer)
Stay tuned for Part 2 of NYS Music's Bonnaroo coverage!