Consider the Source's sixth studio release, You Are Literally a Metaphor is a creative picaresque, flushed with cultural influences, brought together in a thrilling narrative of layered instrumentation. The title, not to mention the playing, invites a literary reading and the expansive territory it explores, invokes the realms traveled by a surreal "hero" in an epic tall-tale of love, loss and weird trips around the sun. The real-ish universe stages a synastry of sketchy archetypes, faceless figures with obscure motives whose actions we recognize. You are Literally a Metaphor is a totem of the band's figurative playing, evocative songwriting, and exacting range. It is musical treasure trove too rich for a non-musician's explication, that journeys expressively through numerous genres, wistfully transitioning from prog rock to jazz-fusion, Middle Eastern sci-fi and blues over the course of nine tracks.
"Sketches from a Blind Man" opens the album with painterly, cinematic playing, provoking listeners to see scenes from this cryptic odyssey as they unfold. The sound is atmospheric and spacey, imbued with foreboding and a breakneck beat. The chase is on, as guitarist Gabriel Marin, bassist John Ferrara, and drummer Jeff Mann, compete in a frenetic dance of ecstatic playing, weaving intricate lines into complex progressions.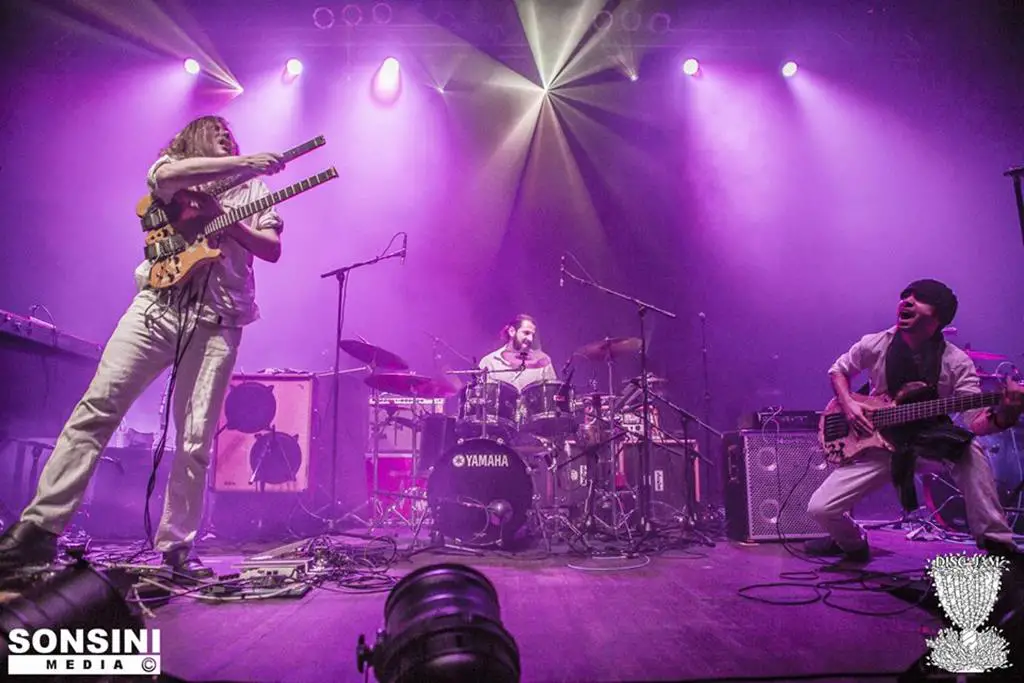 "The One Who Knocks" is a song akin to the work of Primus, and Bela Fleck the Flecktones, that spins folksy guitar lines and lean bass leads into a dark, heavy march, eventually escalating into a turbulent guitar section, before turning gracefully toward a triumphant, soaring conclusion. "It is Known" is a wild cruise. It begins as a red-eyed, breezy ballad with a hint of the blues, reminiscent of The Flaming Lips, but it lurches into a moody groove, ả la Eddie Hazel, before finally shapeshifting into a speed rock meltdown that recedes into blissful contemplation. The dignity with which CTS so casually blends these traditional elements with their own math rock sensibility, daredevil technicality, and genuine style, all while connecting each track purposefully with the others, is proof that Metaphor represents a peak for the band.
Playing Twister with genres and influences seems to be Consider the Source's way of taming the art of songcraft. These tracks sound like stories: rooted in place, with a beginning, middle, and end, repeated themes and motifs, and the hint of emotional development. Taking advantage of the familiar rituals inherent in a given genre provides CTS with the canvas on which they sketch their impossibly skillful illustrations. "When You've Loved and Lost Like Frankie Has" is a refreshing take on the blues. Mournful leads linger over an alluring pocket and hip-hop beat, as the tune's bluesy restraint coolly displays the profound sadness portrayed in Marin's playing. "Enemies of magicK" is a fitting finale to Metaphor, as it highlights CTS's prog rock prowess, bringing the album to an anthemic close, while also recapitulating many themes, changes, and elements developed over the course of the album.
You are Literally a Metaphor is a project articulated in full, an album seemingly without misstep or omission, on which the playing is peerless and without arrogance. The songs are delicately arranged and wisely executed. It draws on influences ranging from Mars to the Middle East, from Mississippi to Mahavishnu, from Dixie Dregs to King Crimson, and from ELP to epic psychedelia, but over the course of the album, it is Consider the Source's immense originality and intrepid style that ultimately shines with the highest definition.
Enemies of magicK," the first single from the album is available to watch, below. The full album is set to release March 1, on all digital platforms. 
Key Tracks: Enemies of magicK, Sketches from a Blind Man, It Is Known