The reprieve from polar temperatures has drawn people out to enjoy some of the night life. In the spirit of the mid-winter thaw, Rochester's Abilene Bar and Lounge threw an event called "Feel The Warmth" on Friday night. The cozy bar was lined with posters from shows' past. On the bill were a few of the newer bands on the scene: False Pockets, Vacation Daze, and The Low Spirits.
Post-rock project False Pockets opened with an instrumental number they call "Just Sneeze and Move On." The song didn't need words, the music spoke volumes all on its own. The band leans heavily on the technical aspects of math rock, building dynamic tension then making a sudden change in tempo or timbre. The changes in sound were made through the use of an impressive array of pedals for the guitar and bass. The guitar notes, bass riffs, and drum lines intertwined, grooving on variations of the chord progression.
They kept the intensity going throughout the set. Lyrics were at a minimum. Fancy fretwork, on the other hand, was plentiful. Lead guitarist Erik Happ showed off technical skills and also creative unorthodox techniques, such as sliding the edge of the pick down the length of a string. Meanwhile, Zach Parker was laying down some heavy rhythms on bass, occasionally adding two-hand tapping on the fretboard. Overall, they've got an articulated, yet melodic sound that makes them a great addition to the local scene. I'm looking forward to seeing a lot more of them. They've got a shows lined up for February 19 and March 2 at Bug Jar.
Vacation Daze took the stage next. The band's been around for a bit, but this was my first time catching them live. It's one thing to listen to their recordings, and another to see them play live. Lead singer Ian Egling took a spot stage right. He stationed himself in front of a pair of keyboards, including the Moog that gives the band an 80's electro feel. His passion for the music was unmistakable, as he belted out lyrics and jammed away on the keys. He had strong support from a steady backing beat and some funky flows.
Over the past year, the quartet has released a few self-recorded singles that were mixed and engineered by their bassist Jim DeWitt. Mid-set Egling announced that they had finished recording an album at Wicked Squid Studios. The work is set for a spring release. They played a song from the upcoming album. The tune, called "Measurement," features drummer Billy Martin on lead vocals. If this groovy jam is any indication, we can look forward to great things from the new album.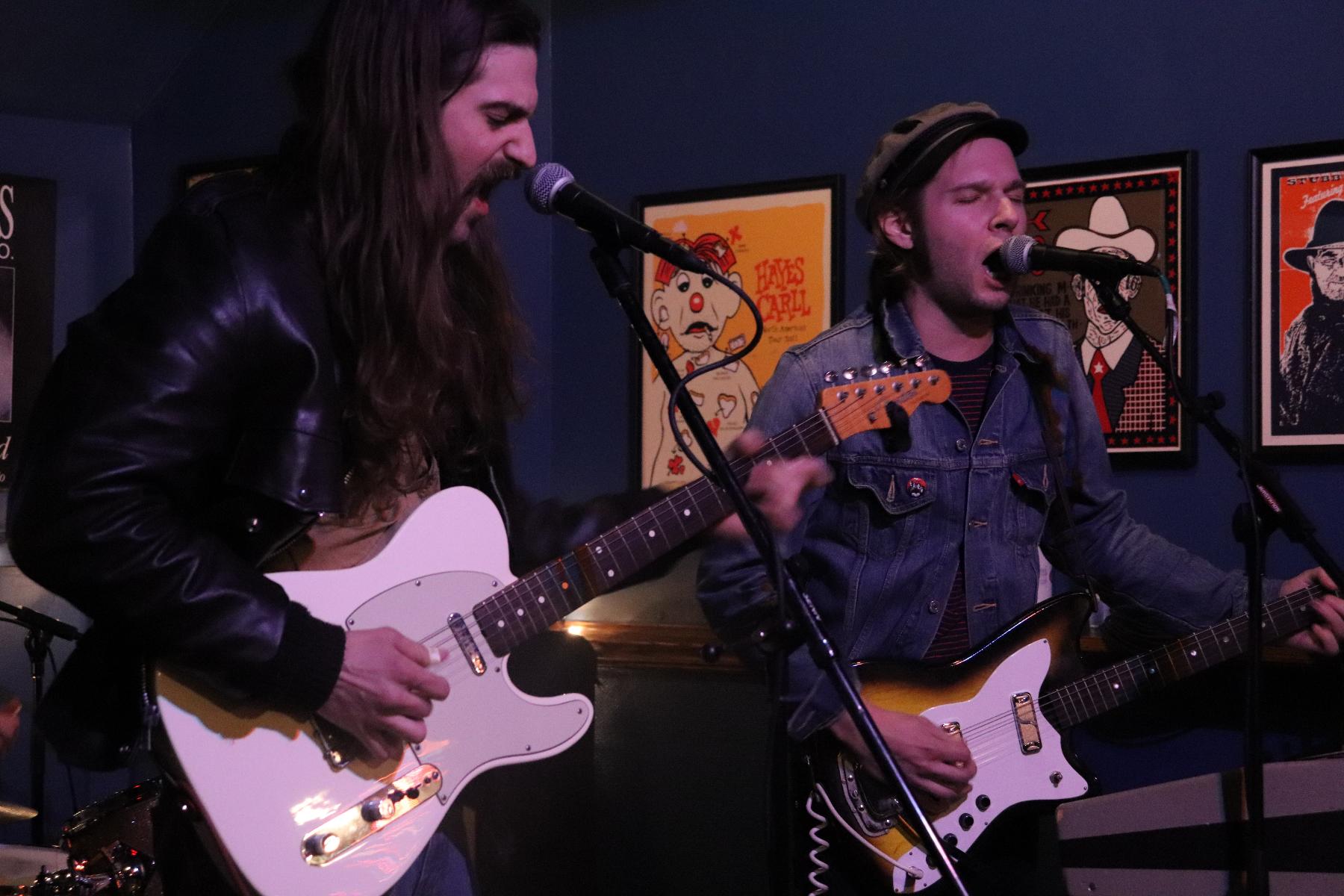 The Low Spirits rounded out this night of discovery. The quartet includes two of the three members of the psychedelic/blues band St. Phillip's Escalator (Ryan Moore and Zachary Koch). Both bands build upon a foundation of rock 'n roll, but The Low Spirits has more of a 70's rock vibe. The difference was apparent when there was some riffing on Led Zep during their sound check at Abilene. Moore, a man of many hats, was on guitar, vocals, and sometimes his vintage Farfisa keyboard. The distortion on guitars and rhythms pumped through an antique VOX bass cabinet lent to their authentic retro sound.
Zachary Koch was stationed behind the drums. With his sticks held  in a traditional grip, he added fills which evoke a comparison to the drumming style of Ringo Starr. This was only their second show, but they've already got a third booked at Photo City Improv on March 9.
In addition to this being my first time seeing a couple of these bands, this was also my first time at Abilene Bar and Lounge. With a homey atmosphere, welcoming bar staff, and continual offerings of live roots music, I'm sure this won't be my last.