Adrianne Lenker took to music from childhood, learning the craft of songwriting from her musician father and other teachers. Her path eventually led her to pull on the hearts of the audience at the Music Hall of Williamsburg on Febraury 14." Mostly drawing from 2018's abysskiss, Lenker brought her personal, imaginative and often complex world to life during her sold out performance.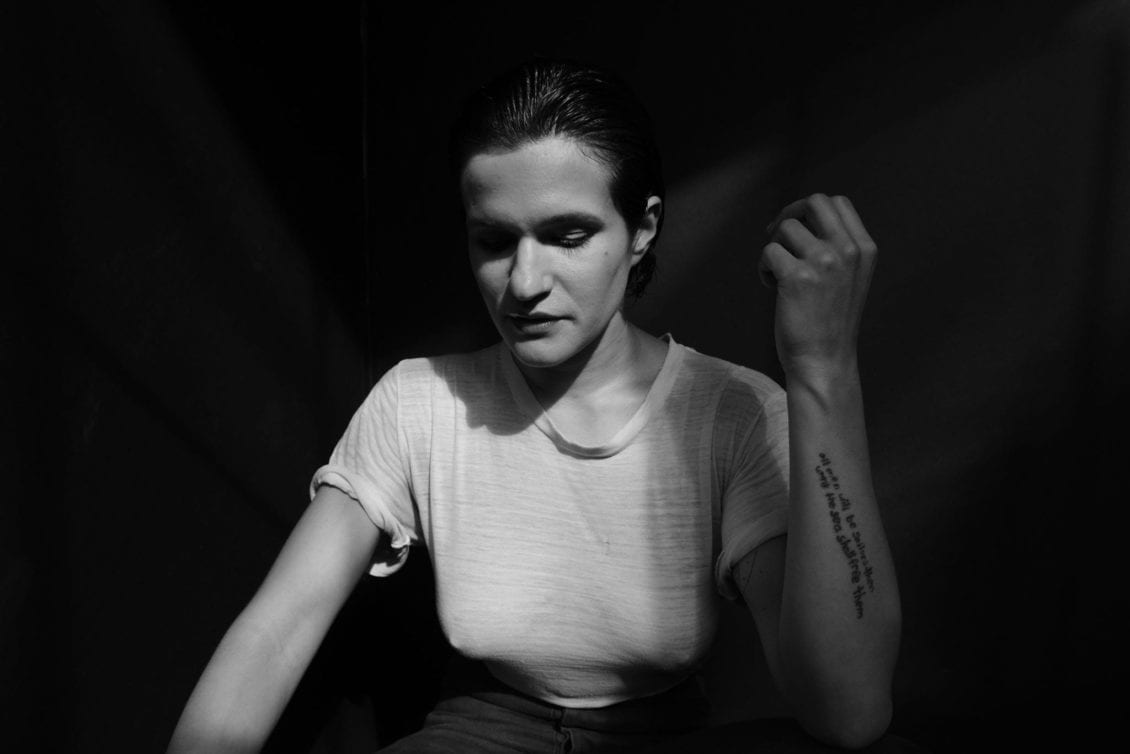 Taking a break from leading Big Thief, Lenker opted for a smaller stage. Starting off with "Not," a relatively new track debuted in France, she then followed with the rarely played "Spud Infinity." The lyrical wit and sing-a-long pace of the song belied Adrianne's heartfelt recurring theme of acceptance; to not be so harsh to exorcise the frightening unknown within us, and learn to embrace it as part of who we are.
Lenker's childhood is filled with material that she draws on for her songs. In multiple conversations with Pitchfork, she explains being raised in a religious cult in Indianapolis until she was four. She moved about 14 times before she was eight, bearing witness to her family's fallout from religion and constant identity shifts. These years inspired a disposition to begin writing songs from different perspectives; a spectator looking from the outside, in.
Lenker's songs are examinations of identity, steeped in metaphors and themes of love, family, trauma, femininity and sex. Her words are descriptive and visceral, so delicately accented by her clear, expressive voice that they pierce straight through your core. Thematically, Lenker's lyrics are reminiscent of artists like Laura Marling, showing a strength in moving through the pain.
Playing "Pretty Things," a song which Lenker describes as a mantra in a Stereogum interview, she struck a tone that was equally arresting and soothing. Singing about penetrating the facade of her lover's toxic behavior and coaxing him into embracing the power of his feminine qualities, she repeated: Don't take me for a fool, there's a woman inside of me, there's one inside of you, too.
As the line lulled the men in the audience into embracing their Valentine's dates a bit tighter, it was followed by a graphic representation of the power in feminine energy to wash away the sins of damaging masculinity: There is a meeting in my thighs where, in thunder and lightning, men are baptized in their anger and fighting their deceit and lies.
Amongst the more raw, vulnerable songs, "Hours Were the Birds", from the 2014 album of the same name, represented the romance of traveling with no destination. The song included hints of a poetic Springsteen-esque sehnsucht, a feeling of yearning for an idealised experience somewhere in the distance, reflecting on what you've gained and the traces of yourself you've left behind.
Lenker's sage storytelling was matched by her guitar skills. Her training at Berklee College of Music began when she filled a scholarship sponsored by Susan Tedeschi, and was accepted as one of only two women in the guitar program. Changing to an open tuning, she sang "Kerina," filling the spaces between words with melodic guitar phrases which harmonized with her voice.
Experimental indie folk artist Luke Temple opened the show, and joined Lenker on stage for a number of songs. The two explored various moods as Temple provided atmospheric accompaniment and effects from the mystical, peaceful declarations of love in "womb" to the darker and grungy "symbol."
Adrianne Lenker is a special kind of artist  who can make you feel just as exposed as she feels on stage, and yet help you find immense strength in that vulnerability. At only 27 years old, hers is a talent that'll be heard for years to come.