Rock legend Carlos Santana is officially the first artist scheduled to appear at one of the two Woodstock 50th anniversary shows. Since both events have been announced, one produced by Live Nation at the original site of the 1969 event in Bethel and another put together by original producer Michael Lang at Watkins Glen International Speedway, eager music fans are awaiting any news on a lineup to debate and to choose which event to attend.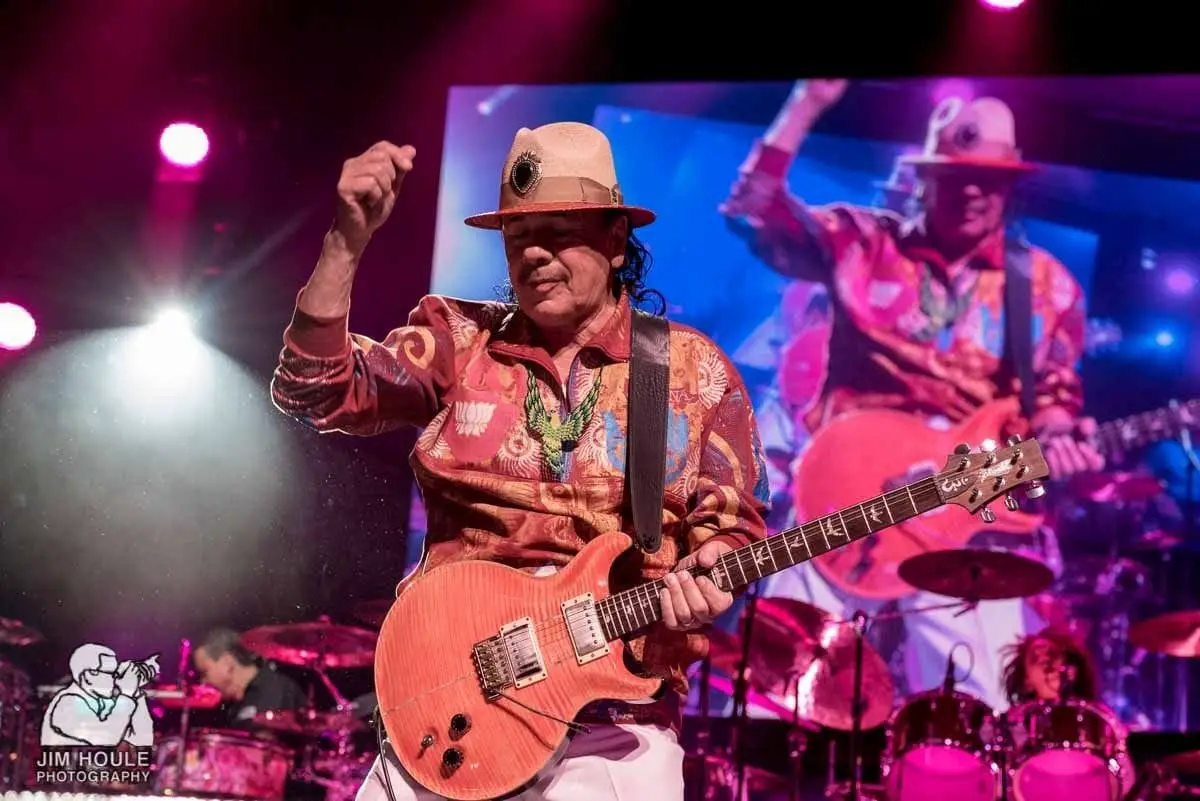 Wanting to appear at both events, Santana is torn between which show to choose, knowing in reality that he would only be able to celebrate Woodstock at one event. Santana decided that the Bethel Woods Music and Culture Festival on August 16-18, will best suit him, and will now compete with Woodstock 50, the same weekend in Watkins Glen. 
Santana stated a few weeks ago that he signed on to be part of the Bethel Woods event, and hoped that he could play both anniversary shows. Wanting to play both shows, Santana reached out to original Woodstock co-founder Michael Lang to see if he had plans to commemorate the 50th anniversary.
The Grammy award winning guitarist has not given any reason as to why he chose to perform at Bethel event instead of Woodstock 50, but fans speculate that the decision has a lot to do with Live Nation backing the Bethel Woods event. Santana recently stated about the upcoming anniversary show: 
"They have an amphitheater there. I'm going to invite whoever is still here, whether it's Joan Baez or members from Sly Stone, and I'm going to play Santana music. Santana's going to be the house band, but I want to be able to honor those who are still here and maybe invite rappers like Common or Kendrick Lamar. Santana's very interested, like Miles Davis, into connecting with people from 7 years old to under 33. I don't want to be just like a jukebox in the twilight zone, stuck in the Sixties."
Santana has also announced a summer tour celebrating the 20th anniversary of his multi-platinum Supernatural album. That tour makes stops at Darien Lake on Aug. 16 and the PNC Bank Arts Center in Holmdel, NJ, leaving the 17th as his likely date for Bethel. Also on the itinerary is an Aug. 23 stop at Saratoga Performing Arts Center and Aug. 25 at the Jones Beach Theater in Wantagh. 
Michael Lang has recently stated that he has over 40 artists already booked for the three stage Watkins Glen event. Lang stated that he wanted "new bands" to round out his lineup and said there will be a mix of old and new, from rock to hip hop. Lang said: "It'll be an eclectic bill. It'll be hip-hop and rock and some pop and some of the legacy bands from the original festival."
Roger Daltrey of The Who, commented on the upcoming anniversary shows: "August in America is too hot for me to work anymore. You can't redo Woodstock because the stars of Woodstock were the audience. You can celebrate the date, but you can't redo [the festival]. Nobody's approached us about it, anyway, but I really wouldn't be interested in something like that."