Phish has now celebrated 10 New Year's Eves since their return in 2009, with eight of those year-end shows taking place at Madison Square Garden. For their 'Tin' anniversary, Phish once again brought out a full production from David Gallo design set to the tunes "Mercury" and "Say it to Me S.A.N.T.O.S.," wrapping up four jam-filled nights in a silver bow to bring us into 2019.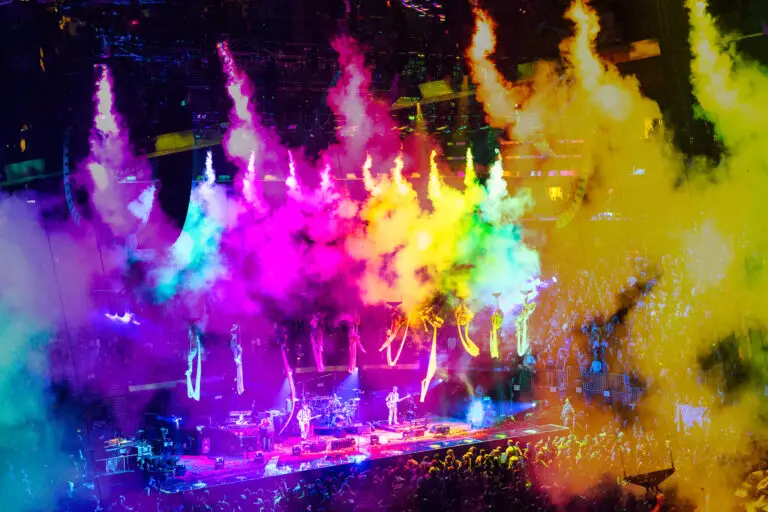 Over those four nights, Phish performed cohesive sets that flowed from one show to the next, with each night seeming to pick up where the previous night left off. With exclamation points throughout the shows and jams moving smoothly from one song to the next, the run featured some of Phish's best New Years run jamming inside Madison Square Garden since their first New Years in 1995. New Years Eve 2018 marked 60 shows at the World's Most Famous Arena, with only Elton John and Billy Joel having more performances in their careers.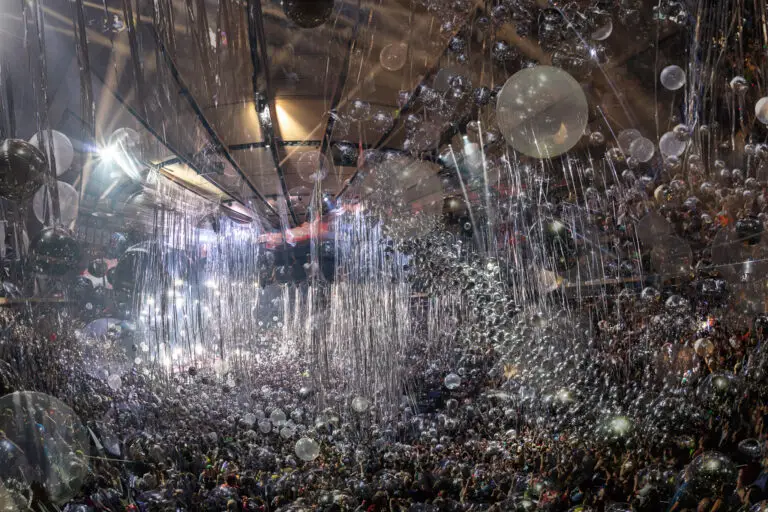 Phish loves bringing things full circle, and while the disappointment of a cancelled Curveball festival last August was a low point for fans, the New Year's celebration took the music that arose from the ashes of Curveball and brought it front and center on the 31st. Kazvot Växt songs were performed each night of the run to much audience approval, with four songs held back for the final show of 2018, notably the fan favorite "Say it to Me S.A.N.T.O.S." The Halloween performance as Kazvot Växt should be looked upon as a turning point for Phish, as this new album/identity has been received better than any other album or new material since their return. For the band to put Curveball in their rearview and move forward with such impressive and well-received material is but one small example of their ability to evolve over time while testing out new ideas and territory with caution thrown to the wind. Performing a Kazvot song right after midnight solidified the new material's place firmly in the Phish catalog, and we will surely see these songs in rotation moving into this summer, as well as Mexico next month.

A dozen songs were played in Set 1, with notable sequences including "Steam > Chalk Dust Torture > What's the Use?" and Trey's 'favorite' song (as Fishman put it) "Ass Handed" which was followed by a fiery "Run Like an Antelope." This was your standard 'warm up' set on New Years, where the hits keep coming and the jams are few, although "Sand" did stand out as the longest song of the set. Set 2 found the deep jams per usual, with an 18-minute "Down with Disease" kicking the set off and after a randomly placed "Farmhouse," a near 18 minute "Seven Below" followed, for the jam of the night that ebbed and flowed through psychedelic and arena rock sections and finally band and audience interplay in the 'woo-ing' that Trey seems to love engaging in with the fans.
A "Harry Hood" that stopped after the second section of the composition was halted unexpectedly for a "Passing Through" that split "Hood," but fell short of the Halloween version where the fans sang along with the 'Way-o Way-o' callback. The band clearly was hoping to bridge the fans singing 'Way-o Way-o' into the return to "Hood," which ended up being more of a surprise since some fans (ahem) forgot they hadn't finished "Hood" and brought it to a triumphant close. Regardless, the second set was the set of the night and had fans sweating as the clock ticked past 11pm and we headed into the final Phish of 2018 and first of 2019.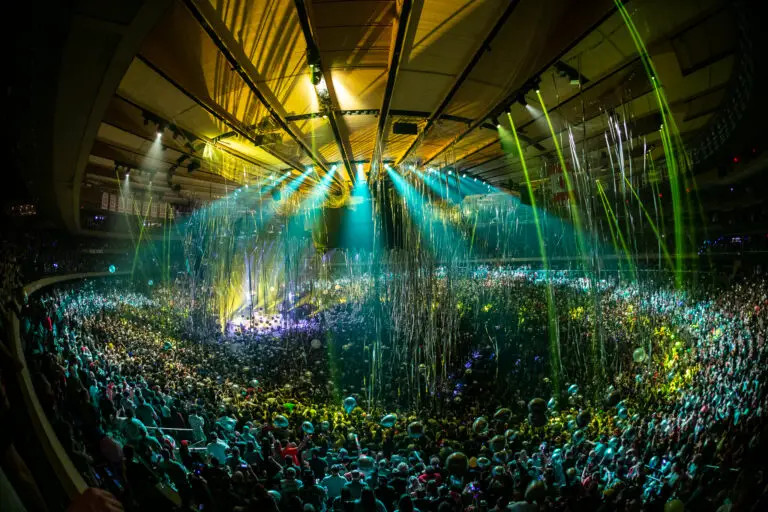 For the New Years gag, Phish took a combination of two past gags – "Steam" (2011) and "Petrichor" (2016) but with visuals that engaged the entire arena, including lights, balloons, streamers, smoke, acrobats, stage dancers, inflated foods and Trey and Mike in silver space suits. With the opening notes of "Mercury," the silver balloons that hung from the ceiling connected to the semi-recent composition that Trey had found new life in during the summer of 2018, with improvisation taking the song well past the 20-minute mark on multiple occasions, and making a believer out of many fans.
After a few minutes of the composition, aerial dancers were lifted above the front of the stage, releasing silver streamers that poured down in front of the stage, the silver strands of mercury shining bright with floating lights pouring out smoke that decorated the space behind them, building towards the midnight peak. As a recording counted down from 30 seconds, the acrobats climbed into their nets and were dropped to the stage one by one for the final 10 seconds of 2018, and with that, "Auld Lang Syne" was played and thousands of balloons and silver streamers poured from the ceiling, and MSG being filled with Mercury-colored Silver Grandeur.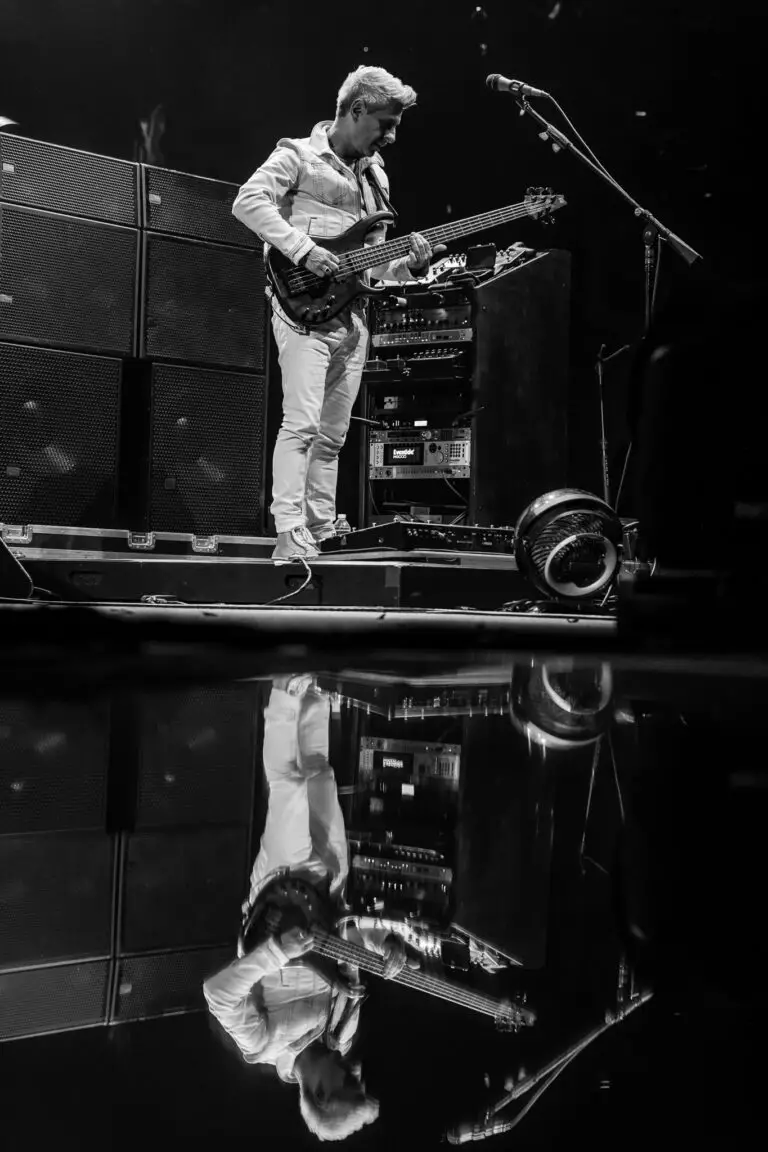 As the first song after midnight, Phish opted for the popular Kazvot Växt tune "Say it to Me S.A.N.T.O.S." after "Auld Lang Syne," a sing along with amazing energy – the crowd echoing 'Say it to me S.A.N.T.O.S.' and 'This is what space smells like/you will always remember where you were" – gave chills both then and on subsequent relistens. While Trey and Mike were lifted up into the air throughout the song, the stage was then peppered with various pool-floats that represented various things that space could smell like, plus googly eyes for added 'space' effect. Trey meanwhile was running around the stage with his wireless guitar that found him playing "S.A.N.T.O.S." to those behind the stage with cheers, smiles and tears aimed right at the Bad Lieutenant, who looked nothing short of elated. The energy of the rest of the night flowed in the form of "Simple" which was cut short for "Saw it Again" and "Limb by Limb," and a combo of Lou Reed's "Rock and Roll" > "Suzy Greenberg" lifted the crowd up one final time to close out the first set of 2019. With more than 20 minutes left, fans wondered what was in store – "You Enjoy Myself," or perhaps "Fluffhead" were on every fans wishlist, but the fan favorite of them all, "The Lizards" would be the first part of this encore, with another rocker in "Character Zero" following for a climax of pure energy.
Phish has made their mark on Madison Square Garden and set the standard for performances on New Years Eve. Here's to Phish finding even more inventive ways to engage their fans and continue their storied career into its 36th year in 2019.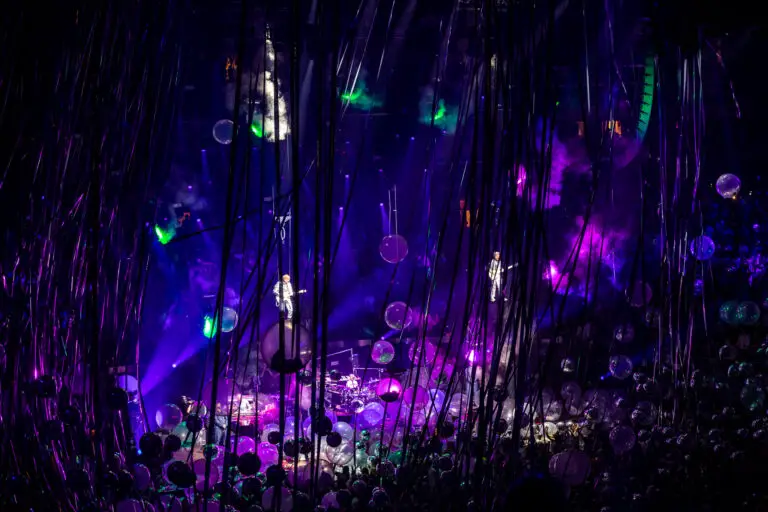 Setlist courtesy of Phish.net
Set 1: The Moma Dance, Stray Dog, 555, Sand, Lawn Boy, Steam > Chalk Dust Torture > What's the Use? > Play by Play, Waste, Ass Handed, Run Like an Antelope
Set 2: Down with Disease[1] > Farmhouse > Seven Below > Twist > Harry Hood > Passing Through, Harry Hood
Set 3: Mercury[1] > Auld Lang Syne, Say it to Me S.A.N.T.O.S., Simple, Saw It Again > Limb By Limb > Rock and Roll > Suzy Greenberg
Encore: The Lizards, Character Zero
[1] Unfinished