It's the season of giving and not only is NYS Music spotlighting a few can't-miss shows all month long, we're here to give you the entire run-down as well.
Syracuse – Funk 'N Waffles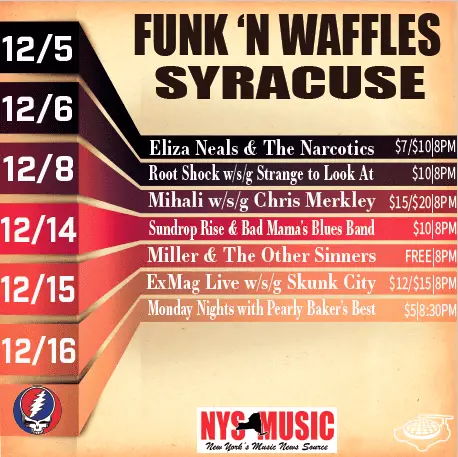 December 5 – Eliza Neals & The Narcotics will be lighting up Syracuse and it is sure to be a show you cannot miss.  Eliza's highly-praised, velvety and dynamic vocals will be accompanied by her powerhouse band for an incredible night of music.  Event link.
December 6 – It's Funk 'N Waffles' 4th Anniversary and who better to celebrate this special occasion than Root Shock with the special guest Strange to Look At?  These Syracuse-local acts will provide a healthy mix of reggae, soul, blues, hip hop, and ska inspired music for a night that is sure to have something for everybody. Event link.
December 8 – The celebration does not stop there, however, and the birthday party continues with the mesmerizing songwriter, guitarist and vocalist, Mihali, with special guest Chris Merkley. Event link.
December 14 – More Syracuse-native acts, Sundrop Rise and Bad Mama's Blues Band, will be bringing soulful groove and dirty blues for the night. Event link.
December 15 – Come hang out with Miller & The Other Sinners and treat yourself to their bluesy, soulful Indie rock that will leave you wanting more. Event link.
December 16 – ExMag wants you to discover their extraordinary magnitude through the soulful, futuristic sounds they will be performing for Syracuse, joined by the funk rock experience, Skunk City. Event link.
December 20 – Mushroom Cloud is known for their explosive and organic funk-rock sound and will be bringing the energy with rap rock act, Buggin' Out.  Event link.
December 21 – Sterling Stage Solstice Party will be packed with incredible acts including Big Sexy and The Scrambled Eggs, Old Deer Ensemble, and Moe Michnick.  There will be door prizes, discount Sterling Stage ticket sales, and most important, a plethora of holiday cheer and music with energy to match.  Event link.
December 22 – The power-duo of brothers known as Balkun Brothers will be hitting the stage in Syracuse with their heavy new-age psychedelic rock and blues with "desert/stoner" rock band known as Stone Giant.  Event link.
December 28 – The West African-inspired, funky, dubbed-out psychedelic band known as Barika will be performing with indie rock group, Vintage Pretty.  Event link.
December 29 – BSG will be performing a very special Tribute to Chris Cornell to benefit Frankie Cutie.  Click the link to get your ticket and secure your spot. Ticket link.
December 31st – There is no better way to ring in the new year than to kick it off with the incredible stylings of Sophistafunk at the Funk 'N Waffles New Years Eve Party.  Event link.
And back by popular demand, Monday nights will once again be filled with tributes to the Grateful Dead brought to you by, the one and only, Pearly Baker's Best. Event link.
Plattsburgh
December 21 – Plattsburgh Blues and Jazz has a very special holiday present for those in the area on the 21st.  Award-winning Canadian artist, Angel Forrest, otherwise known as the blues goddess, or the reincarnation of Janis Joplin, will be coming with her full six piece band.  This is sure to be a performance you do not want to miss!  Website event link.