This November, we are thankful for all the incredible artists that will be rolling through the lovely state of New York and would like nothing more than to share all these shows with you.  Continue reading for your monthly breakdown of all can't-miss live music near you.
Rochester – Funk 'N Waffles
Funk 'N Waffles will be closing for the second half of the month of November, but before they say their short farewell, they will be packing the beginning of the month full of incredible performances.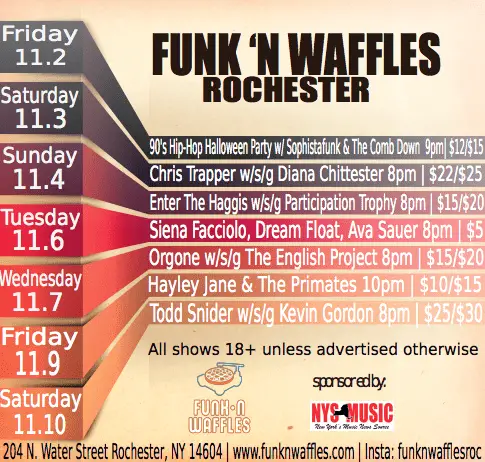 November 7th – "Orgone delivers dirty, organic, California soul with heart music that grabs you by the collar, pulls you to your feel and shoves you wantingly onto the dance floor," and they will performing with The English Project on the 7th.  If that description does not send you running towards Funk 'N Waffles to see them play, then I don't know what will.  Be sure to check them out! Event link.
November 9th – Hayley Jane & The Primates will be providing a soulful rock & roll music performance with vibrant stage presence that is sure to have Rochester captivated. Event link.
November 10th – Alternative country and folk artist, Todd Snider, will be taking the stage with indie swamp artist, Kevin Gordon, on the 10th. Event link.
Syracuse – Funk 'N Waffles
November 8th – Before they hit Rochester on the 10th, come through Funk 'N Waffles in Syracuse to see Hayley Jane & The Primates the night before for the Bob Weir After Party. Event link.
November 9th – Kuf Knotz will be bringing the hip- hop, soul and reggae sounds along with special guests, Christine Elise and Red Beard Samurai. Event link.
November 10th – As dynamic as they sound, Dynamo, the R&B, funk and jazz band will be performing with special guest Chris Eves & The New Normal. Event link.
November 11th – Sean Rowe will be bringing his alternative folk stylings and stunning voice to Syracuse along with with Mike Powell and Dana Sipos for a very special night of music. Event link.
November 13th – Zach Deputy mixes hip-hop, funk and folk, with soca and calypso, inspired by his Puerto Rican and Cruzan roots, and makes a beautiful, sunny new sound.  Don't miss this evening with him in Syracuse. Event link.
November 15th – Come feel the electricity that is the jazz rock sounds of Lil Ed & The Blue Imperials with Erin Harpe Trio when they come to Funk 'N Waffles on the 15th. Event link.
November 17th – Big Sexy & The Scrambled Eggs will be bringing yet another night of high energy music to Syracuse, but in the stylings of psychedelic jam music.  Don't miss them as they swing through with special guest, Cypher. Event link.
November 20th – Bob Lanzetti of Snarky Puppy will be performing his mesmerizing guitar stylings with the singer-songwriter, Jean Rohe.  Event link.
November 23rd – Bendetti Band will be taking over with their rock music along with special guest, Ben Bluju.  Event link.
November 24th – The progressive Americana string band local to Central New York, Floodwood, will be joined by Pearly Baker's Best to supply the needed dose of Grateful Dead tributes. Event link.
November 28th – G-Nome Project is what they would call, "livetronica, electro-funk, organic electronica, grilled cheese funk."  Come on out and find out for yourself! Event link.
November 30th – Project/Object's mission is to keep the magic of Frank Zappa's music alive through their incredible recreations.  Make sure to come out and see them live. Event link.
And EVERY MONDAY NIGHT, come out for Dead Night with Pearly Baker's Best! Music starts at 8:30 pm.  And on November 26th, Dead Night will be hosting a Jam for Tots night where attendees are encouraged to bring a gift, in light of the holiday season, which will be collected by Marines to give to children around the holiday.  Come out and see some great music and take the opportunity to pay it forward.
Albany
November 9th – The Ghost of Paul Revere have perfected their own genre they call "holler-folk" that is characterized by call-and-response melodies, sing-along hooks and filled to the brim with harmonies.  To come see them do what they do best with special guest, Charlie Parr, come our the The Hollow Bar + Kitchen on the 9th.  Event link.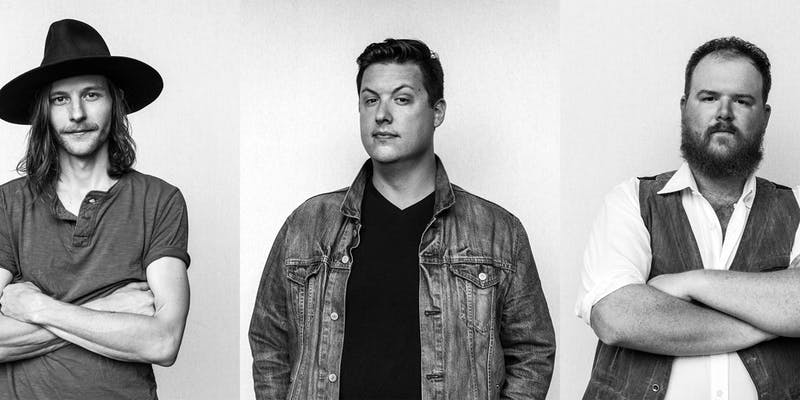 November 10th – Albany-local group Wurliday will be taking over The Hollow on the 10th and is sure to be bringing the most lively and dynamic delivery of funk, soul, and stellar songwriting.  Don't miss their performance with special guest, Dark Honey. Event link.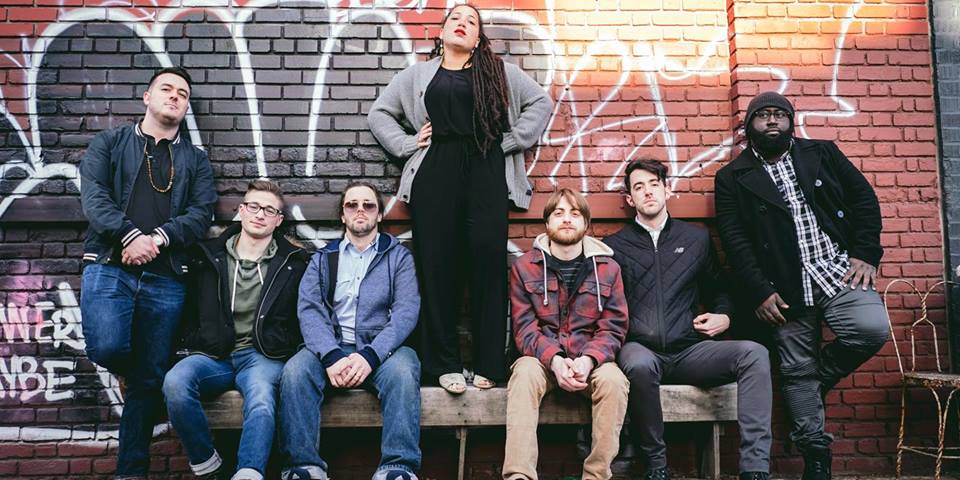 November 17th – Dark Star Orchestra takes on classic Grateful Dead sets but put their own twist on it with their interpretation of the musical era and improvisation.  Don't miss their performance at The Hollow on the 17th.  Event link.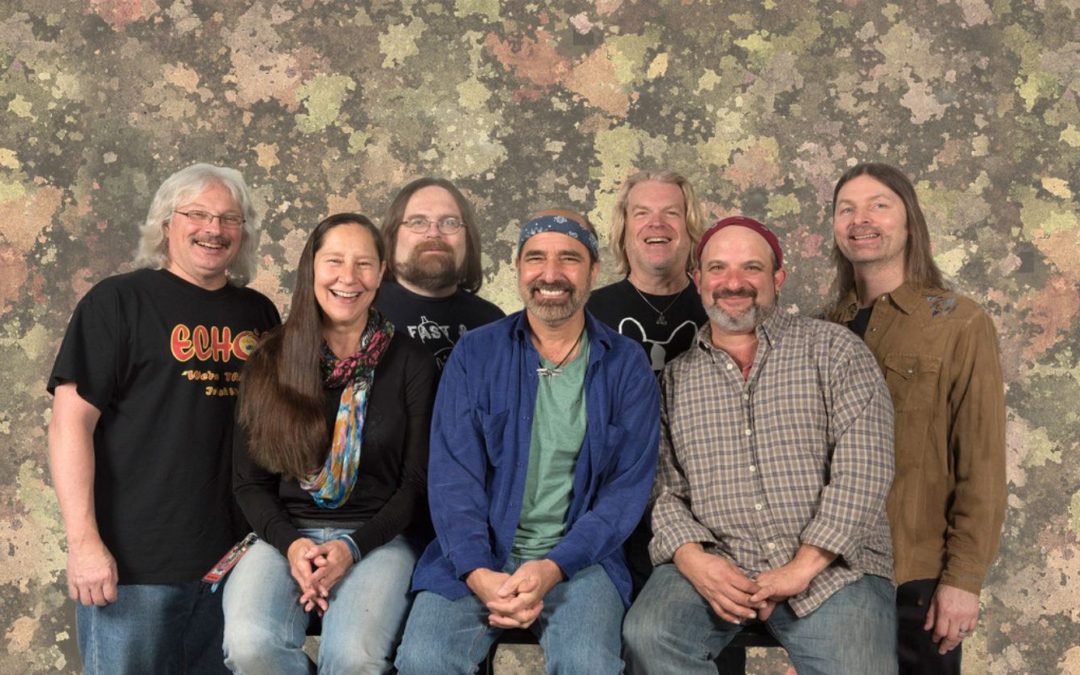 November 23rd – At the Pearl St. Pub, J.E.D.I., or Jazz Electronic Dance Improvisation, and their ever-revolving band of incredible musicians will be taking the stage.  Nothing says Happy Thanksgiving like some deep beats and sonic grooves. Event link.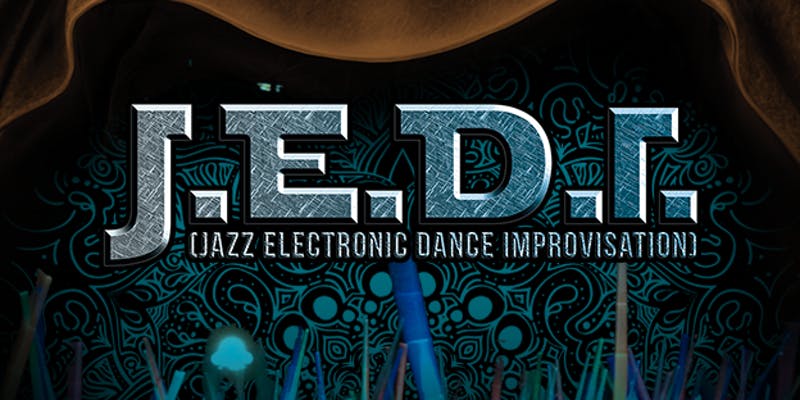 November 30th – A returning favorite group, The Lizards will be playing all the Phish music your heart could desire.  Event link.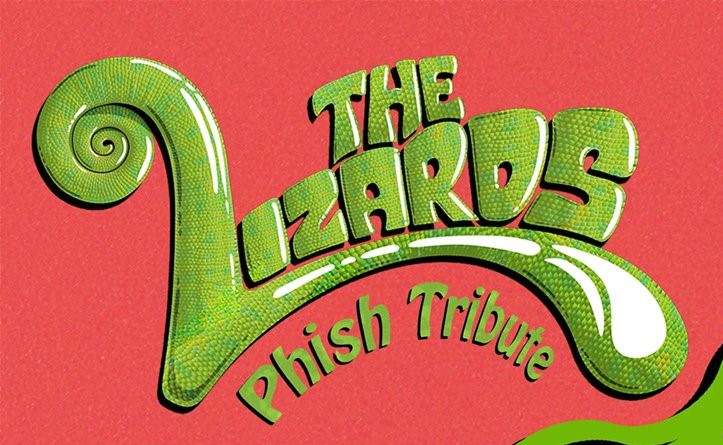 Cohoes
November 14th – John Medeski's Mad Skillet will be bringing the jazz, blues, and R&B sounds that will teleport you straight to New Orleans.  Come experience their, "vast musical universe with limitless potential," as they plan at Cohoes Music Hall.  Event link.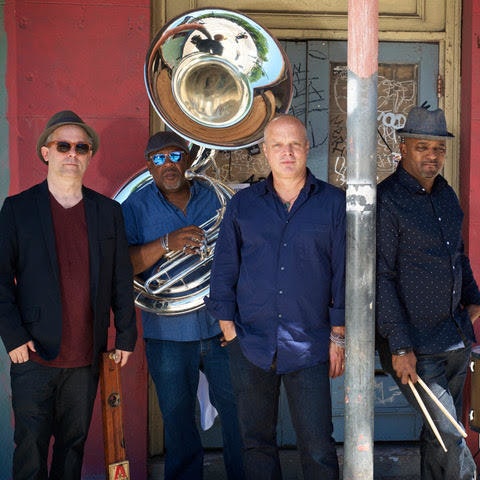 November 23rd – Bluegrass, country and rock inspired group, Eastbound Jesus, will be returning be playing at Cohoes Music Hall for a show full of infectious energy and incredible music.  Event link.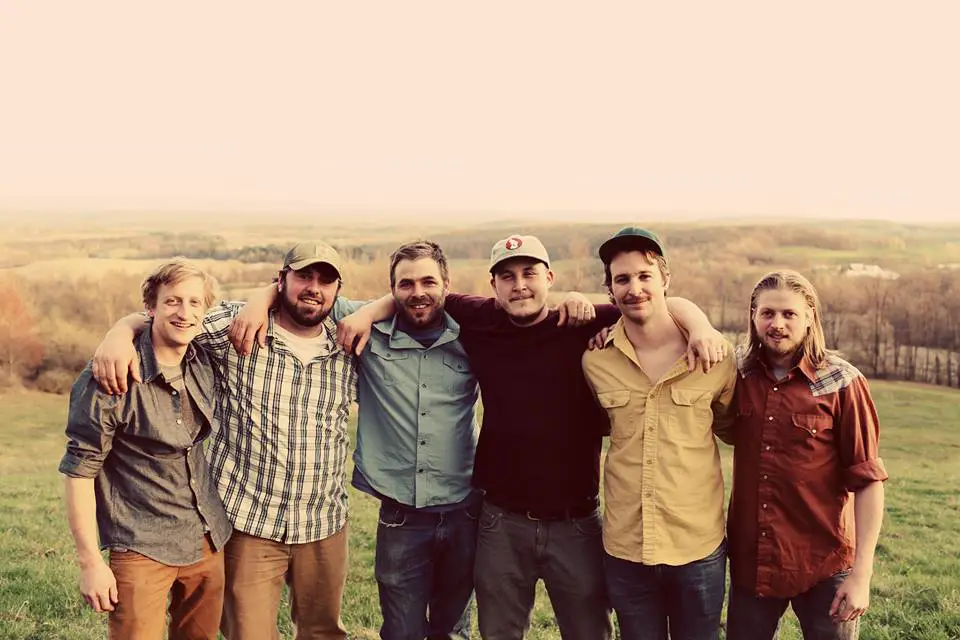 November 24th – The Marcus King Group will be bringing their "soul-influenced psychedelic southern rock" with Ida Mae to the Cohoes Music Hall on the 24th. Event link.