Boasting an impressive 30 year run, the preparations for Warren Haynes' Annual Christmas Jam are  underway. The popular, two-night benefit will take place on Dec. 7 and 8 in Asheville, NC at the U.S. Cellular Center. Tickets for presale were released on Oct. 19, along with a limited number of discounted two-day passes and VIP packages. Regular ticket packages go on sale at 10 a.m. on October 26th.
Grammy Award-winning vocalist-songwriter, prolific producer, and notorious guitarist, Warren Haynes has more than upheld his reputation by continuing to curate performances that draw crowds year after year. Haynes spoke on the event's transformation over the years stating,
I can't believe that it has been 30 years since myself and a few friends held a small event in a local club so we could all play together around the holidays and donate a small amount of money to charity… It's gone from being a local event to an international one and we couldn't have done it without the help of all the great artists, bands, and musicians that have donated their time through the years… This is truly going to be the biggest and best Christmas Jam yet.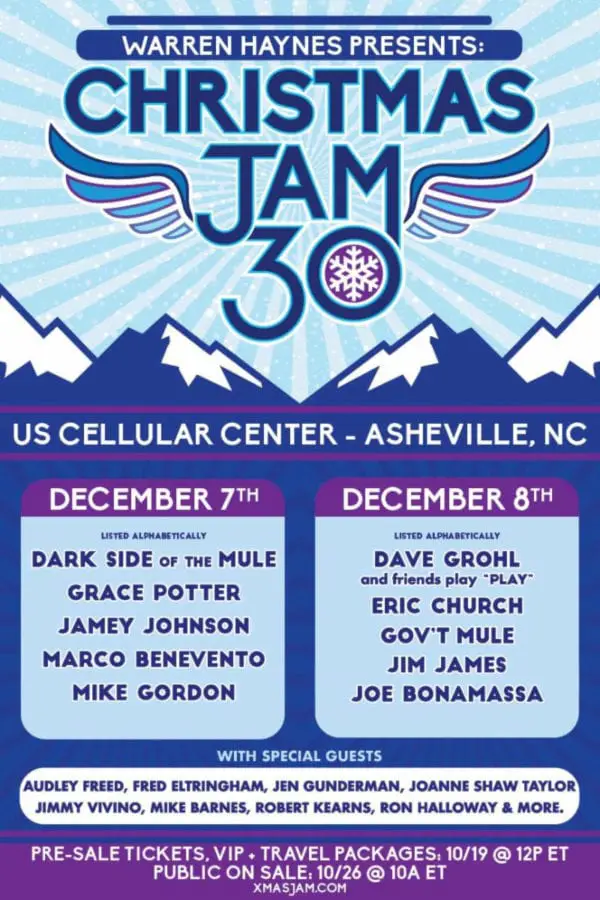 This year's line-up, in alphabetical order, for Dec. 7 is as follows: Dark Side of the Mule, Grace Potter, Jamey Johnson, Marco Benvento, and Mike Gordon of Phish. Dec. 8, also in alphabetical order, includes: Dave Grohl and friends play "PLAY", Eric Church, Gov't Mule, Jim James, and Joe Bonamassa. While local and international music fans can expect stellar performances both evenings, the entertainment doesn't stop there. There's no need to wait around till dusk; attendees can treat themselves to "Xmas Jam By Day" concerts and events. Also note that there are still other artists to be announced as the Christmas Jam draws nearer so be on the lookout for further announcements.
The 2018 Christmas Jam marks 30 years of great music, but it also commemorates 20 years of Warren Haynes collecting donations specifically for the Asheville Area Habitat for Humanity. Haynes' investment in his community and long-term commitment to this cause has resulted in the Christmas Jam collectively raising roughly 2.3 million dollars for Habitat for Humanity. For concert goers looking to be more directly involved in the charity, there is another day event which coincides with the concert. "Before the Jam, Lend a Hand" brings together the musical artists, event staff, and attendees to help construct those homes which are only possible due to concert proceeds.
The link below is a video of Warren Haynes performing "Melissa" with Warren Haynes with Jake Shimabukuro at last year's 29th Christmas Jam.