Fairfield University bred rockers, The Lionfish, sting. Their second studio release, You Won't Keep Me Down, is as colorful as the marine fish itself. It's packed stout with driving rock, intimate blues-ballads and sounds that delineate genres. The Lionfish cannot be defined, nor contained. You Won't Keep Me Down sounds more like a greatest-hits rock party than anything else.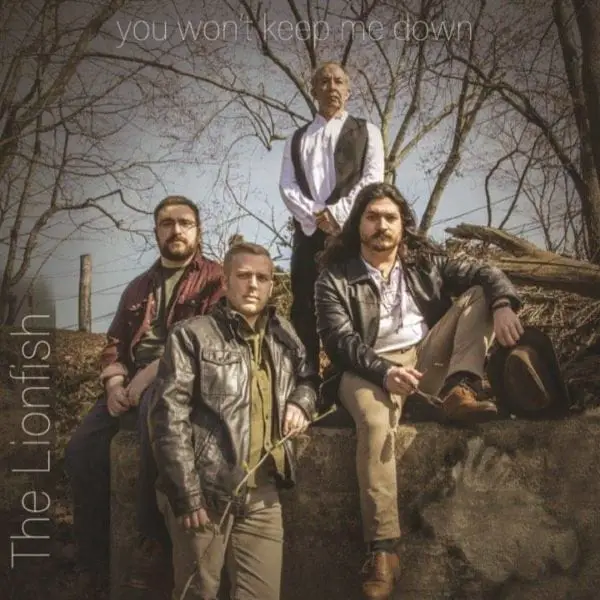 The Lionfish will be debuting You Won't Keep Me Down Friday September 28 at Peaches Southern Pub & Juke Joint from 9:30 pm to 12:30 pm. The beauty and purity of the record will be preserved, performed in its entirety, amidst a non-stop three-hour set.
"Our origins are not based on a pop single," said frontman, Robby Schwartz. "We are all raised and influenced on the idea of an album as a whole."
The album's title track "You Won't Keep Me Down" is a full-fledged swamp tune. Heavy drums hold the band steady, as screaming guitar licks respond to Schwartz's vocal chants. Each instrument speaks; arpeggiated keys, guitar and bass all crash into the bridge. Their energy is sharp and venom-like. Your feet won't have a choice. Go ahead and try.
"The album speaks to a voice in favor of loving your neighbor, instead of building walls. 'You Won't Keep Me Down' was one of the first songs written. It is anthemic in its own way," said Schwartz.
"Dogs of Quito" is a more poetic take on rock n' roll. Schwartz had been writing most of the songs while in Ecuador, volunteer teaching, as "a release from the normal working world." Inspired by authentic Quito graffiti,  the tune has a recurring theme of Without Love Nothing. The desolate streets can be heard in Schwartz's distinct 'howls' throughout the driving chorus.
The dogs of Quito are howling / In a fight like there's no tomorrow / The rest of the world is watching / In a trance of pain and sorrow.
The Lionfish get intimate with "She Lifts Me Up." The track is jazzy and soulful, opening with finger-snaps and backed by powerful female harmonies. Schwartz's keys take off. The dynamic change reveals the subtle articulation of each instrument. "She Lifts Me Up" was also featured as  a NPR fan favorite, submitted as a Tiny Desk entry.
Acoustic guitar sets the mood for "The Last Town," with a southern air that makes the listener sway with the breeze. "The first five tunes are my favorite," said Schwartz. "There were times on the record when I was writing from an outsider perspective." However, "Some of the tracks date as far back as high school."
Other tracks stand out, such as "The Wall," which features Schwartz on solo piano. "Love (Sin Amor, Nada)," becomes otherworldly, with clave ostinatos and a variety of percussion. "Untitled Blues," concludes the twelve-track record, with a nine minute anthem of nonstop soul.
"I think this show at Peaches will be a great opportunity for us to show off how proud we are. We are playing the album in its entirety, along with a bunch of covers. It will be interesting to play it live as a four-piece," featuring core band members Chris Finelli (guitar), Mark Schwartz (bass/guitar/vocals), Robby Schwartz (keys/bass/trombone/vocals) and DJ Horstmann (drums).
Key Tracks: You Won't Keep Me Down, Dogs of Quito, Untitled Blues.