A crowd estimated at more than 16,000 people gathered at the New York State Fair's Chevy Court in Syracuse on a beautiful moonlit evening to hear the unique sound of the Tedeschi Trucks Band. Susan Tedeschi's powerful, emotion-soaked vocals are at the front of most of their songs. What makes the band unique is the addition of her husband, world class guitarist Derek Trucks, and a cast of fellow band mates that would be the envy of any guitar/vocal combo. Including the punch of double drums, the wallop of a horn section and extraordinarily gifted backup singers, and the sublime Kofi Burbridge contributing accents on flute and huge swaths of sweeping organ melodies, there is a multi-layered density to their music that simply doesn't sound much like other bands.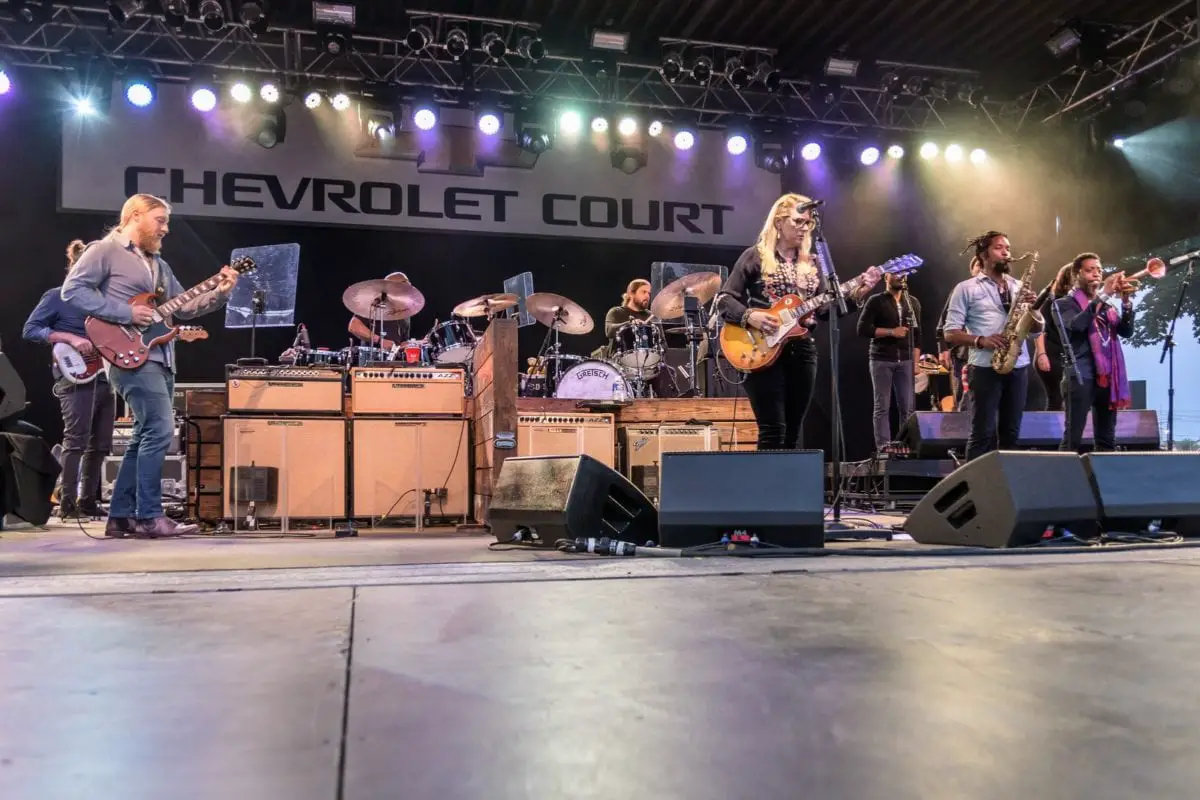 At times, there are elements of funk, soul, roots rock, blues, jazz, free-form jams, and a kind of comfortable pulse or groove to all of it that propels the music further. While Tedeschi and Trucks have their names on the marquees, they allow plenty of latitude for every member of the band to shine and contribute. It's the type of music that finds people that might be unfamiliar with the songs still smiling, tapping their feet, shuffling and swaying back and forth, and feeling their spirits uplifted as the music builds and soars.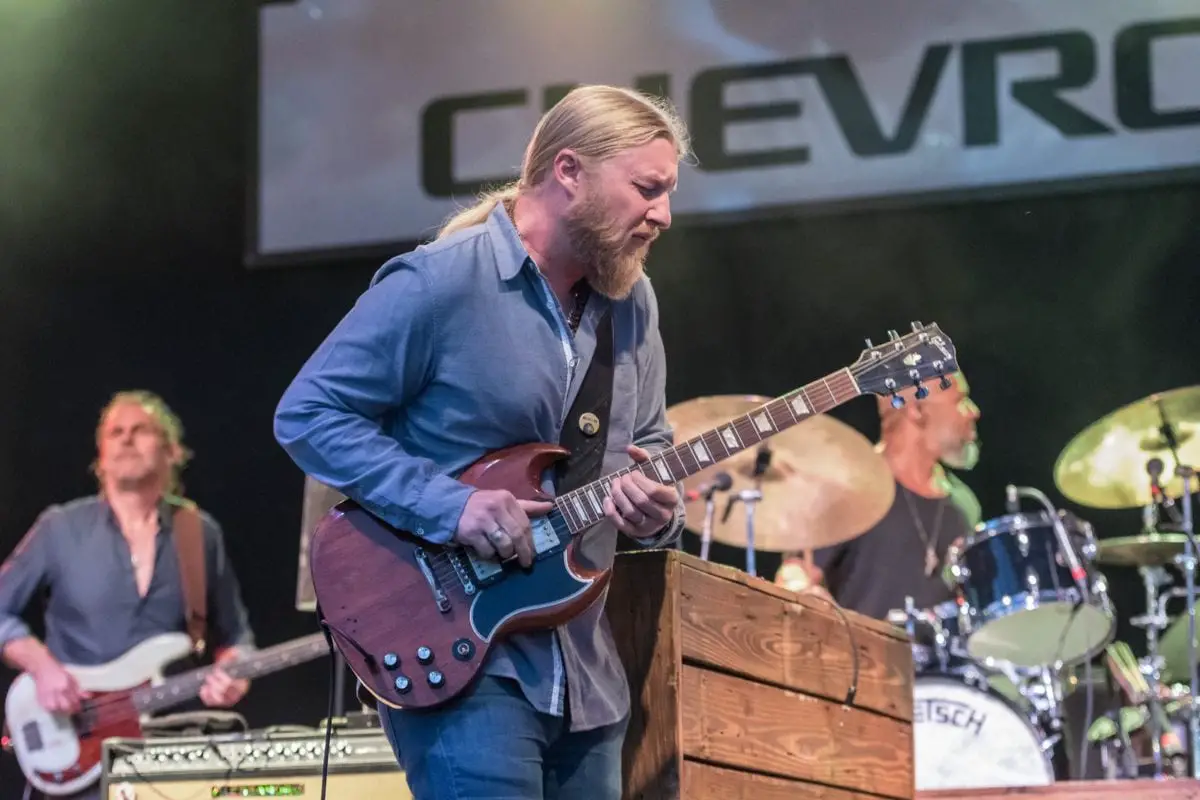 A couple of the evening's highlights occurred back to back, in the form of Tedeschi's breathtaking vocals on the gospel-like "Bound for Glory," followed by Mike Mattison (who shares many songwriting credits in the band) taking the lead to sing a gritty, growling cover of Bob Dylan's "Crash on the Levee (Down in the Flood)". Those weren't the end of the highlights, as a couple of tunes later, the band invited Central New York native Al Schnier from the band moe. to join them in a cover of "Tell the Truth." This was a guitar fan's dream, as Trucks, Schnier and Tedeschi stood side by side at center stage and traded riffs for nearly ten minutes. In an interesting twist, the first ever live performance and first ever recording of that song by Derek and the Dominoes included Dave Mason (of Traffic), who had played earlier in the afternoon on the same Chevy Court stage.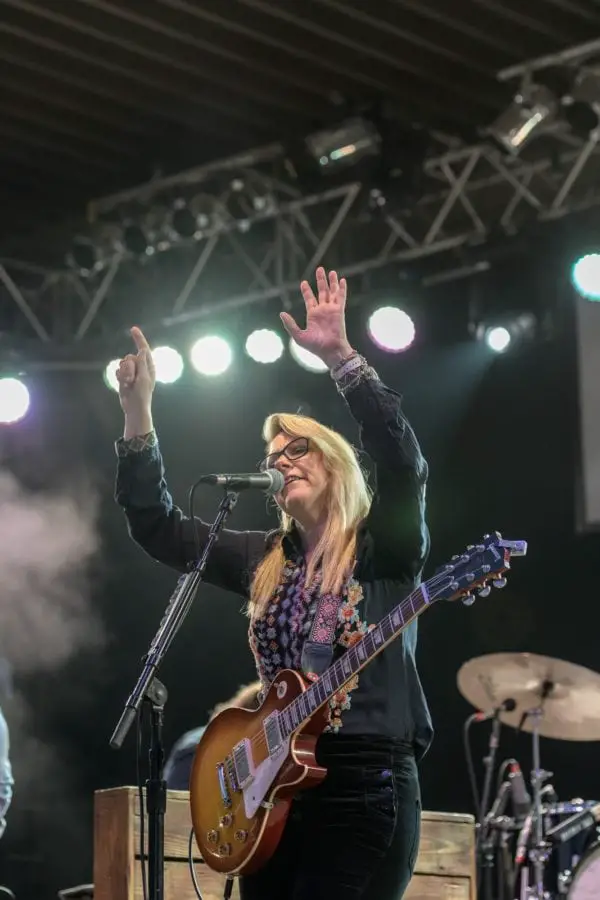 The band finished their main set with a song that seemed to perfectly express the sentiments of the crowd, "I Want More." After a brief exit, the band returned for encores. Derek Trucks and saxophonist Kebbi Williams teamed for an instrumental "Swamp Raga" intro to "Midnight in Harlem." The band closed the show with an exuberant take of Joe Cocker's "Space Captain."
Setlist: Don't Let Me Slide, Laugh About It, High & Mighty, Get What You Deserve, Lord Protect My Child @, Bound For Glory, Made Up Mind, Crash On The Levee (Down In The Flood) @, Part Of Me, Tell The Truth #, More And More, How Blue Can You Get %, I Want More, Encores: Midnight In Harlem (Swamp Raga intro), Space Captain $
@ – Bob Dylan cover, # – Derek and the Dominoes cover, % – BB King arrangement cover of Johnny Moore's Three Blazers song, $ – Joe Cocker cover