Formula 5 wraps up their Summer Tour this week with performances at Long Trail Brewery (Thurs, Aug 24), B.R.Y.A.C. (Fri, Aug 25) and next week at Adirondack Music Festival in Lake George, NY on Saturday, September 1. Looking ahead to the fall, Formula 5 will bring a dose of Panic throughout the South and Colorado with a few stops back in New York and New England where they'll be performing a 'Widespread's Dead' set at select shows. They'll also stretch their legs with performances at Resonance Music Festival, The Heap Music Festival and Mustang Rock and Roast Music Festival that a part of a tour that spans 12 states and brings the band to new markets and familiar haunts.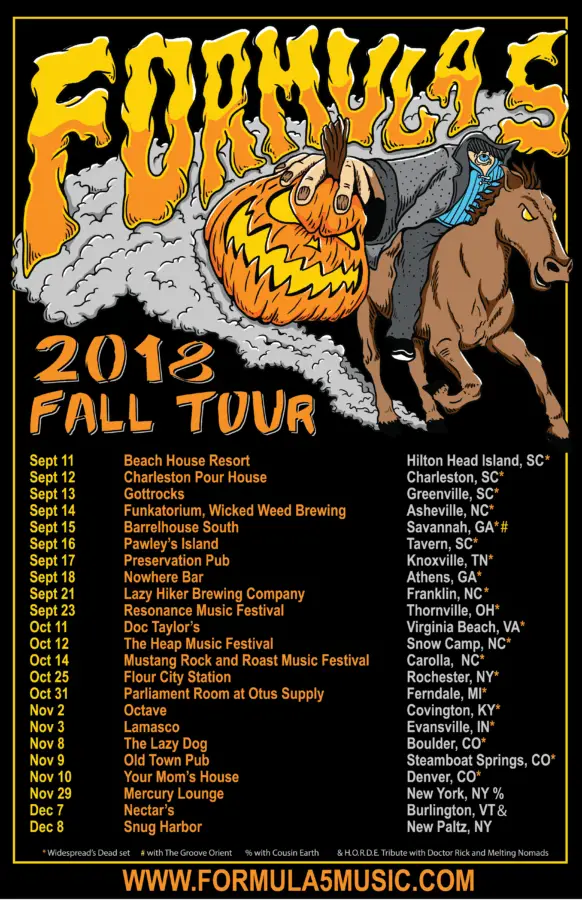 Starting in Hilton Head, SC (Sept. 11) and running through the Denver, CO (Nov. 10) show, the evening will feature a set of 'Widespread's Dead,' a unique tribute experience that will feature a mix of songs from two of the most prominent jam bands in history, Widespread Panic and the Grateful Dead. This special treat for old and new Formula 5 fans alike will not disappoint as they bridge songs from two with bands' repertoire with their own skillful improvisation.
Colonie native and Formula 5 guitarist Joe Davis explains the concept of "Widespread's Dead" and the band's love for the southern jam band. "We loved playing Grateful Dead, Allman Brothers Band and The Band in recent years and thought it would be fun to add some Widespread Panic into the mix, especially because a lot of bands from where we come from don't cover Panic. We are big Panic fans but we don't get to see a lot of Panic up here. The music is just a very different pace then what we are used to as longtime Phish fans."
Formula 5 Fall Tour Dates
Sept 11 Beach House Resort, Hilton Head Island, SC*
Sept 12 Charleston Pour House, Charleston, SC*
Sept 13 Gottrocks, Greenville, SC*
Sept 14 Funkatorium, Wicked Weed Brewing, Asheville, NC*
Sept 15 Barrelhouse South, Savannah, GA*#
Sept 16 Pawley's Island Tavern, Pawley's Island, SC*
Sept 17 Preservation Pub, Knoxville, TN*
Sept 18 Nowhere Bar, Athens, GA*
Sept 21 Lazy Hiker Brewing Company, Franklin, NC*
Sept 23 Resonance Music Festival, Thornville, OH*
Oct 11 Doc Taylor's, Virginia Beach, VA*
Oct 12 The Heap Music Festival, Snow Camp, NC*
Oct 14 Mustang Rock and Roast Music Festival, Corolla, NC*
Oct 25 Flour City Station, Rochester, NY*
Oct 31 Parliament Room at Otus Supply, Ferndale, MI*
Nov 1 Woodlands Tavern, Columbus, OH*
Nov 2 Octave, Covington, KY*
Nov 3 Lamasco, Evansville, IN*
Nov 8 The Lazy Dog, Boulder, CO*
Nov 9 Old Town Pub, Steamboat Springs, CO*
Nov 10 Your Mom's House, Denver, CO*
Nov 29 Mercury Lounge, New York, NY%
Dec 7 Nectar's, Burlington, VT&
Dec 8 Snug Harbor, New Paltz, NY
* Widespread's Dead set
# with The Groove Orient
% with Cousin Earth
& H.O.R.D.E. Tribute with Doctor Rick and Melting Nomads
Check out their June 22 Skinny Pancake show from Burlington, VT, featuring Richard James of Pink Talking Fish on keys for a 32-minute "Wolfman's Brother," and their Tumbledown post-show at Nectar's on July 28. and their recent performance at Disc Jam Music Festival on June 9 featuring special guests Rob Compa (Dopapod) and Turkuaz horns.