Despite an intense musical appetite, I have always struggled to understand the draw to major jam bands like Grateful Dead. So it was with an apprehensive but open mind that I ventured to Frontier Field Friday, August 3 to test the waters with Dark Star Orchestra, one of the most prominent GD tribute bands out there.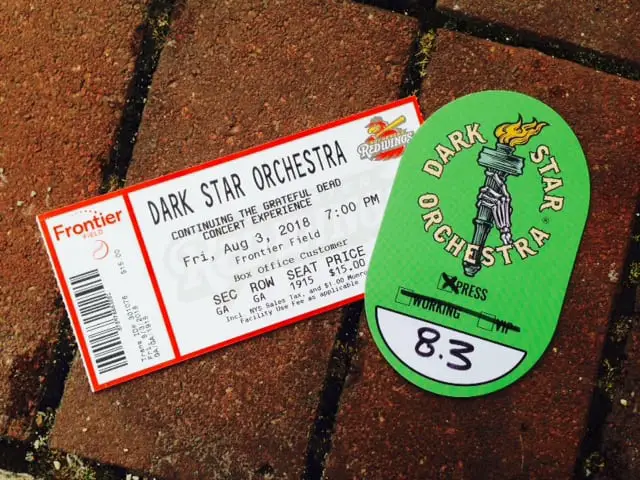 This year marked their fourth annual stadium show at Frontier Field, and it's something DSO and GD fans alike look forward to all year. In the past few months I have been exposed to various live recordings of GD shows throughout their career, but often felt the music had no memorable quality, like if it suddenly stopped playing in the background I might not even notice. I've also sought the wisdom of knowledgeable friends who have given their best effort to inform my musical appreciation of the jam scene, but still hadn't gained much traction.
With this chip on my shoulder, I walked into the stadium and became instantly optimistic. The setting alone is worth going to see DSO. With the stage nestled near home plate, it is surrounded by an impossibly green field, punctuated by some familiar players in the Rochester skyline, including the infamous Kodak building off to the left. Anyone with Rochester pride would seriously appreciate this venue.
It's refreshing that DSO plays slightly more uptempo than a lot of the GD recordings I've heard, so the music is more lively. Oh- and they can sing. It's so frustrating when off key vocals distract from an otherwise enjoyable song. This has always been one of my biggest complaints with jam music.
In terms of the setlist, more seasoned fans know if you hear "China Cat," you're gonna hear "I Know You Rider" right after. Same with "Lost Sailor" and "Saint of Circumstance." I didn't know the songs well enough to recognize them at the show, but I did recognize that "The Music Never Stopped" and "One More Saturday Night" were both really fun to dance to. I feel accomplished to finally appreciate a couple songs from their extensive catalog without a serious fan explaining why I should. It feels like a rite of passage in terms of understanding this music better.
Even when things got noodly, it didn't drag on incessantly as jams often can. For a long time I've thought musicians noodling on stage and fans noodle dancing in the crowd was just plain funny. It's hilarious to me that a silly food describes both technical musicianship and the wiggly dance moves of the people who worship this music. It was too easy to make fun of and I couldn't take it seriously. I can get down with a quick little jam, but I never understood how the crowd tolerated prolonged noodling where the music sometimes doesn't even make sense or can go off on boring tangents. But that's the nature of jamming- sometimes it works out and sometimes it doesn't. It's more difficult to make something sound good having never practiced it. It's taken me a long time to accept this when all I want at a show is to be blown away by the music.
Interacting with the crowd at DSO also enhanced the experience. The incredibly welcoming crowd swiftly facilitated making friends with total strangers in the beer line or in the bleachers. Of all the music genres, this one encourages a sort of carefree dance expression you can't find everywhere, and it's definitely contagious.
I may still will never be a Deadhead, but I've been a music fanatic long enough to warrant some investigative reporting. I will continue seeking to better understand my own misgivings with jam music and to appreciate some iconic music of our history.
Set 1: Alabama, Bucket, West LA, Memphis Blues, Lazy River Road, Esau, Blow Away, Ramble On, Sunrise, Music
Set 2: China Cat > Rider, She Belongs To Me, Lost Sailor > Saint of Circumstance > Drumz > Dear Mr. Fantasy > Throwing Stones > World To Give > Saturday Night
E: Mr. Charlie, C'est La Vie (You Never Can Tell)