Prior to being Magnified and well before it Curved, it was Super.  Phish's third major festival in New York State, formally known as Superball IX, took place in July of 2011 at the esteemed Watkins Glen International located in Schuyler County.  The move to "The Glen" served as a departure from the band's previous festival locations at abandoned Air Force Bases which hosted the likes of The Clifford Ball and The Great Went and exchanged it for a world class motor speedway that may be most remembered for an event held almost 40 years beforehand.
The Grateful Dead, The Band and The Allman Brothers Band all combined forces in 1973 for an event that drew over 600,000 people to the racetrack for a concert known as Summer Jam, creating traffic and a scene that dwarfed Woodstock in size. That would be the last major concert at Watkins Glen until Phish was able to secure permission to hold Superball IX there and reopen the racetrack grounds for music.  Let's take a look back at some of the things that made Phish's ninth festival so special.  And make sure to also check out our retrospectives on the prior two that also called New York home, The Clifford Ball and Camp Oswego,
To say there was a (beautiful) buzz about Phish in the summer of 2011 is an understatement. Any and all rust in terms of the band's cohesiveness and ability to communicate instrumentally had been wiped away since their return to the stage in 2009 after a near five-year "break up." And while 2010's Festival 8 at Coachella's home in Indio, CA would technically be their first festival since the reunion, this was their first East Coast festival since coming back, where all the others had been. The buzz only grew louder after the summer tour was kickstarted with 4 notable shows at another legendary New York venue for music in New York – Bethel Woods Center for the Arts, which happens to reside on the grounds of that aforementioned Woodstock festival.
By the beginning of July, with another 15 shows under their belt since Bethel, Phish was ready to end the first leg of their summer tour in style.  The village of Watkins Glen rolled out the red carpet for phans and then some with signs welcoming them and deals catered to the Phish crowd as the locals seemed to embrace what was sure to be a brief but powerful economic boon.
Cars and RVs slowly began to line up and soon fill up the festival grounds early Thursday morning in preparation for a full weekend of music.  And it was clear Phish management had done their homework and learned from festivals of the past as the entry process was devoid of any of the nightmare-ish traffic jam tales associated with IT (2003) and Coventry (2004). With more vehicle entrances that allowed for a better traffic setup, getting in was a breeze for many. Having great weather all week and a venue that's capable holding 100,000 NASCAR fans certainly helped as well.
Those that were set up early enough got to hear a pre-festival soundcheck, either within earshot from the stage or via broadcast on The Bunny, Phish's traditional festival radio station that usually takes over a local FM radio transmission for the weekend.  A light, whimsical sound check featuring songs like "Sleep Again" and "Ginseng Sullivan" displayed the band's looseness and featured of plenty of improvisation to help whet the collective appetite for the weekend.
DAY 1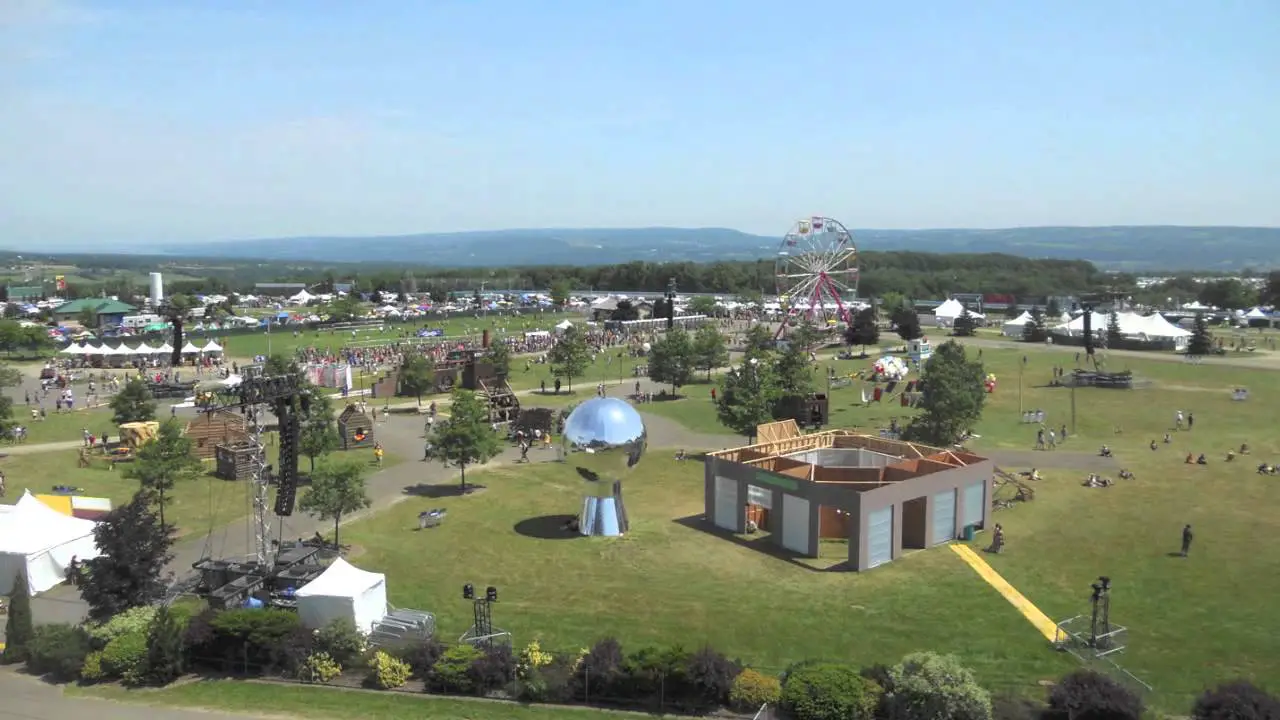 By the time Friday afternoon rolled around, everyone had gotten a good chance to stroll about the festival grounds and see all the art exhibits and other general weirdness displayed everywhere. Various sculptures and small buildings greeted patrons as they made their way closer to the stage and the plethora of food and beer vendors lined up aside it.
The first set of the weekend was fairly straightforward albeit with a powerful "Possum" that began the festivities, followed by a unique "Peaches en Regalia" > "Moma Dance" combination. Towards the end of the set, "Wolfman's Brother" delivered a slow but funky groove that steadily grew in intensity and served as the first signs of heavy jamming. But the highlight of the set, for many, was the unexpected bustout of "Life on Mars?," a David Bowie cover that hadn't been played since 2003, or 175 shows to be exact. Lots of fans were finally able to take this one off of their respective "unseen" lists as the band played it before a gorgeous New York summer sunset.
7/1/11  Set 1: Possum, Peaches en Regalia > Moma Dance, Torn and Frayed > NICU > Bathtub Gin, Life on Mars?, My Friend,My Friend, Wolfman's Brother, Roses are Free > Funky Bitch, Quinn the Eskimo
Friday's second set opener was a harbinger of things to come as the band opened up with a dark, foreboding ambient second jam for several minutes before bursting into the Talking Heads' "Crosseyed and Painless" which later gave way to the anthemic "Chalkdust Torture."  Later on, another precursor of future events unfolded in the form of an extended spacey jam emanating from "Simple" that oozed eerie and ominous tones.
But you don't have to take my word for it.  Here's pro shot footage of Superball's "Simple" and the ensuing "Bug" that features a powerful jam on the back end.
7/1/11  Set 2: Jam > Crosseyed and Painless > Chalkdust Torture, Sand > The Wedge, Mike's Song > Simple > Bug > The Horse > Silent in the Morning > Weekapaug Groove, Joy > Character Zero
Encore: Show of Life
DAY 2
Saturday brought with it three sets of music and and a sweltering heat to deal with for the opening one in the afternoon.  Water and shade were at a premium as the sun beat down on a crowd estimated to be close to 30,000 – a far cry from the population of Summer Jam.  This also meant Superball IX would be one of the lighter attended Phish festivals when compared to ones from the past that drew 60,000 or more. But all this did was make for a pleasant experience all weekend as lines for vendors were more than manageable and everyone was able to move around (and dance) freely.
Those that did get up to get down that Saturday afternoon did so under a scorching sun and to another first set with some unique song selections. The show officially started with a rip roaring "Tube" that immediately prompted an all out beach ball frenzy in the crowd.  Seemingly thousands of beach balls of various colors and sizes bounced around happily while Phish while began the day's festivities and gazed at a sea of super balls.
Here's some great fan shot footage of the opener and the ensuing "Kill Devil Falls" that puts you right in the middle of the maddness.
The rest of the first set was business as usual with staples like "Lawn Boy " and "Divided Sky" being delivered in addition to "Cities," another commonly played Talking Heads cover. But this set strayed off the beaten path a little in the form of two songs the band had never played before.  The first of which was "Susskind  Hotel" which came on the heels of the reverb ending of "46 Days."  Devoted fans recognized this as a song concocted and played by bassist Mike Gordon with his side project, but this was a debut for Phish.  Then, after what appeared to be the fairly standard "Suzy Greenberg" set closer replete with a finishing flurry on piano from Page McConnell, the band stayed on stage for one last song, a completely unexpected cover of The Rolling Stones' "Monkey Man," as seen on the album Sticky Fingers and immortalized by the move Goodfellas.
7/2/11  Set 1: Tube, Kill Devil Falls > Ocelot, Lawn Boy, Divided Sky, Boogie On Reggae Woman > Camel Walk, Cities > Poor Heart > 46 Days > Susskind Hotel , When the Circus Comes, Timber Ho! > Back on the Train > Suzy Greenberg, Monkey Man
Those looking for an added challenge in the hazy, humid Saturday heat had their chance to do so courtesy of the second ever Runaway Jim 5K Road Race that took place right on the race track.  It was quite a scene to behold as small groups of quasi-serious runners bobbed and weaved around others decked out in costumes and clearly there just for the experience. Fittingly, the second set of the day opened with "Runaway Jim" and the band took the opportunity to bring the winners of the race up on stage for a brief trophy presentation.  Immediately after that, it was back to business and the band finished up the song and plowed through another set of fan favorites that included numbers like "Axilla," "Stash" and "The Mango Song."  One of the more poignant moments of the set was the performance of "Scents and Subtle Sounds," still a fairly new song at that time and only played once before since the band's reunification in 2009. An emotionally charged jam lifted the crowd up before another appropriately titled song "Run Like an Antelope" closed out the set.
7//2/11 Set 2: Runaway Jim > McGrupp and the Watchful Hosemasters, Axilla > Birds of a Feather, Stash, Sample in a Jar, Heavy Things > Horn > It's Ice > The Mango Song > Rift > Scents and Subtle Sounds, Run Like an Antelope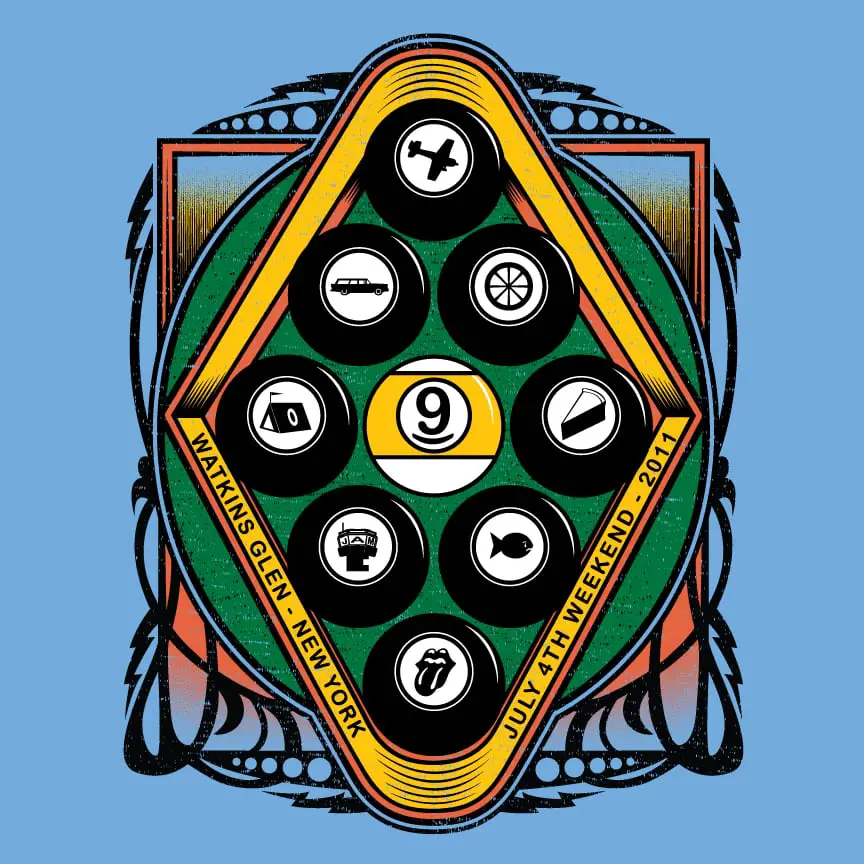 Phish had one more (announced) set scheduled for the evening and rolled out a doozy.  With another cover to open, this time TV on the Radio's "Golden Age," it soon began a chain of progression that delivered both classic originals and other covers that the band has made their own over time. And it didn't stop until the set was completed.  From traditional behemoths like "Piper" and "Tweezer" that showcased Trey Anastasio's inspiring guitar work to a rousing cover of The Beatles' "A Day in the Life" to close it, this set offered up a little bit of everything as each song flowed effortlessly into the next.
7/2/11 Set 3: Golden Age > Prince Caspian > Piper > Tweezer > Julius > Backwards Down the Number Line > Twist > Also Sprach Zarathurstra > Harry Hood > Cavern > Golgi Apparatus > A Day in the Life
Encore: Loving Cup > Tweezer Reprise
Afterwards, most folks headed back to their respective campsites both with the glow of having experiences three great sets of music and wonderment as to whether there would be another "secret" set like in previous East Coast festivals.  Harkening back to the unannounced performance on a flatbed truck rolling through The Clifford Ball grounds, Phish has typically pulled out some sort of surprise during the course of a festival. One of the defining moments of IT in 2003 was an unannounced "Tower Jam" that saw the band play at the top of an abandoned control tower in the control room while lights and acrobatic dancers graced the outside of the tower.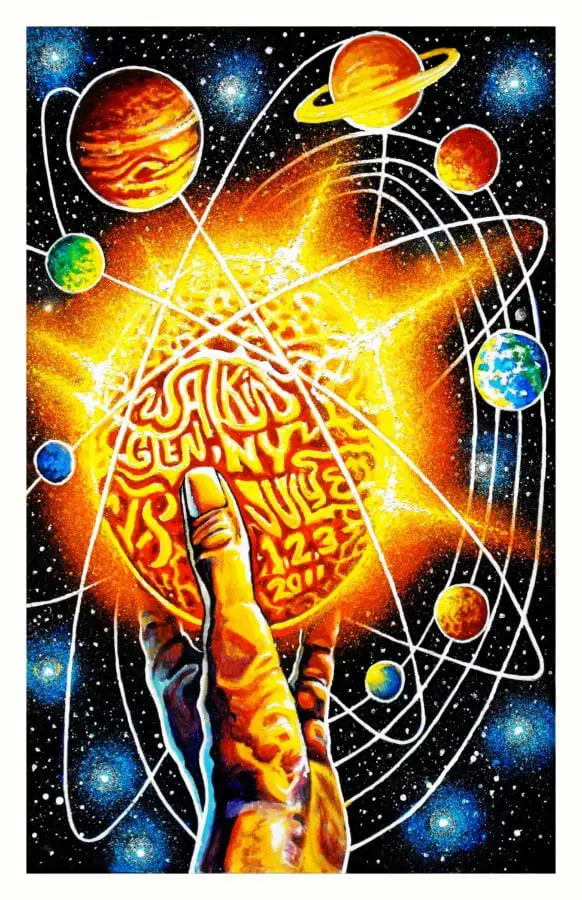 That performance was solely advertised by word of mouth and rumors that began to slowly spread and there was a large portion of the festival that never heard about it until the next day, sadly..  This was also 2003, well before the power of social media could be harnessed in a mobile setting like it is today.  2011 offered more help in this aspect as Twitter and other social media platforms spread hearsay much more efficiently.  And by the end of night most people were sure Phish was going to do something, just not what it was.
The Vermont foursome did not disappoint as randomly, around 1 in the morning, strange sounds started to emanate from one of the buildings that had been erected in the "square" area to resemble a self-storage facility, near all the other art installations.  As weird tones and noises grew in frequency, it quickly became evident that everyone's suspiciions were being confirmed and this was the "secret set."  What followed for the next hour or so was a giant, spacey jam that most people jenjoyed either sitting or laying on the ground. Opaque windows and heavy backlighting meant you could only see the sillhouettes of each band member, adding to the mystique. Heavy theremin playing from McConnell and strange ambient collective jamming soon gave way to the oddest "Sleeping Monkey" ever performed by the group and just like that another Phish legend had been created – The Storage Jam.
DAY 3
By Sunday, even though it was only the third performance day of the festival, Superballers had been treated to essentially three shows already with 6 sets of music in the last two days.  But with everyone off for the 4th of July the following day, the party vibe was still strong as everyone geared up for the last two sets of the weekend. This general;mood was affirmed with a show opening "Soul Shakedown Party," a classic Bob Marley song. There was also another longtime fan favorite brought back from the abyss with "The Curtain" and its first performance since September of 2000.
A "Col. Forbin's Ascent" > "Fly Famous Mockingbird" satisfied the Gamehendge crowd and referenced yesterday's late night audio exploration.  Shockingly, one of the true highlights of the set and that day's music overall was a song that usually doesn't generate such shockwaves.  But a truly unique performance of the song "Mound" blew the doors off of all its previous versions thanks to a ferocious Anastasio guitar solo towards the end of song that had never appeared in that spot before, and hasn't been seen again since.
Arguably, the greatest "Mound" ever:
7/3/12  Set 1: Soul Shakedown Party > AC/DC Bag > The Curtain > Colonel Forbin's Ascent > Fly Famous Mockingbird > Destiny Unbound > Big Black Furry Creature from Mars, Wilson > Mound, A Song I Heard the Ocean Sing, Time Loves a Hero, Reba > David Bowie
With one last set to play with, Phish let it all hang out with yet another set featuring some memorable cover selections.  In a nod to the name of the festival, the last set of the weekend started with a rendition of AC/DC's "Big Balls," another first timer in the now expansive Phish catalog of songs. The quirky cover quickly gave way to much more customary second set jam vehicles, the first of which was "Down with Disease" which produced a soaring, rhythmic jam spearheaded by tenacious work on the drums by Jon Fishman and corresponding bass from Gordon.  As the jam began to slow in intensity and increase in ambience, familiar notes played on the electric piano signaled another fantastic cover choice – the second ever performance of Led Zepellin's "No Quarter."
More traditional second set jam vehicles followed in the likes of "Ghost" and an impressively extended "Light." And perhaps no sequence summed up the weekend better than a driving and powerful "Waves" jam that soared high before dissolving into spaciness and turning into the instrumental "What's the Use?"  At the end of the final set of the weekend, Phish paid tribute to America with an a capella rendition of "The Star Spangled Banner. The band collectively expressed their sincere thanks to all those who helped produce and set up Superball IX before a "First Tube" encore laden with fireworks put a bow on everything.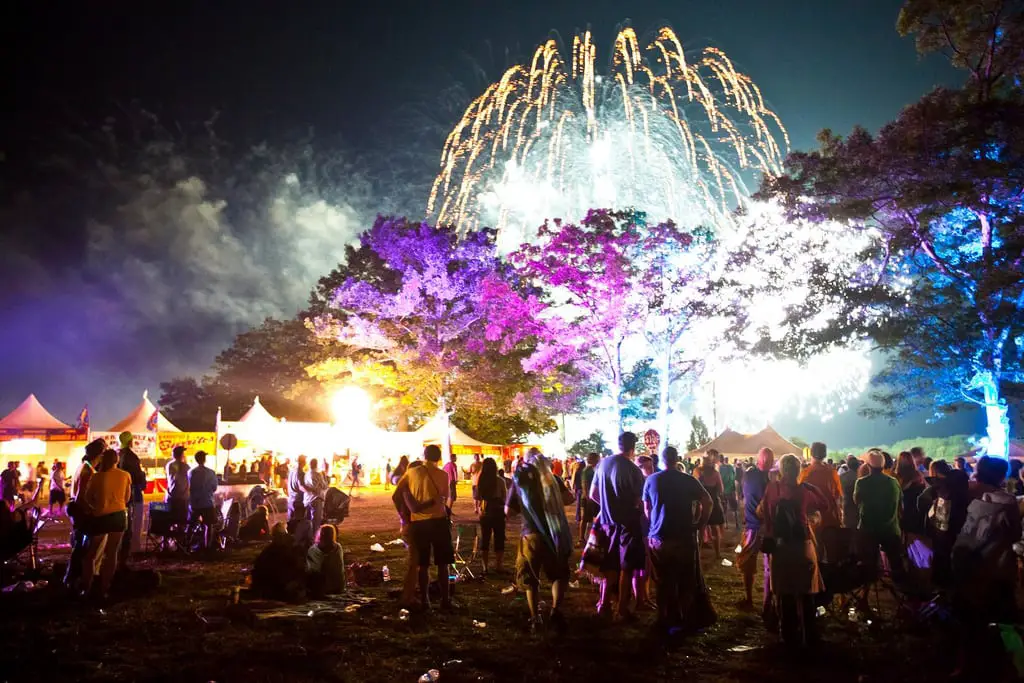 7/3/12  Set 2: Big Balls > Down with Disease > No Quarter > Party Time, Ghost > Gotta Jibboo > Light, Waves > What's the Use? > Meatstick > Stealing Time From the Faulty Plan, The Star Spangled Banner
Encore: First Tube
We hope you enjoyed this look back at some of the pictures, videos and moments that made Superball so special. Stay tuned to NYSMusic.com for more NY Phish festival retrospectives as we tackle Magnaball next, the sequel to Superball that was held at the same venue four years later. This is all in preparation for Curveball, the upcoming third Phish festival, also being held at Watkins Glen International, taking place August 17-19,
And here's one last video, taken and posted by contributing photographer Jacob Silco, that shows a little bit of everything from the fun that was Superball IX.