Photo Gallery: Yonder Mountain String Band at Alive at Five
For the penultimate Alive at Five at Jennings Landing in Albany, Colorado's Yonder Mountain String Band brought out their jamgrass sound for the second time in four years at the free summer concert series. It was a hot Albany day, and as the sun set over the city, the crowd moved forward into the shade and closer to the rail for Yonder. Highlights from the set included the set opener "Lord Only Known (Part One)" and the segue into "I'm Lost," the newer "Chasing My Tail" which featured an impressive jam that worked its way into "Frankenstein," an audacious cover that perked up many in the audience. Closing out with "Sidewalk Stars" for another extended jam, Yonder came back for a fast-paced "Sharecropper's Son" and bid Albany farewell until next time. Blind Crow, a local band from Albany, opened the night and performed an array of bluegrass, folk, and Dawg tunes.
Alive at Five concludes it's 2018 Summer season on Thursday, August 2 at the rain location at the Corning Preserve Boat Launch with Sir Sly and The Late Shift.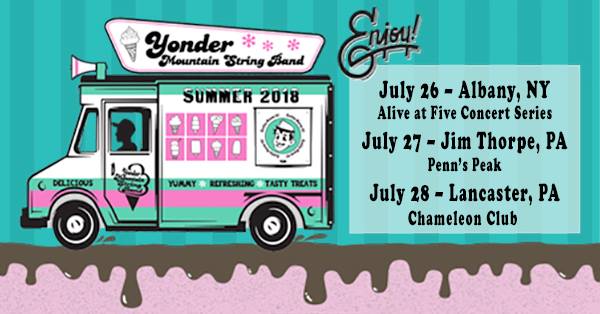 Setlist: Lord Only Knows (Part One)> I'm Lost, High on a Hilltop, I've Got A Name, Landfall, Chasing My Tail> Jam> Frankenstein, Around You, Damn Your Eyes, Sidewalk Stars
Encore: Sharecropper's Son