Frends from around the globe converged on Mt. Ellen this past weekend for the Frendly Gathering 2018.  The three-day event proved that the event's foundation of music, camping, community and sustainability are viable cornerstones to a successful weekend.  Music started with a Frendly Gathering pre-party on Thursday June 28. In perfect syncopation, the weekend concluded just as new laws legalizing recreational marijuana in Vermont took effect.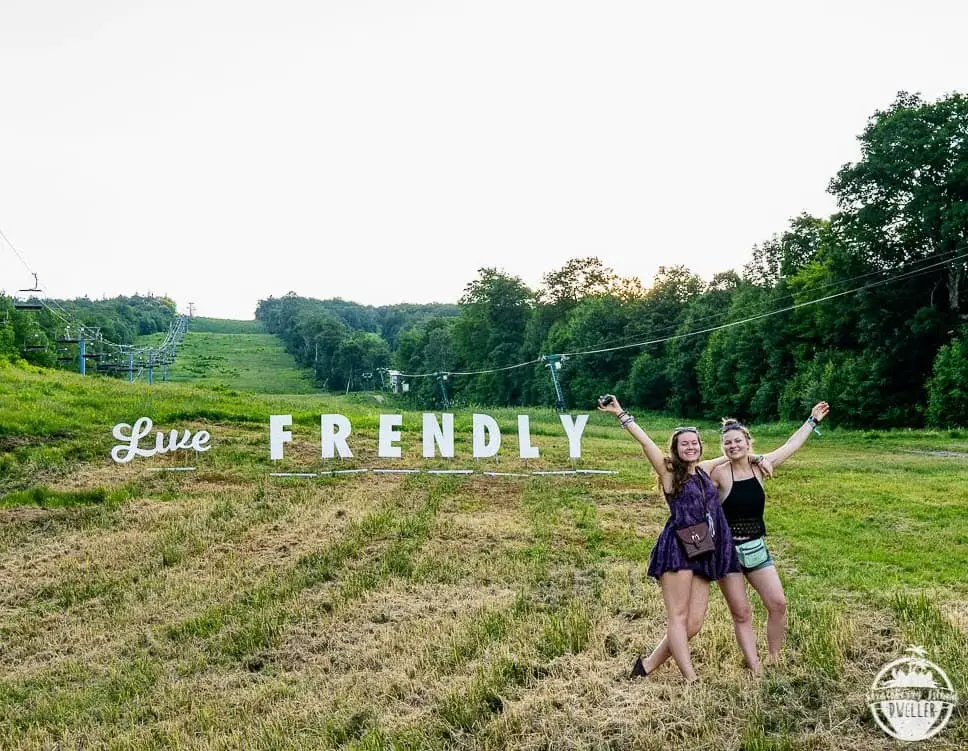 Despite minor rain showers as Frends arrived on Thursday afternoon, mother nature cooperated just as music started later in the evening.  The beautiful blue skies continued throughout the weekend and the green mountains of Vermont served as the perfect backdrop to a weekend of thoughtful music, community and frendship.
Major highlights to the weekend included the events main headliners.  Thursday night, Twiddle frontman Mihali Savoulidis joined Nakho Bear for a rare Mihali & Nahko set. The duo highlighted not only a variety of their own solo music, but also played a variety of cover tunes.
Savoulidis joined his Twiddle band mates on Friday evening where frends were treated to a two-hour set from the Vermont quartet.  Most of the weekend attendees agree that while they missed multiple sets from Twiddle, the Frendly Gathering staple was still their weekend favorite.  Andrew Chaney from Willsboro NY, who attended his third Frendly Gathering this year told NYS Music that Twiddle is always his favorite band to see with his frends. "The lyrics consume your mind, while the instruments consume your soul."
For many attendees, it was Friday night's Nahko and Medicine for the People set at the Pacificio Stage that highlighted their weekend.  "There is something cleansing about Nahko's music" said New Haven, CT native Jon Carlisle, "It's the kind of music that makes you want to go out and put good into the world.  And we need more of that in the world right now."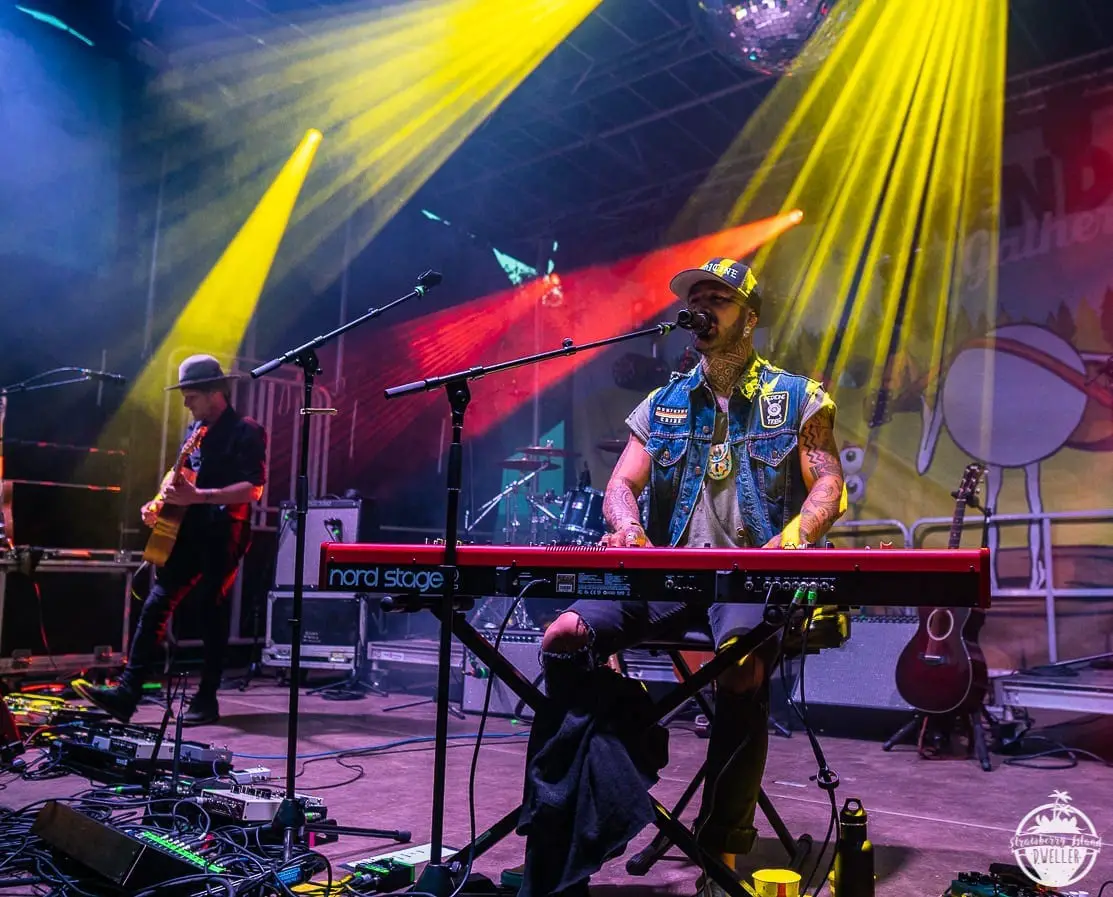 On Friday evening, the Burton stage played host to both Kamasi Washington and Kat Wright, who both delighted frends with powerful and soulful sets.
On Saturday, bluegrass reigned supreme as both the Devil Makes Three and Greensky Bluegrass packed the Pacifico Main Stage.  Just before midnight, Greensky Bluegrass Savoulidis joined the band for a cover of J.J. Cale's "After Midnight" and Peter Tosh's "Legalize It" in celebration of Vermont's changing marijuana laws. Jamtronica fans enjoyed a powerhouse evening set from Emancipator while jam fans gathered early on Saturday evening for Spafford.  
The weekend was highlighted by Frendly favorites Upstate (formerly Upstate Rubdown).  The Hudson Valley based Appalachian soul powerhouse delighted fans with two sets as well as a pop-up set in the Martin Guitar dome.  First year attendee Shane Smith from Manchester, New Hampshire was blow away by the band's performance "Not just their music but their whole stage presence for both of their sets was perfect, " he told NYS Music, "and wow can those girls sing!"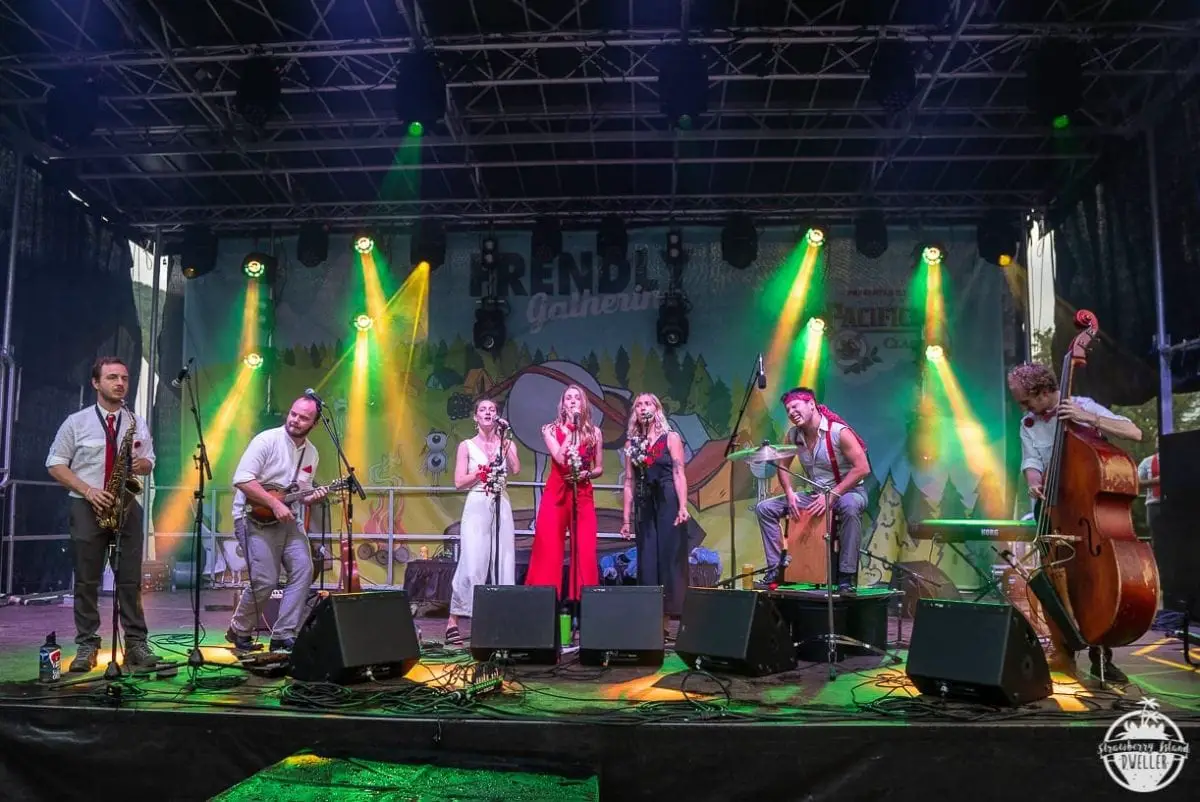 Throughout the weekend, several other artists garnered praise from those in attendance.  Houston based Gulf soul outfit The Suffers weathered the heat Saturday afternoon with an even hotter set of rich, powerful tunes that pierced throughout the mountain side.  "We didn't make it to the main stage because we just wanted to stay under the shade at our camp, but we could hear The Suffers clear as day back at camp," noted Alyssa Monarch, a first time Frendly attendee from Rochester, NY. "Their music was so powerful and the vocals so heartfelt, it didn't matter where we heard it from because it just filled our entire crew with joy."
Boston based electrofunk quartet Strange Machines kicked off Friday's Burton stage with a high energy set.  On Friday afternoon, Satsung drew a huge crowd, despite toasty mid-day temperatures. Other weekend notables included singer songwriter Kevin Morby and Canadian based indie folk group The Relative.
Beyond the music, the true star of the weekend was the Frendly Gathering's volunteer team, most notably their massive sustainability crew.  Upon arrival, campers were offered colored trash bags to ensure ease of sorting. Volunteers wearing bright pink shirts marked "Frendly Crew" maintained the festival grounds all weekend long as they worked in pairs not only picking up trash, but also keeping labeled trash cans properly sorted.  According to Smith, these efforts help encourage him to also be a part of the clean-up process. "The volunteers I saw did an amazing job keeping the place clean," he praised. "It made me happy and motivated to keep my site clean, too."
The festival's commitment to sustainability shined with Kleen Kanteen providing cold, filtered water for attendees.  Food vendors provided quality food with little to no waste product. "Too many festivals offer basically only fried food," said Smith, "but this place had a very good food selection and mostly healthy as well!" To help combat the heat, Ben and Jerry's Ice Cream offered free samples throughout the weekend.
The Frendly Gathering also showcased a variety of vendors, crafts, workshops and products.  Twiddle fan funded 501c3 the White LIght Foundation was on site raising money for two local charities, Vermont Family Forest and LoveYourBrain.
As the weekend concluded, many frends noted that it's the festival's pillars of music, community, camping and sustainability that makes Frendly Gathering more than just a typical event.  "Bigger festivals can be so overwhelming, and you leave feeling like you've really left a footprint", noted Monarch. "I appreciate the fact that the organizers, volunteers and frends understand that sometimes, it should just be quality over quantity. It makes you feel warm to be a part of it."
Photography by Matt Shotwell (Strawberry Island Dweller)