Summer Camp Music Festival 2018 was a circus of strange artistic juxtapositions, wild forays into the outer limits of musical expression, and once-in-a-lifetime interactions between friends, new and old, both on stage and in the crowd. Jay Goldberg Events and Entertainment has fine-tuned this ever-growing event to highlight all the glitz and grunge that makes a proper music festival special, not to mention that the lineup, amenities and culture of Summer Camp continue to set the standard for what fans have come to expect at a major festival.


It was a smooth entry into Three Sisters Park for festival goers during the day on Thursday, and while traffic increased over the weekend, there was no painful gridlock or major incidents to report. It was fun to see the dramatic increase in campsites from Thursday to Friday, and more impressive is the way in which Summer Camp maximizes the grounds to comfortably contain so many attendees, stages, and facilities within a single, highly accessible loop.
While Thursday was essentially a bonus day of music before the headliners took over the main stages for the weekend, the first night of shows was nothing to scoff at as Beats Antique, Crosseyed and Phishless, Lettuce, Porn and Chicken, Steady Flow, Keller Williams, Yonder Mountain String Band and others took turns knocking it out of the park.
Crosseyed and Phishless had the Starshine Stage rolling, treating fans to Stevie Wonder and Pink Floyd covers and teasing them with "Fluffhead" throughout the set without ever playing the Phan favorite. Beats Antique followed on the Starshine stage, successfully bringing the crowd to a boil as twilight faded into neon. Lettuce's Starshine Stage set was one of the most talked about shows of the weekend: a flawless masterwork of psychedelic funk that had the whole field moving in waves.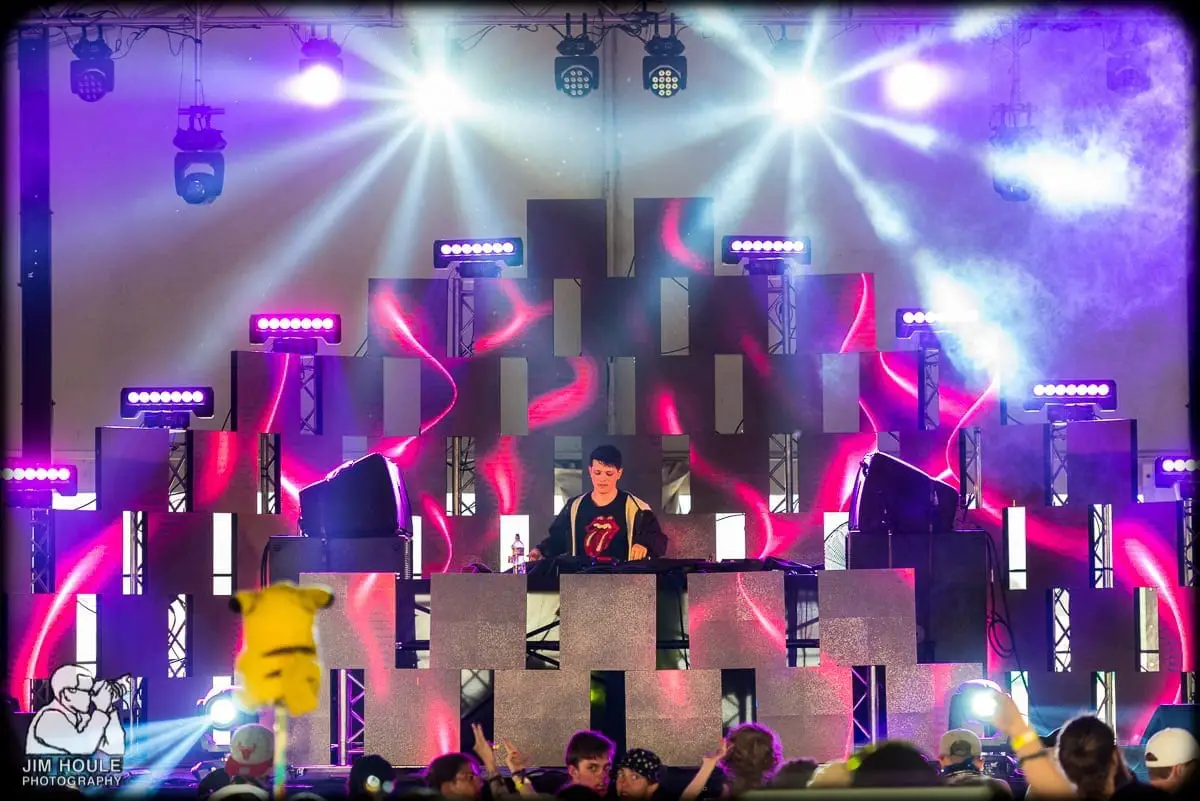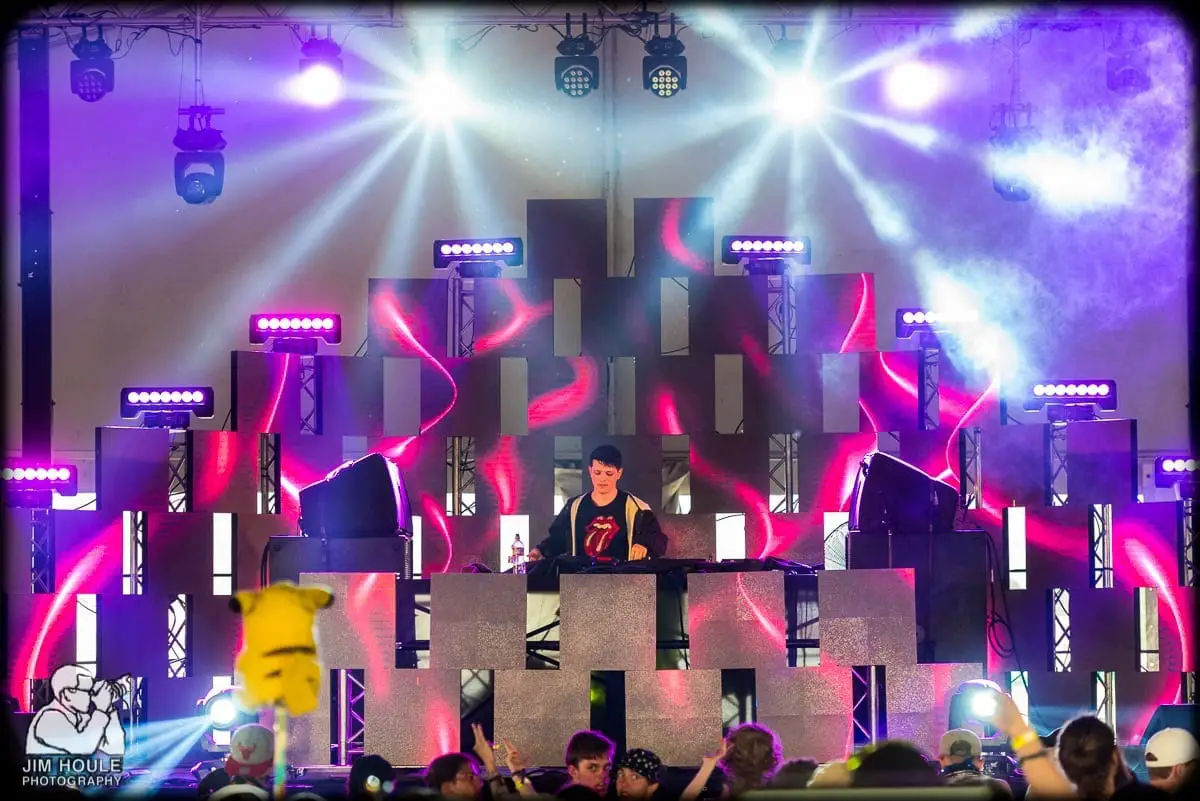 Porn and Chicken's "in-your-face" dubstep set filled out the Vibe Tent for the first time, which also started the process of transforming one of the busiest dance floors at Scamp into a mud pit. Eliot Lipp, a veteran producer based out of New York, delivered a set of his unique precision flow dance grooves, keeping the young crowd moving on their toes, as the grassy floor continued to give way to mud.
The Camping Stage hosted shows throughout the day on Thursday, but it really got rocking at night. Space Carnival, from Ithaca, New York, played an exciting set of extended, spacey jams that had the growing crowd dancing. Louisville's Quiet Hollers took the stage next, impressing listeners in their Summer Camp return. Scamp veterans, Steady Flow's heavy gumbo funk attracted a slew of fans, and by the time they covered Dr. Dre's "What's the Difference Between Me and You," the crowd was packed and everybody in it was straight coastin'.
It was the Campfire Stage, however, that set the tone for the weekend on Thursday night. The Kyle Hollingsworth Band delighted fans by welcoming Hollingsworth's String Cheese Incident bandmate, Jason Hann, who was there to perform with EOTO, to the stage. KHB was joined later by living legend Keller Williams, who helped close out the set with "I Know You Rider." Keller, who has played Scamp more times than anyone but moe., took to the Campfire Stage next for his own show. Yonder Mountain String Band, who was joined by Alie Kral, played a gorgeous set of traditional bluegrass, then dubbed it the "Yonder Mountain Sausage Party" and walked off stage, promising better ratios later in the weekend.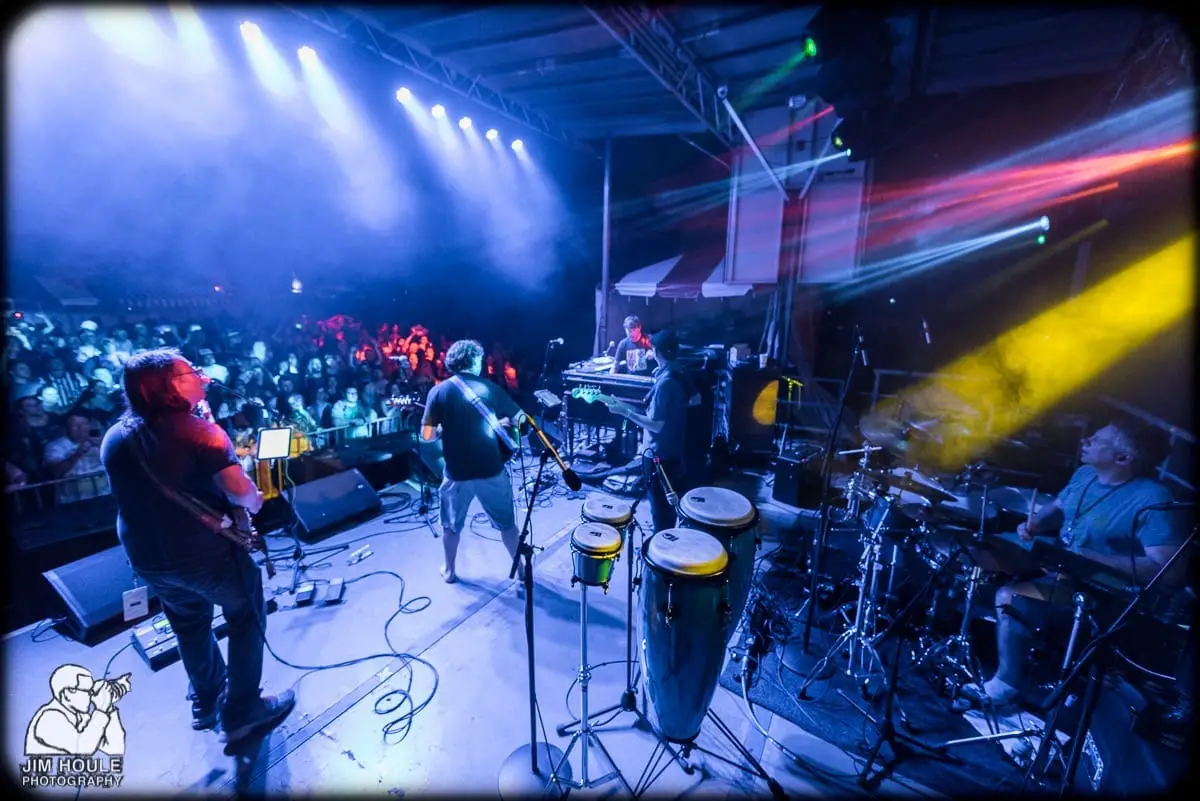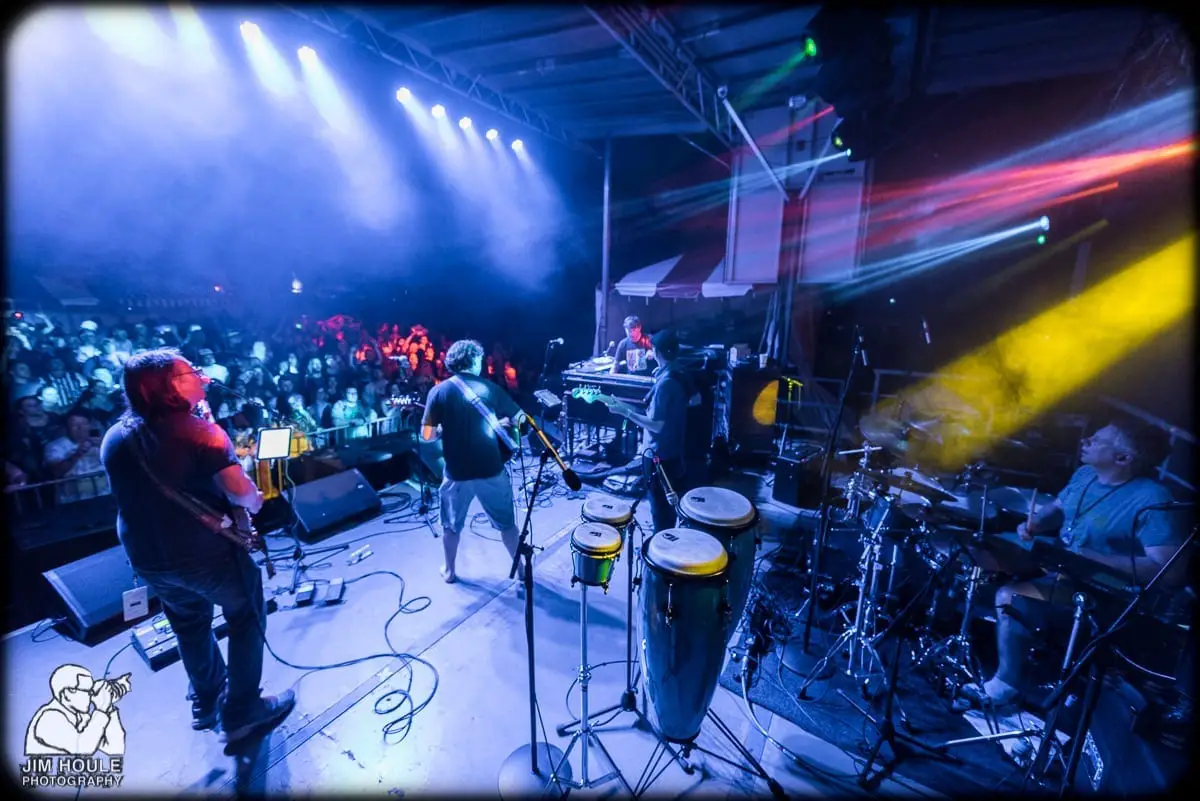 The VIP upgrade at Summer Camp is worth it for the exclusive sets alone, but the other amenities provided with it make it a great deal. The VIP sets on Thursday were not to be missed. Headliners Umphrey's McGee played their first sets of the weekend, first an intimate umVIP set, which was then followed by a late-night Red Barn show that featured fan favorites "Slacker," "Out of Order," "Blue Echo," and "Resolution" and a cover of Bowie's "Let's Dance." Other VIP highlights included shows by Break Science, EOTO, and the one-off Nine Inch Nails tribute Nailed It!, featuring Eliot Lipp and members of Cherub, Umphrey's McGee, and Zoogma.
Three Sisters Park was packed with people by Friday. Tents were being pitched deeper and deeper in the forest and green space was disappearing rapidly in the field. But as the weekend population of Chillicothe steadily rose, so did the jubilation in the air, and anticipation for everyone's favorite artists.
Friday got off to a hot start as Keller and the Keels broke in the Sunshine Stage early in the afternoon. Moe. followed suit by breaking in the Moonshine Stage afterwards. Moe. opened their first set with Pink Floyd's "Breathe," worked through an extended "Puebla," mirrored the stormy skies with an apropos version of "Haze," and finally ended early when lightning shut down the festivities for the time being.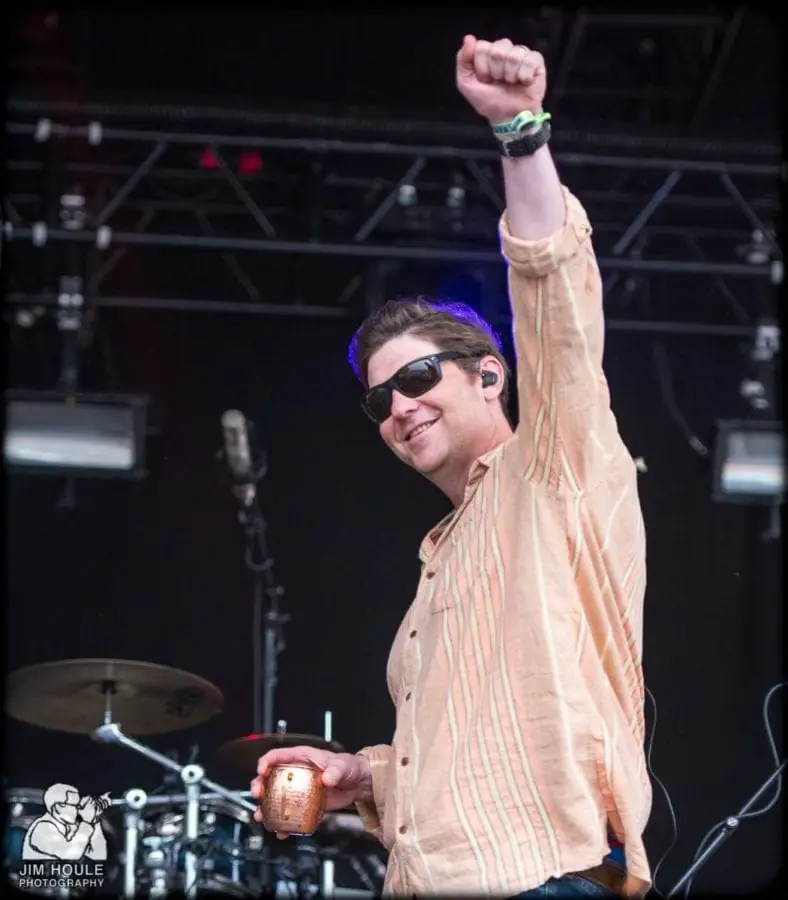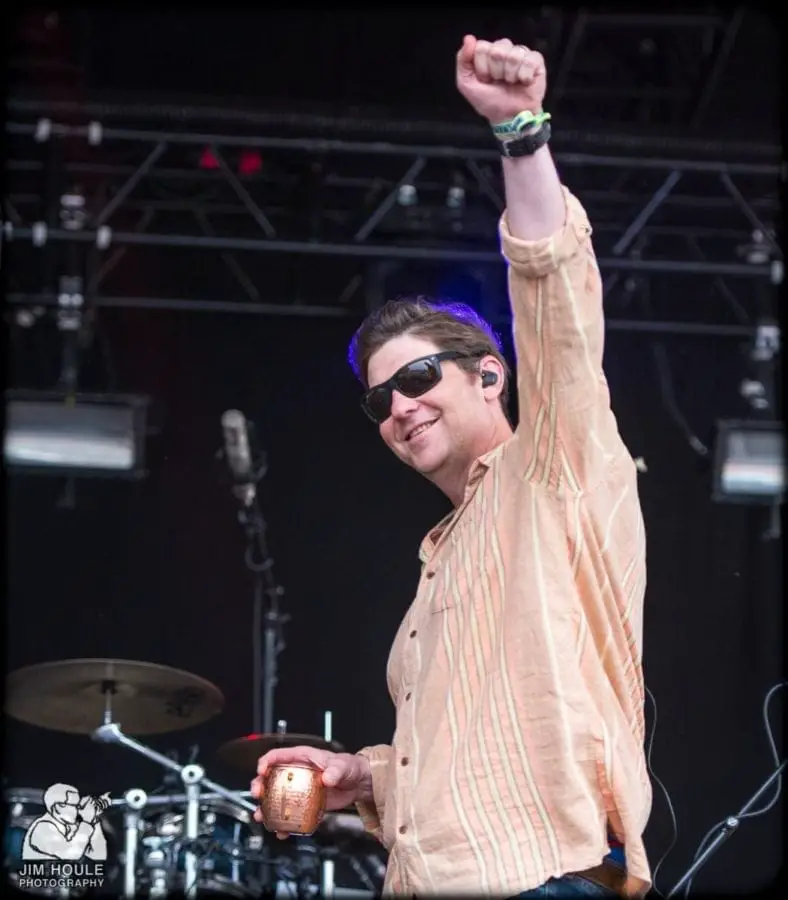 The rain held off after some brief showers, but from then on things got very complicated for fans as there were literally dozens of primo acts playing in competing timeslots, people had to pick and choose who they wanted to see and how long they wanted to stay. First Twiddle, Protoje, and Keys 'n Krates battled for fans; then it was Yonder Mountain String Band, John Medeski's Mad Skillet, and Con Brio who shared a time slot; the wealth of riches continued with Lettuce, Kyle Hollingsworth Band, and Organ Freeman playing at the same time; and finally SOJA, Pigeons Playing Ping Pong, and Nikki Lane made fans make yet another tough decisions on where to spend their time.
After the action packed evening, headliners Umphrey's McGee launched into their first main stage set of the weekend. The set featured the debut of "Triangle Tear," a song off of the brand new album it's you, sit-ins by Lettuce members Eric "Benny" Bloom and Ryan Zoidis on The Police's "Canary in a Coalmine" and "Booth Love," who were then joined by pedal-steel guitarist Mike Racky for a cover of Sturgill Simpson's "Call to Arms" which ended the first set.
Between UM sets, Tipper filled the Moonshine amphitheater to the brim with fans anxiously awaiting the Englishman's Journey set, which featured a one-off collaboration with visual artist Steven Haman, adding elusive three-dimensional visuals to the mix as Tipper moved from downtempo ambience to uptempo grooves as the set progressed. It's safe to say Tipper had a successful Summer Camp debut, as he absolutely packed the house, delivered a fire set, and left half the festival in exuberant reflection and wanting more.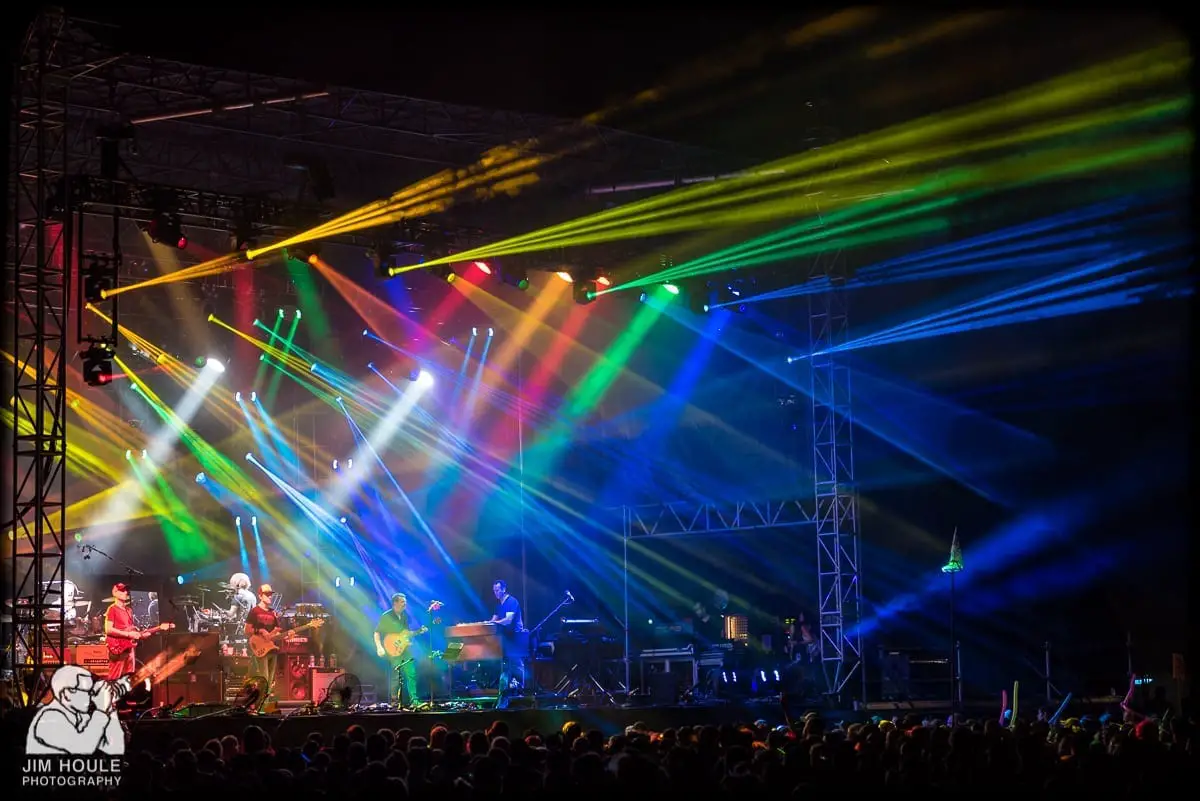 Umphrey's McGee returned to the Sunshine Stage and played a string of classics. They opened with "Ocean Billy," followed with a "Remind Me" > "Miss Tinkle's Overture" > "Wappy Sprayberry" > "Remind Me" sandwich. Nigel Hall, of Lettuce, then joined Bayliss and company on keys for "Den." After a brief pause, UM encored with another 2018 debut, "Half Delayed," followed by another classic, "Partyin' Peeps."
The parade of talent was hardly over after the headliners exited the stage on Friday night. In fact, the party went long into the night, but once again fans had to make some tough decisions on whom to see. Slightly Stoopid, EOTO, and Zoogma all played at the same time, as did R.L. Grime, The Funk Hunters, The Rumpke Mountain Boys, and Marco Benevento; and while Break Science and Zomboy played outstanding electronic sets at the Vibe Tent, Pink Talking Fish performed in the Soulshine Tent, and Buffalo's Aqueous played a wild two-hour, six-song set at the Campfire Stage, letting Scampers feast on their deep exploratory improvisation. The set also featured a "Cliffs of Dover" bustout, playing it for the first time in 300 plus shows, and the debut of Oysterhead's "Pseudo Suicide."
The VIP lineup for Friday was even more ridiculous than Thursday. The special sets kicked off early, with Kyle Hollingsworth and Joel Cummins pairing up for a keyboard soiree. Keller Williams, the busiest player on the scene, did another set for the lounge while the rest of the stacked schedule included shows by Horseshoes & Handgrenades, Spafford, and The Werks, plus late-night Red Barn sets by moe. and Twiddle.
Regardless of which adventure one chose to explore on Friday, there was ample fun and too much brilliant music for one person to take in, so you couldn't go wrong. But before any of it got started, I had the pleasure of speaking with Greg Ormont, vocalist and guitarist from Pigeons Playing Ping Pong, to bring you a bird's eye view of the festivities. Fresh off of two sold out 930 Club shows in Washington, D.C. and a headlining slot for the sold out Domefest, Pigeons Playing Ping Pong arrived at Summer Camp riding a high wave. Greg's energy ahead of the Pigeons show was evident, as he was jubilant in describing Summer Camp, saying "this festival is awesome because a lot of our friends play here. So it's a reunion for the artists—our buddies Aqueous are here, I just saw the Main Squeeze last night—it's nice to be around the water cooler with all the homies again and the crowd out here is wild. It's a rowdy group of people who love music." After Friday, I could not agree more.
Before the music got started on Saturday, I spoke with Rob Hauk, Dave Loss, and Evan McPhaden of Aqueous, who, having just played a dynamic late-night set a few hours earlier, echoed Scrambled Greg's sentiments. It's so  refreshing to know that these brilliant musicians can appreciate a festival for the same reasons that so many of the fans do—of course, the music—but, as guitarist Dave Loss said of Summer Camp, "It's like a homecoming. A lot of our friends are here and it's always fun to play in the Midwest." Drummer Rob Hauk added, "The fans out here like our edge." It's this humble vibe, paired with outsized talent, which makes the whole Summer Camp experience one to savor for fans and artists alike.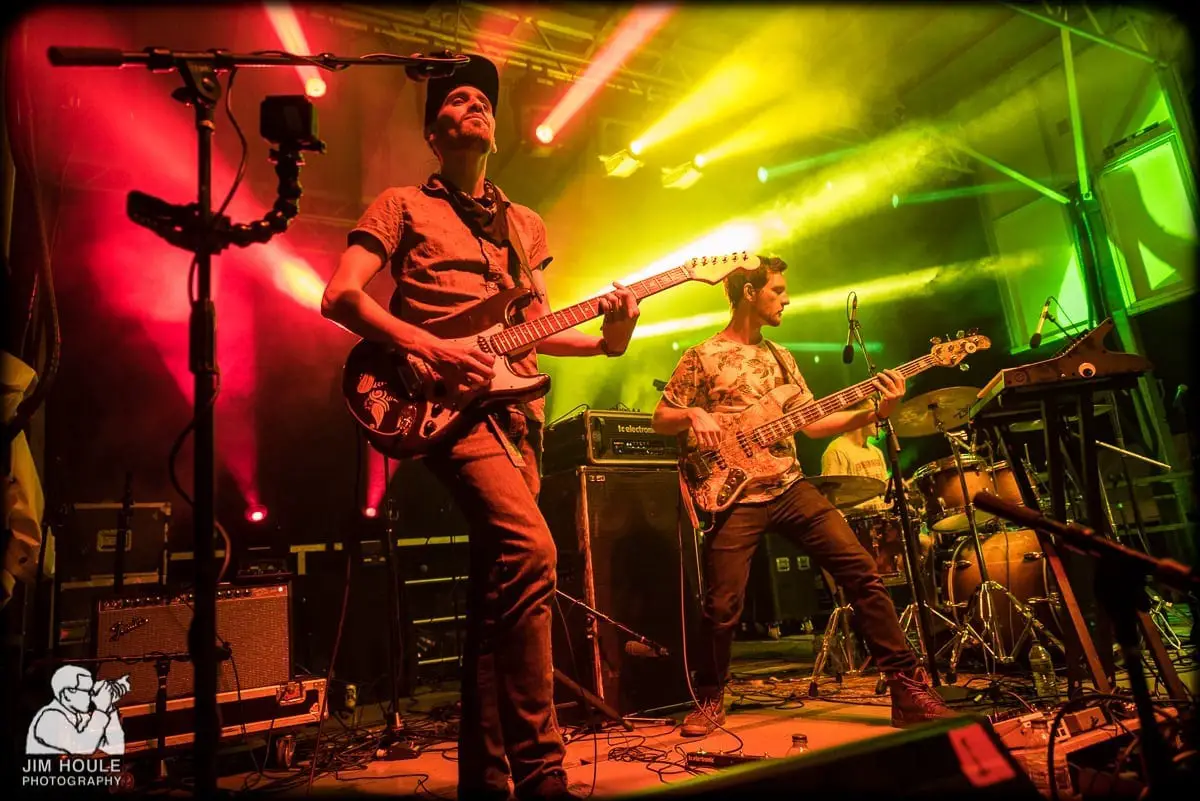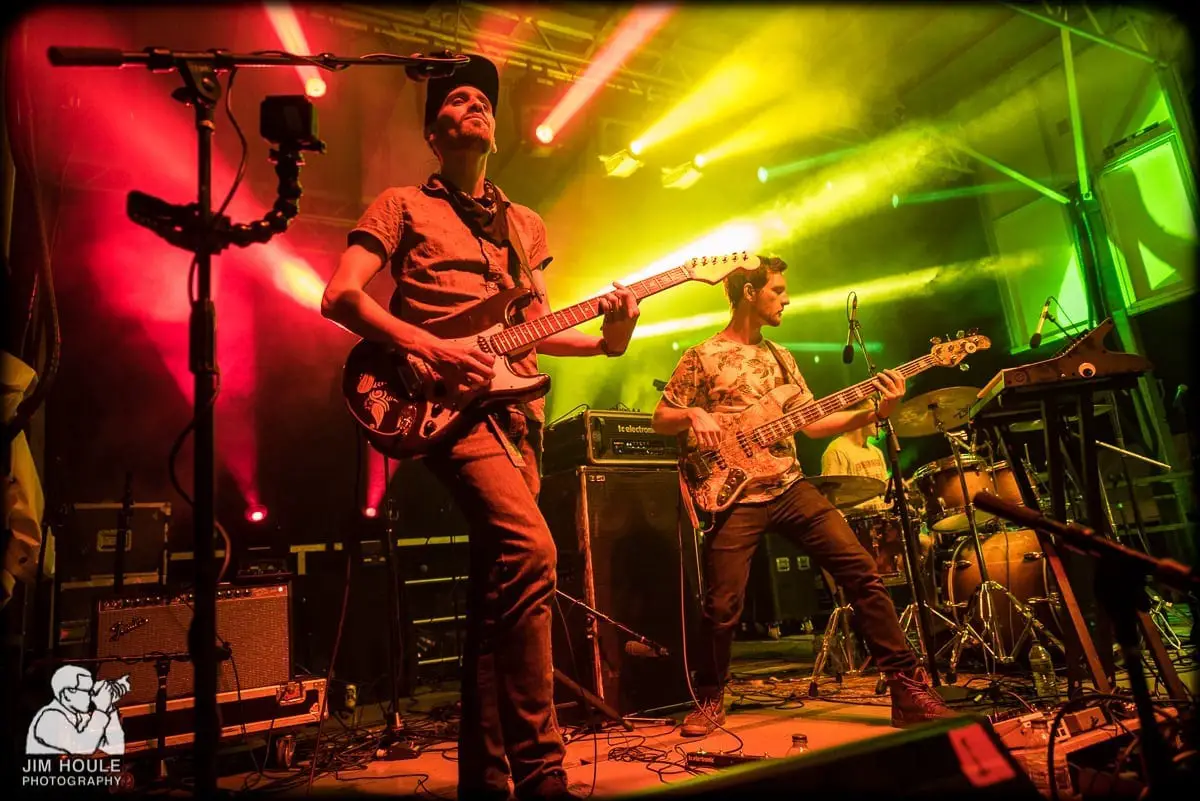 Like Friday, Saturday offered a full slate of insanely juxtaposed sets from so many strangely complementary artists. The Moonshine and Sunshine Stages hosted wildly diverse rosters of music all day long. Spafford, the rapidly ascending jamsters from Arizona, started the day's proceedings on the Sunshine stage with a hot set. They were followed in the heat by the veteran Colorado jamgrass outfit Leftover Salmon, who kept it cool jamming on classics and fresh cuts from their new album Something Higher. Just to keep it interesting, organizers followed that up with Action Bronson's set of hardcore, humorous rap. STS9 hit the Sunshine Stage next and sounded out a seriously sexy show replete with liquid grooves, tight rhythms, and danceable jams. Despite the heat, STS9 had the crowd dialed into the party throughout their show. While there were still the familiar rumblings of jaded Tribe fans hankering for the old days following the show, the band at present is at the height of their powers and continuing to progress as a unit.
Headliners Umphrey's McGee finished out the night on the Sunshine Stage again on Saturday. The first set included classics like "Plunger," "Glory," "2×2," and "Hurt Bird Bath," plus the always bouncing Snoop Dogg track "Ain't No Fun (If the Homies Can't Have None)," with percussionist Andy Farag on vocals. The sextet returned with a "Mulche's Odyssey" > "It Doesn't Matter" > "Mulche's Odyssey" combo that led into the live debut of "Seasons," another cut from it's you. Other second set highlights included a smooth cover of Prince's "1999" and solid takes on "Dump City" and "August." A "Jajunk" encore concluded an eventful day at the Sunshine Stage.
The Moonshine Stage also featured crazy variety on Saturday. If you've ever been lucky enough to catch Mike Dillon in one of his various projects, it will come as no surprise that the Punk Rock Percussion Consortium he led at Summer Camp was the most unique show of the whole weekend. Being a percussionist extraordinaire, it only makes sense that Dillon brought the drum circle, a music festival campground staple, to the main stage. Featuring a number of special guests, the drum circle included about a dozen musicians simultaneously playing various percussion instruments on Mike Dillon's original compositions. Indie-rockers Guster followed the Percussion Consortium, and vocalist Ryan Miller summed up the whole Scamp vibe, saying, "Thank you to the curators of this fucked-up, weird festival."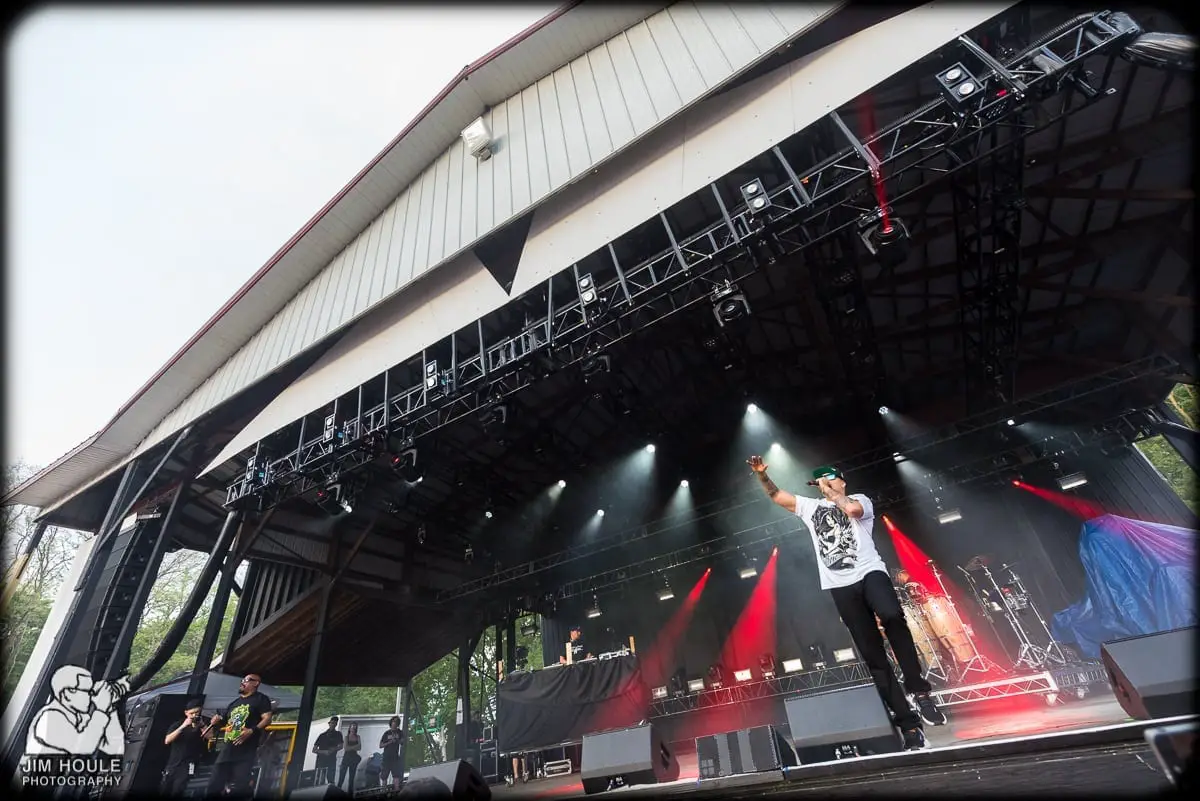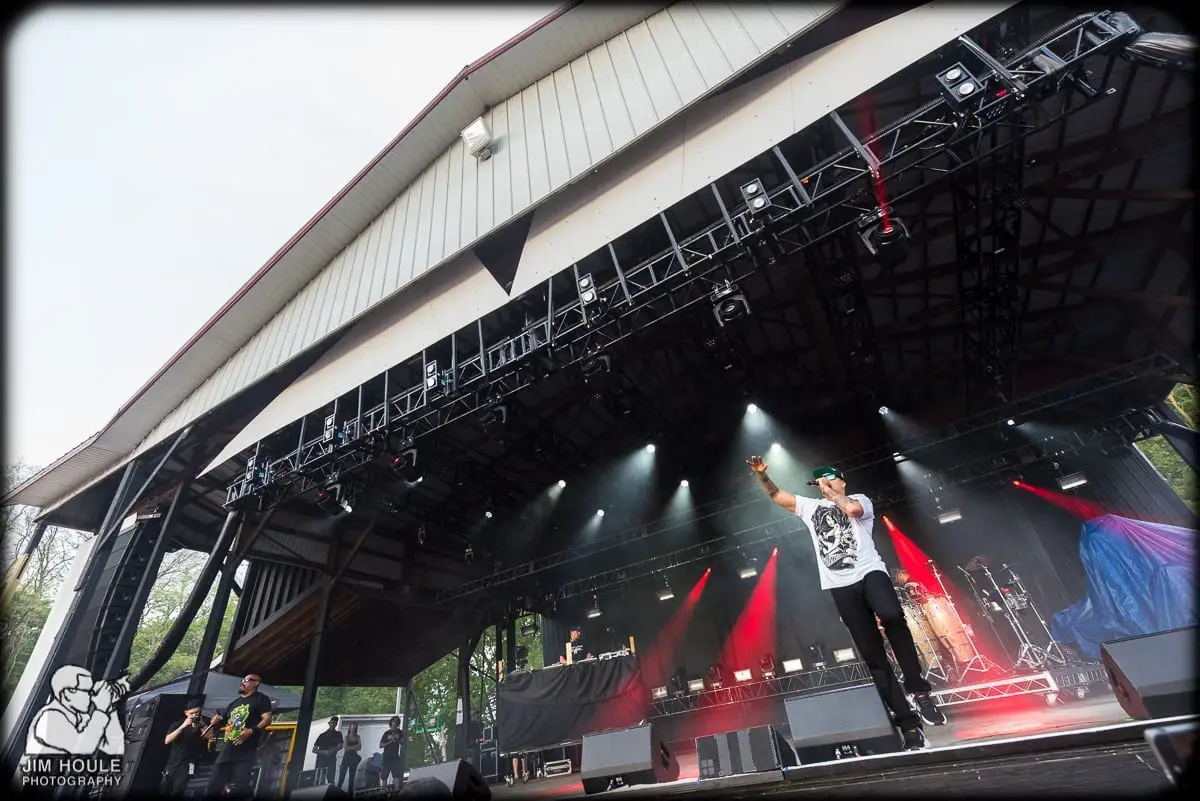 The weirdness was in full effect as classic hip-hop foursome Cypress Hill took over the Moonshine Stage for their much anticipated set. The crowd was into the hits "Insane in the Brain" and "Dr. Greenthumb," but there was also a deluge of in-and-out traffic for the show, as a number of the attendees only showed for a song or two just to say that they had seen Cypress Hill.
The crowd could not have been more different for moe.'s first set on Saturday. The amphitheater was packed with moe. fans who were delighted to be there and weren't going any further than the next dance step took them. There was bliss in the air as the band opened with "Billy Goat," featuring bassist Rob Derhak's signature vocals and basslines. Ain't nobody live forever, indeed, but everyone in attendance was grateful and ecstatic for Rob's Summer Camp return. The first set also saw the band do fan favorites "Kids" and an adventurous version of "Rebubula." The quintet came out blazing in the second set, covering Pink Floyd's "Time" and "Breathe" before starting a saucy "Plane Crash," which transitioned into a "Buster" > "Silver Sun" jam. To cap it off, the rockers encored with the end of "Plane Crash" before finishing with the debut of Led Zeppelin's "Immigrant Song."
The Saturday late-night lineup was up to snuff as well, with The Werks crushing the long jams all night, with beaming versions of "OG," "Headin' South," and "Going Round," plus a tasty "Hard to Find" > "Lights Out" > "Hard to Find" sandwich. Meanwhile, Z-Trip and Liquid Stranger kept the Vibe Tent packed with people until the end of the night. Sun Stereo also pulled off one of the coolest tribute sets of the weekend with their Sun Stereo Battles the Pink Robots set, during which they played songs from The Flaming Lips' Yoshimi Battles the Pink Robots. Once again the late-night VIP shows were stellar on Saturday, with Aqueous, STS9, and Keys n' Krates all taking the stage.
Sunday's schedule had absolutely no slack in it either: all of the headliners played, a handful of festival mainstays joined the fray, and a wealth of up-and-comers took to the stage. Longstanding, influential rockers Los Lobos played a crowded show under the scorching sun to start the final day on the Moonshine Stage, proving that they can still work their magic after all these years. Victor Wooten also made the most of his time at Summer Camp, playing three sets on Sunday. The Victor Wooten Trio set on the Moonshine Stage, featuring drummer Dennis Chambers and saxophonist Bob Franceschini, treated fans to some of the most fun and savvy musicianship of the weekend. J.J. Grey and Mofro added a set of bluesy originals and poignant covers, including John Anderson's "Seminole Wind" and The Beatles' "Hey Jude." Tycho dropped in for a set of ambient electronica played before a large crowd at the Moonshine Stage.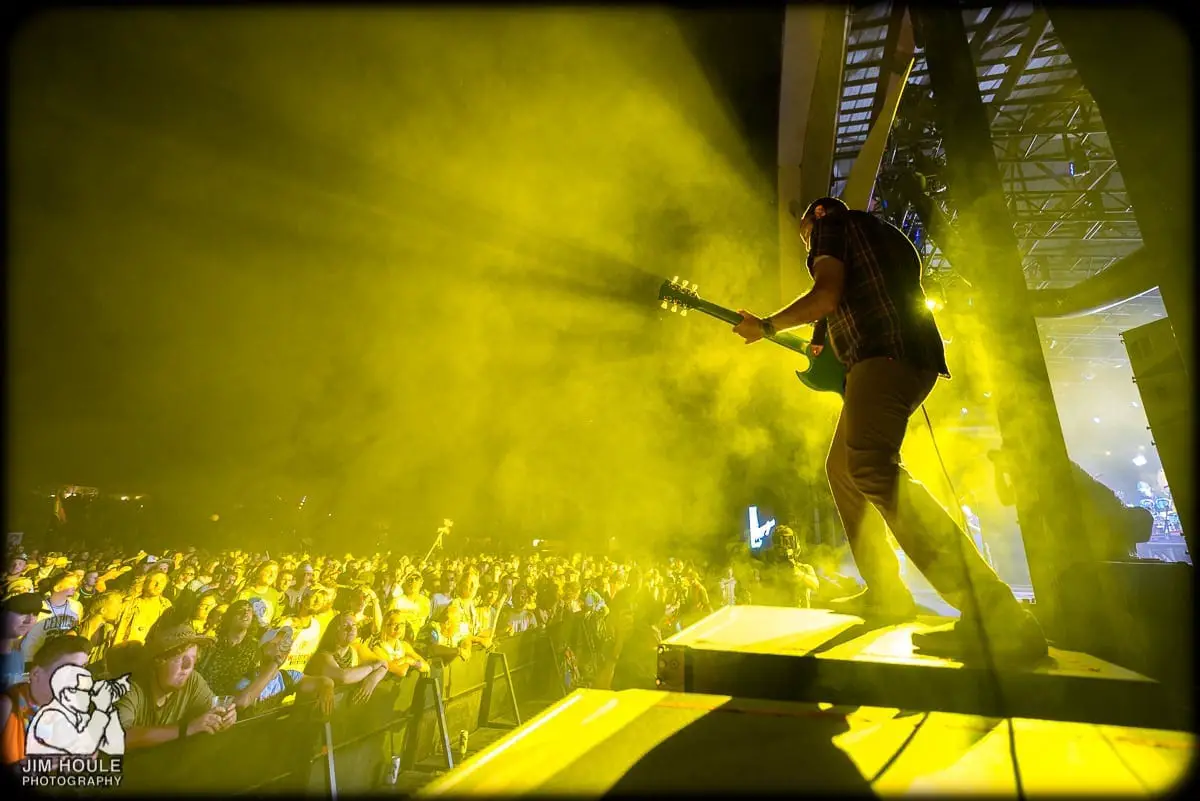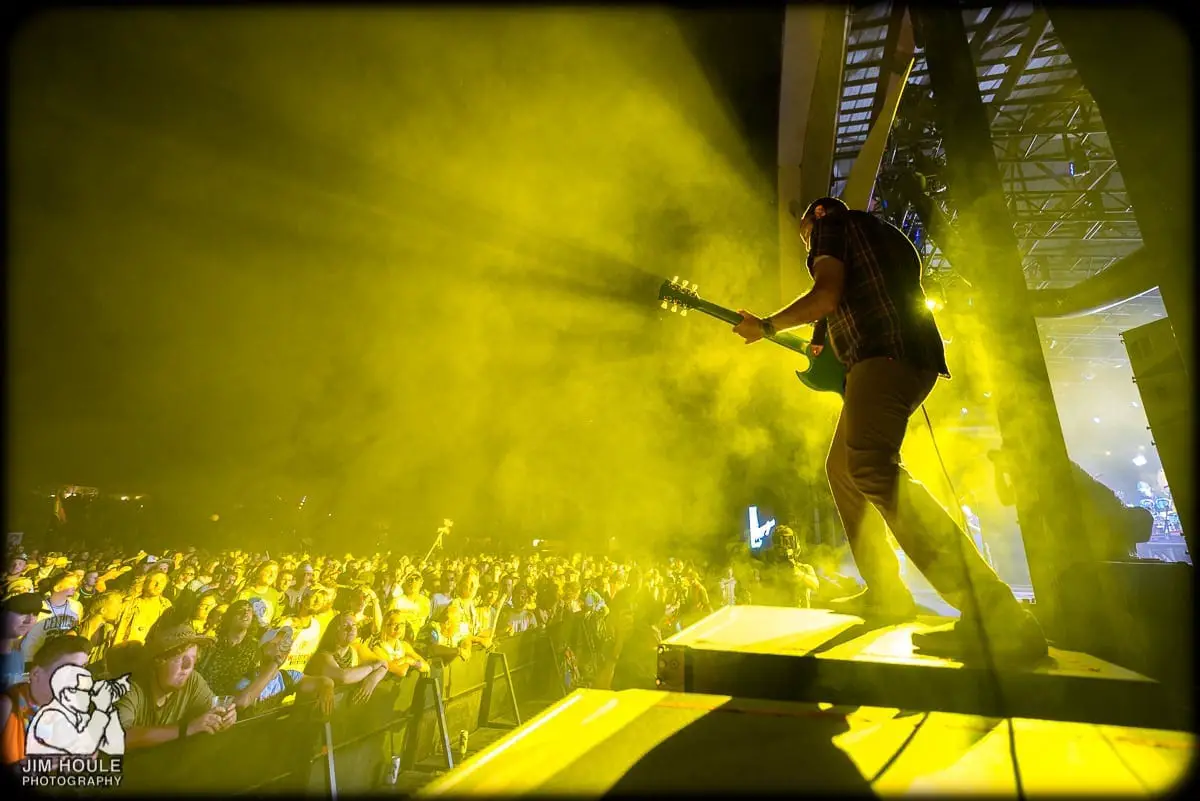 Fittingly, moe.'s two Sunday sets closed out the Moonshine Stage in style. They opened the first set with the rocker "Seat of My Pants," went back to the Led Zeppelin catalogue for a cover of "Hey, Hey, What Can I Do," and finished the first set with a flourish, pairing "Lazarus" and "Moth." Moe. returned with purpose, letting drummer Vinnie Amico lead the band into "Brent Black" which was followed by two gems, "Bullet" and "Kyle's Song," that had all the moe.rons singing along. "Four" > "Brent Black (Reprise)" concluded the set, but moe. was not about to stop there, as they encored with tasty takes on "New York City" and "Wind It Up," putting the final touches on a heady weekend of music.
The Sunshine Stage was stacked with headliners all day Sunday. Umphrey's McGee played their final set of the weekend, a concise show that saw two more it's you debuts, "Xmas at Wartime" and "Push & Pull," a funky "Mail Package," plus a multi-layered chain-jam featuring "Bridgeless," "Great American," "Tribute to the Spinal Shaft," "Whistle Kids," and a cover of Toto's "Africa." (Weezer fans eat your heart out!)
Sunday was the hottest day of the festival, with temperatures climbing toward 100 degrees, but Greensky Bluegrass was able to match the heat with a sweltering late afternoon set of bluegrass, priming the massive crowd for the Phil Lesh shows that were to follow on the Sunshine Stage.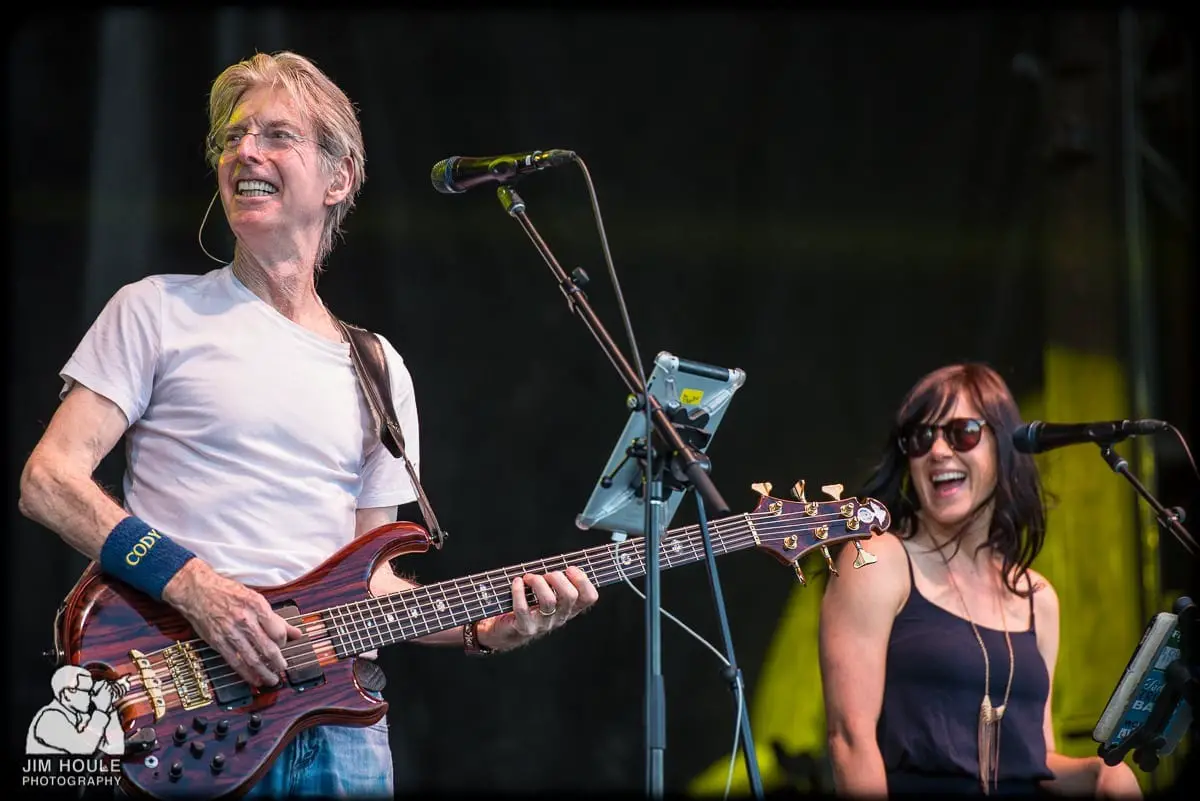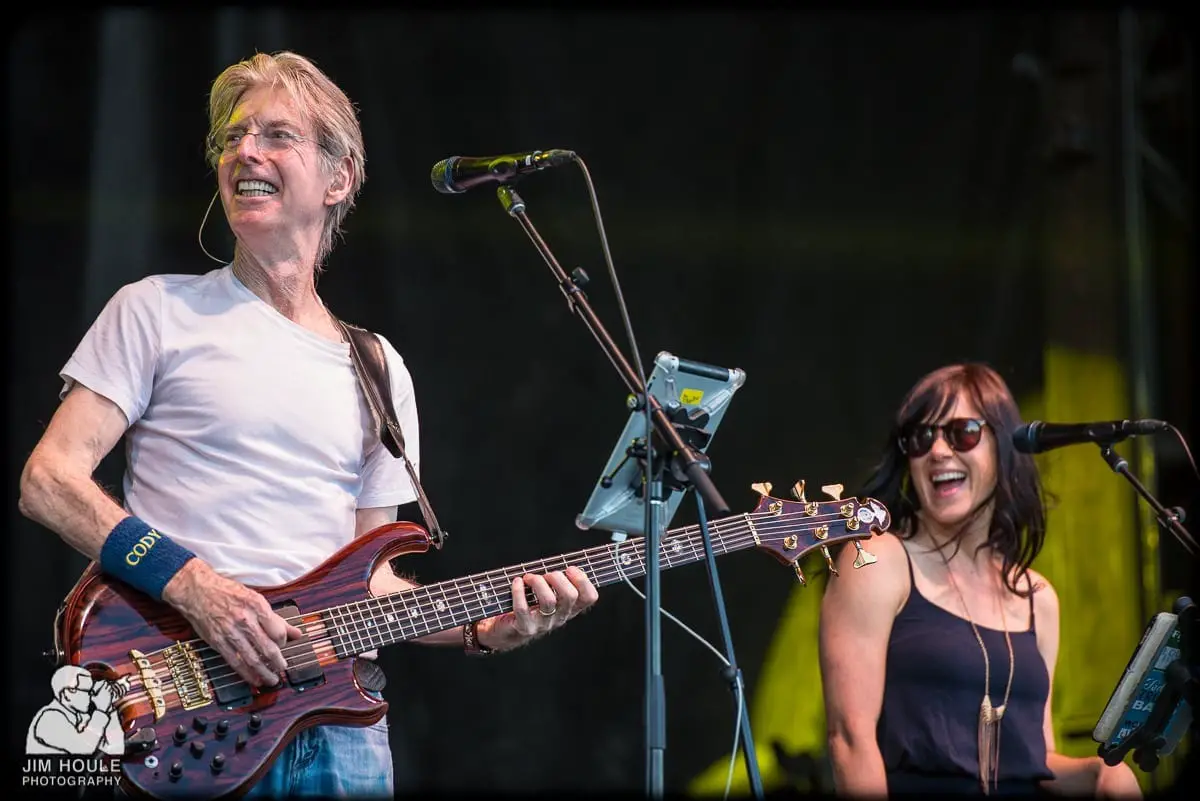 Phil Lesh is one of the original beacons from which music festivals draw inspiration and he has played at nearly every major festival and venue in America, so it was a great pleasure to witness his Summer Camp debut. He brought with him the Terrapin Family Band and a friend by the name of Eric Krasno, but there were many more surprises in store. Phil opened with a pair of classics, "Alligator" and "Brown-Eyed Women" before bringing Anders Beck from Greensky Bluegrass up to play on "Cassidy." Next, Phil picked another one from the Pigpen-era songbook, playing a scorching "Mr. Charlie." He then invited moe. guitarist Al Schnier to the stage to help with "Jack Straw" and Bob Dylan's "Like a Rolling Stone." The first set closed with "Dancing in the Streets," which had everybody moving in sync and ready for more Dead jams. When the band emerged for the second set, Al Schnier was once again on stage, playing lead on a sizzling "Shakedown Street." Crowd favorites "China Cat Sunflower" > "I Know You Rider" followed, but Phil was pulling no punches on Sunday and unleashed a beautiful "St. Stephen" > "Terrapin Station" combo, only to venture into a raucous "Viola Lee Blues" that drifted into a cover of Neil Young's "Rockin' In the Free World" which ended the second set. In typical fashion, Phil returned with a donor rap honoring Cody, his liver donor, before encoring with Wilson Pickett's "In the Midnight Hour," accompanied by JJ Grey and the Mofro horn section.
The headliners were the highlight on Sunday, but the schedule was packed all day. Diplo played the final Moonshine Stage show, packing it one last time, and dropping the set of the weekend for a lot of Scampers. A number of bands growing in popularity, such as Backup Planet, Future Rock, Kung Fu, Mungion and Sun Stereo also performed throughout the day, plus the VIP stages hosted even more unique performances, including shows by Tyler Childers, Mike Dillon, Liquid Stranger, Tauk, Victor Wooten, and a special show by Everyone Orchestra. The Everyone Orchestra featured an All-Star lineup, with members of Umphrey's McGee, moe., The Terrapin Family Band, Roosevelt Collier, Mike Dillon, and more, and was played in celebration of the Make-a-Difference Village—the extensive outreach program hosted by Summer Camp Music Festival that benefits a plethora of nonprofit organizations and good causes over the weekend.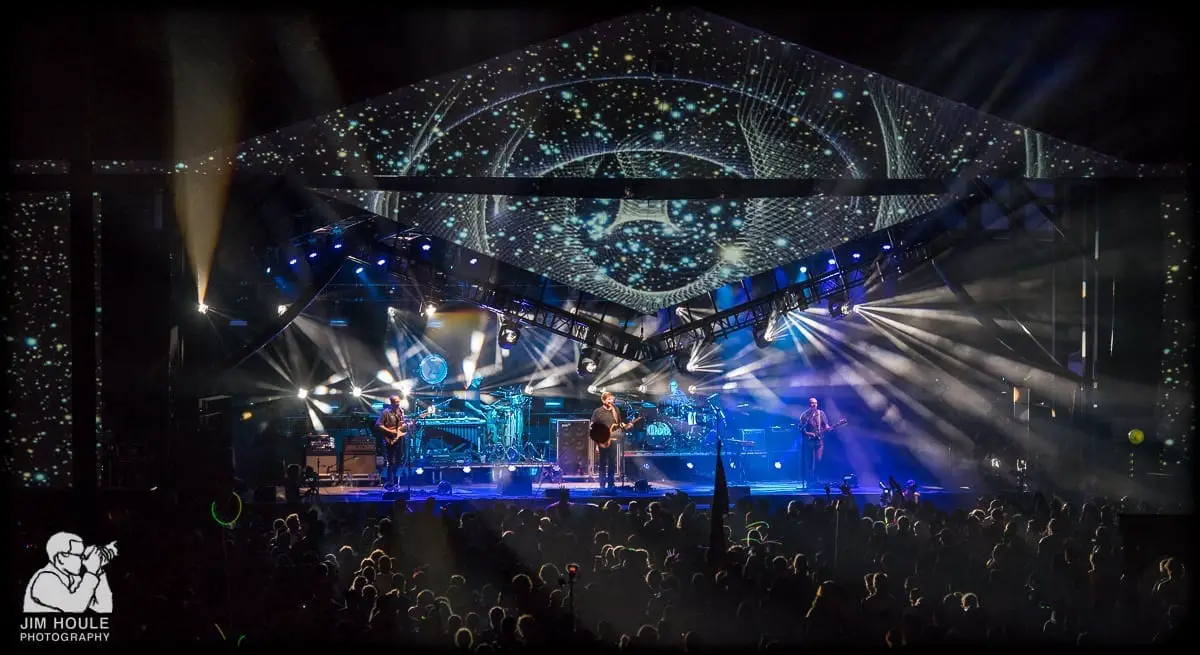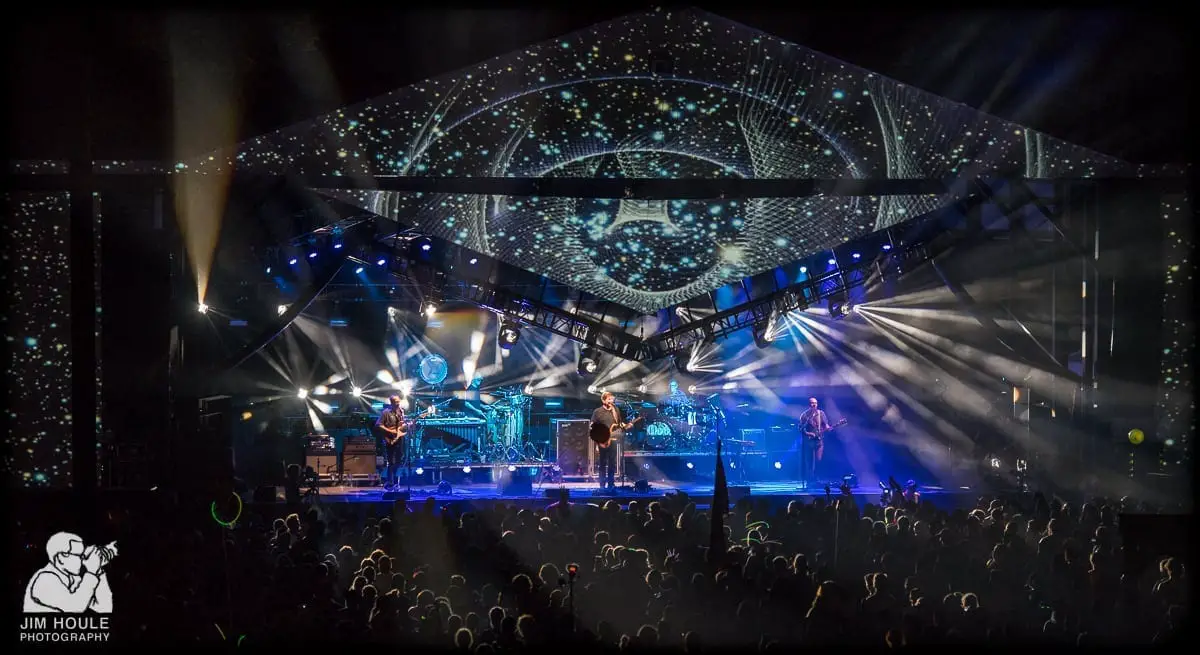 While there were plenty of heartwarming moments at Summer Camp, one of the most heartening experiences was speaking with Aaron Ghitelman of HeadCount, an organization founded by the Disco Biscuits' Mark Brownstein that registers voters. HeadCount is now in its fourteenth year of existence and continues to grow throughout the music scene and beyond, with a presence at more than 1,000 events per year. Not only are HeadCount volunteers handing out Bobo's Oat Bars for music fans who register to vote at events like Summer Camp all across the United States, they are gaining significant support from the artists themselves. In speaking with Ghitelman, he said, "Al Schnier was one of the first artists after Brownie to get involved, which led to Bob Weir's involvement." Artist engagement with HeadCount is on the rise, too. David Byrne, Dead and Co., Jack Johnson, Lake Street Dive, Dave Matthews, and Phish have all played a role in supporting HeadCount. Look for HeadCount at Participation Row on Dead and Co. tour, at Lockn' Music Festival, Brooklyn Bowl, Brooklyn Steel, the Capitol Theater, SPAC, and many other venues this summer.
That's a wrap on Summer Camp 2018! In a phrase, it was fireworks, calliopes, and clowns. The music never stops, so we will see you next year, Scampers, until then check out our coverage of all the summer's hottest concerts in New York and beyond.