Few bands put the "f.u." in fun and funk like Pigeons Playing Ping Pong, and May 3-5 at Brooklyn Bowl demonstrated why. Pigeons is one of the hottest up-and-coming acts in the jam scene, and their ravenous fans and followers are known as "The Flock." This weekend, the Flock flew into Brooklyn and filled out the Bowl 3 nights in a row.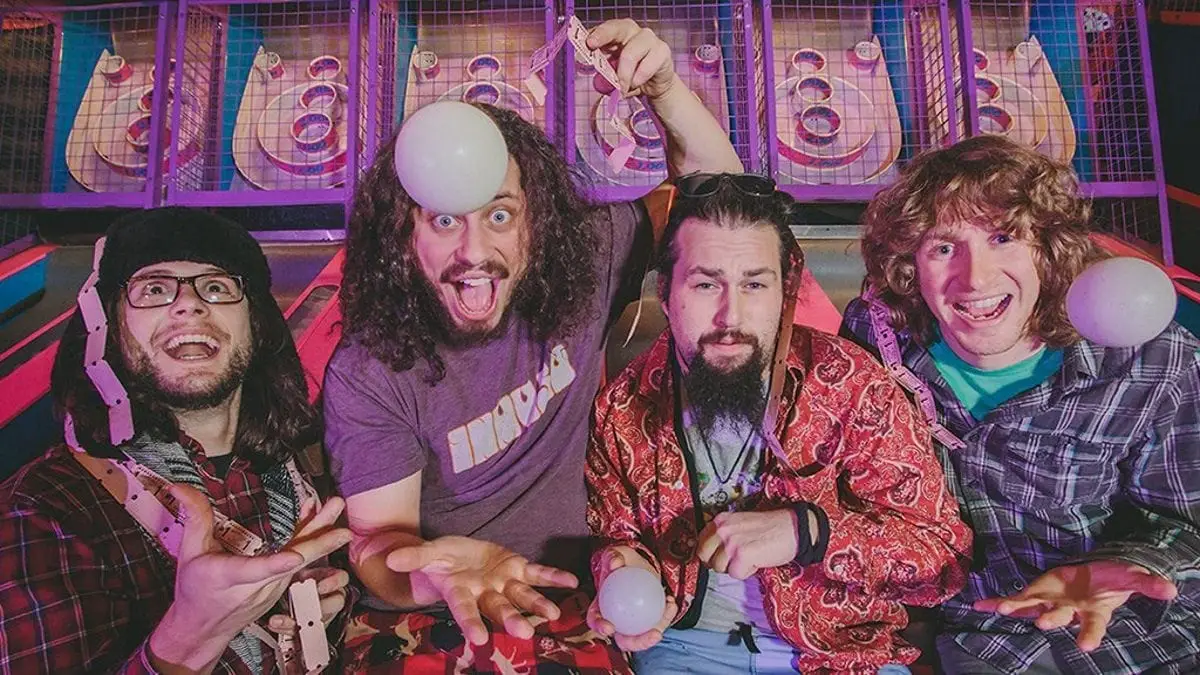 Not many bands are capable of packing it out for one night, especially when considering that they were up against Jazz Fest, which annually brings many New Yorkers down to NOLA. But PPPP sold out the Bowl 3 nights in a row, a feat commemorated with special gold, silver, and bronze coins being sold at the merch table all weekend. Their meteoric rise through the scene has been a joy to watch, and it is clear why: musically, they provide what their crowd is there for—funky, fun bass lines, high energy drumming, and soaring peaks. Performance-wise, they are top-notch, with a lighting design that matches the enthusiasm of the band onstage. Not to mention, it doesn't seem as if any band could possibly have as much fun as they do!
This weekend showcased all of those reasons that Pigeons are experiencing this meteoric ascent, from their choreographed playing and superb lighting design to their high energy stage presence to the dancey funky fun they bring. Beginning Thursday night, it was apparent that the crowd was ready to get down. And the Pigeons didn't disappoint! They opened the first night with "Whoopie," with rhythm guitarist "Scrambled" Greg Ormont, lead guitarist Jeremy Schon, and bassist Ben Carrey engaged in a choreographed head-nod dance move. And the fun continued straight from there until the encore on Saturday night.
The band played 6 sets without repeats and many fun covers, including "Hava Nagila" (a fun Pigeons staple), "Hyrule Castle" (the theme song from classic Nintendo video game "Zelda"), "I Just Can't Wait to be King" (from The Lion King), the Star Wars "Cantina Song" and "Imperial March," the Beatles' "Get Back," The Velvet Underground's "Rock & Roll," "Tequila," Michael Jackson's "Pretty Young Thing," and The Who's "Pinball Wizard." And they of course broke out some of their most popular hits, like "F U," "Fun In Funk," "Julia," "Poseidon," "Horizon," and "Melting Lights." Each set was fun, funky, spacey, raging, and different. The energy inside Brooklyn Bowl was off the charts, and the crowd was dancing and having as much fun as the band!
Before the encore on Thursday night, Greg announced to the enthusiastic crowd: "This is our home now, yall!" During Friday's performance towards the beginning of the first set, he maintained "We love the Brooklyn Bowl! One of our favorite places to play…and the food is do dank!" Saturday night, just before launching into the encore, Greg proclaimed: "This is our happy place! We wish we could stay here forever!" Clearly, the Bowl and the New York crowd made an impact on the boys from Baltimore; and PPPP certainly made an impact on the flock who made it out Brooklyn this weekend, as no one wanted to go home at the end of the weekend. Pigeons can be seen next at Domefest, their curated festival in Bedford, PA, from 5/17-5/19, as well as at Summer Camp Music Festival (Chillicothe, IL 5/25-5/27), Great South Bay Music Festival (Patchogue, NY 6/14), Peach Music Festival (Scranton, PA 7/19), LOCKN' (Arrington, VA 8/25), and many other great events throughout the summer.