If you were seeking a little bit of country, a touch of rock, some moments reminiscent of church hymns and Irish music, and a whole lot of honesty, the Palace Theatre was the right place to be Sunday night. Brandi Carlile, with special guests Secret Sisters, filled the Palace Theatre with over 2,000 guests to hear authentic harmonies and sometimes almost "too honest to bear" lyrics that offered redemption, forgiveness and even joy.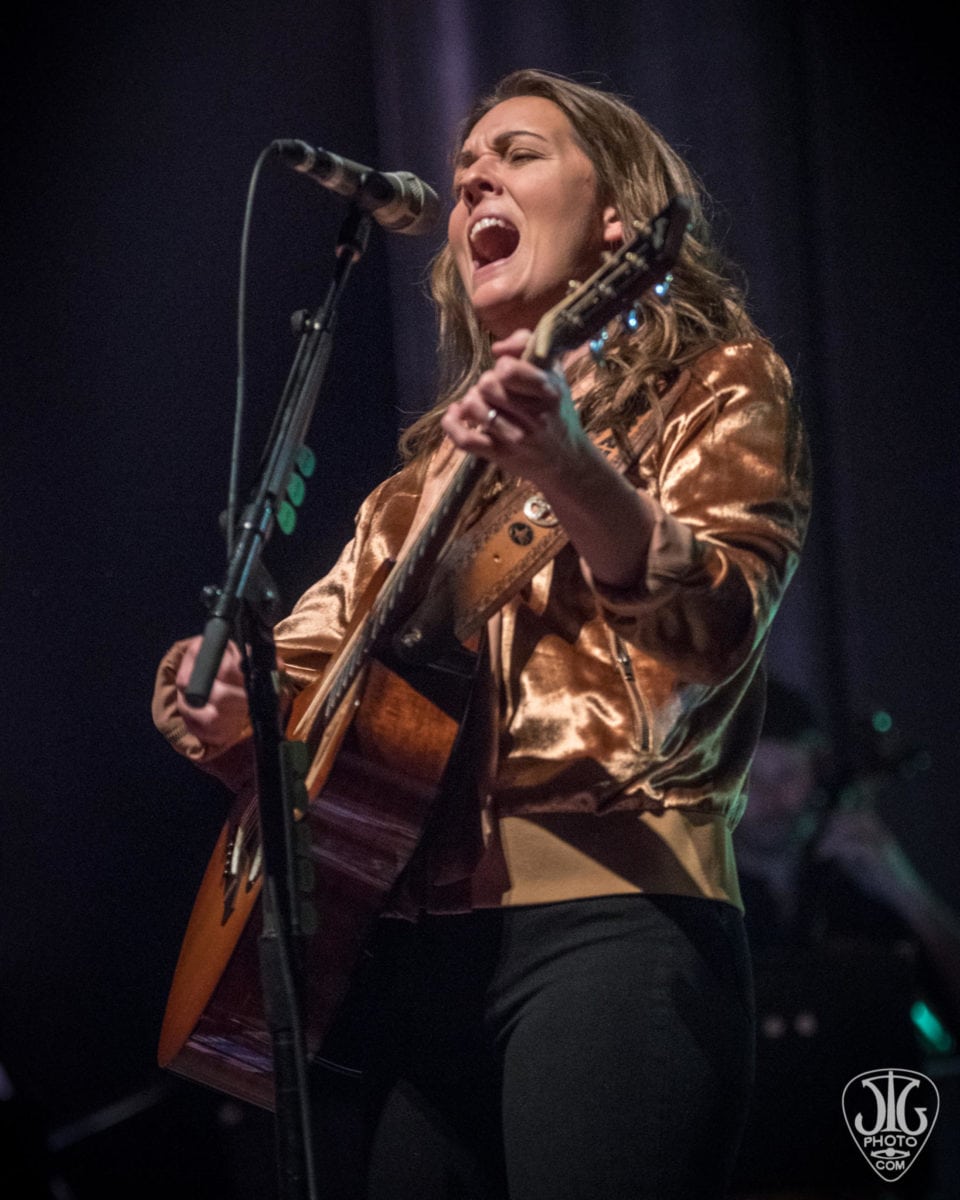 Secret Sisters Laura and Lydia opened the night with the promise that their music was primarily filled with sadness, and noted they were going to "wrestle joy away" from audience members with their harmonies. Their deadpan humor and teasing of one another juxtapositioned their swampy songs of longing perfectly. From Muscle Shoals, Grammy-nominated Laura Rogers and Lydia Slagle sang about loves lost, mistakes made and poor choices, mostly in minor keys. The women acknowledged the normalcy of loving the wrong person as both human and worth growing through. The sisters joked about how Laura named her previous lover in "He's Fine," bringing laughter when the sisters sang his name in the actual song.
Secret Sisters was so welcomed by the audience that it was easy to forget they were just the opening act. Their easy rapport with the crowd, combined with the women's amazingly clear vocals and Everly Brothers-like harmonies, struck a strong chord with the audience. The sisters closed with "You Don't Own Me Anymore," an original song with a nod in the bridge to Lesley Gore's 1963 tune "You Don't Own Me." The audience responded with a standing ovation.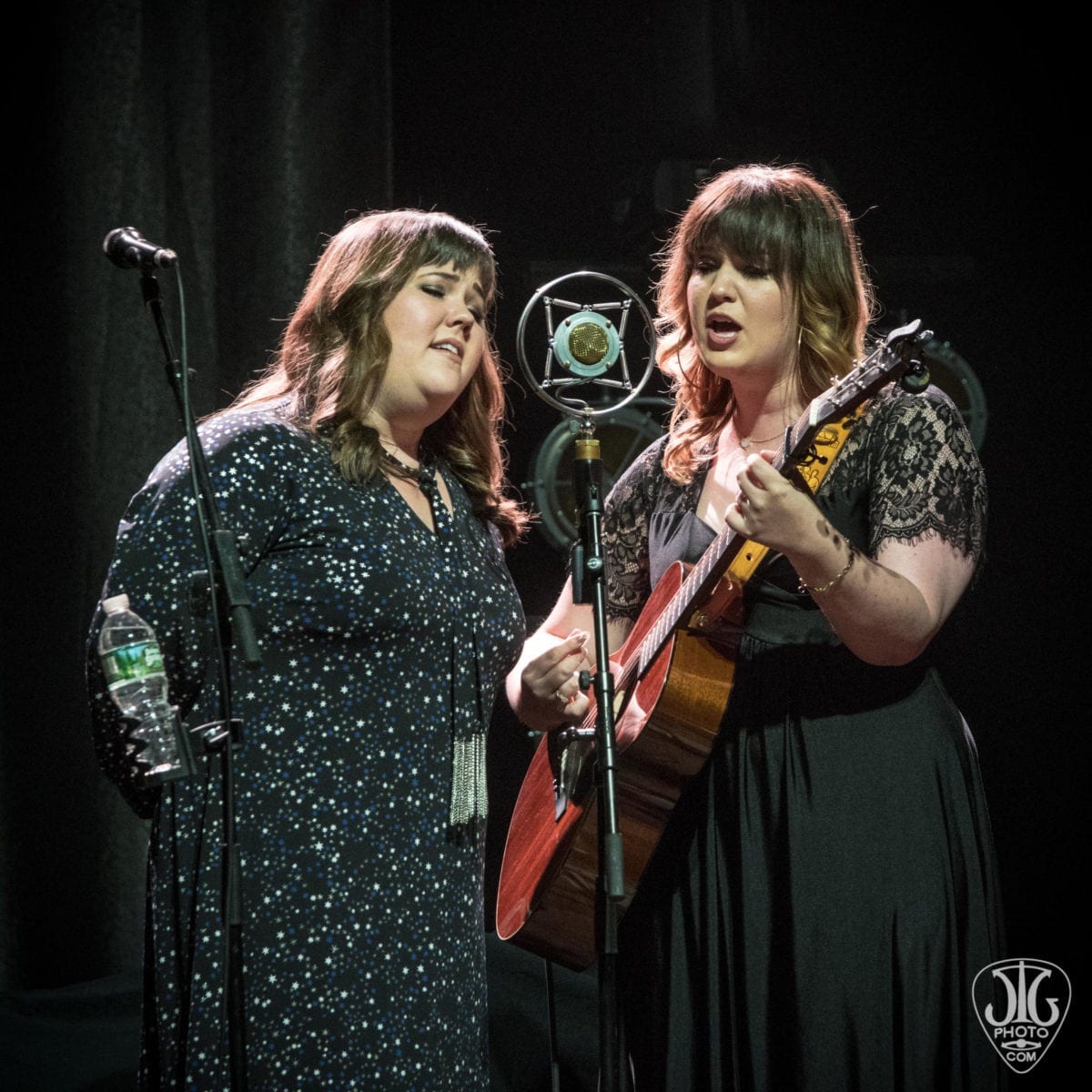 The silent stage washed in purple lights opened up with a string trio joined by a French horn, teasing melodies from Brandi Carlile's new album, By The Way, I Forgive You. The crowd cheered these classical musicians as they welcomed Brandi Carlile on stage with twin brothers Phil and Tim Hanseroth. Playing their most popular radio tune first thing, audience members had to notice: this was confidence. What would be left for the rest of the night?
Brandi Carlile answered any doubts and questions immediately with her high energy jumping across the stage through 17 years of music. The band could play a Crosby, Stills and Nash sound and then jump into a more rock sound, alternating and enjoying the variety. This was true talent.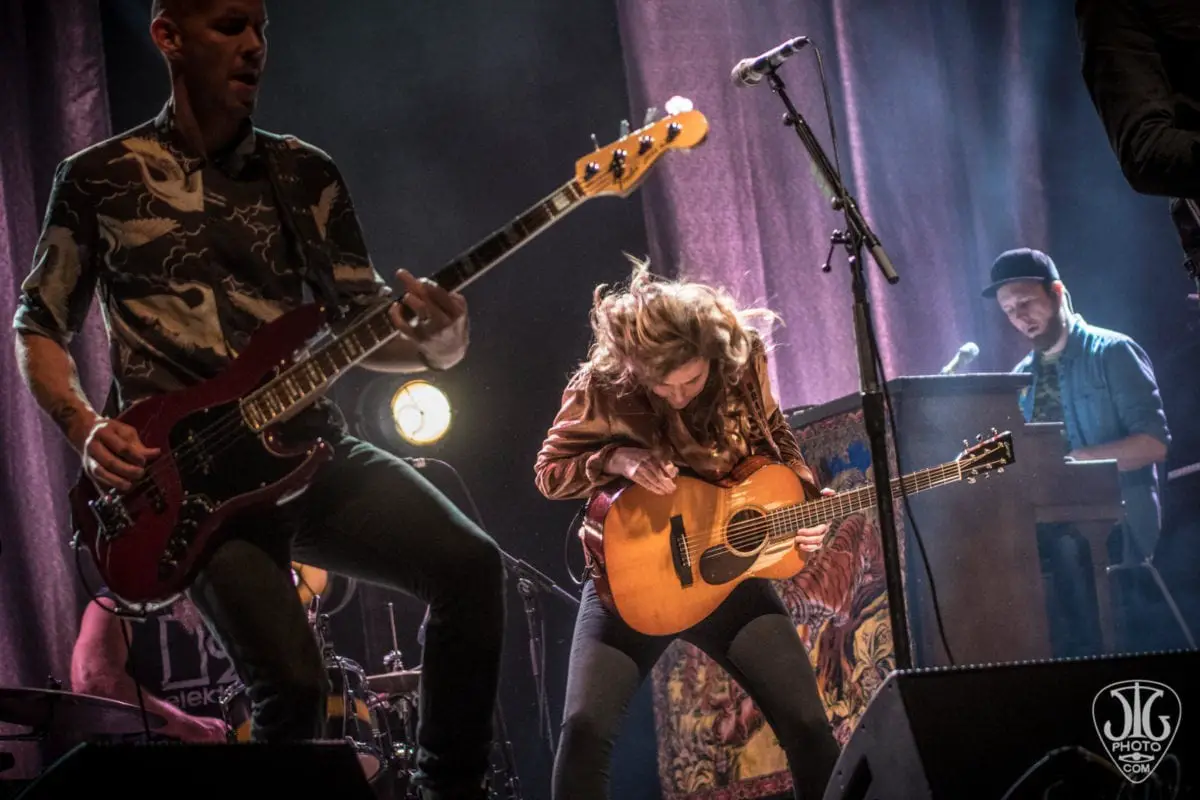 The band's newest album is full of hard songs to sing. Lyrics about loss, forgiveness, parenthood and survivorship didn't sugar coat a moment. Two particular pieces, "Sugartooth" and "Fulton County Jane Doe," touched upon the drug epidemic and violence against women. "The Joke" is a social advocacy song pushing people to be fearless in whom they are. And "The Mother" authentically tackled the normative ambivalence of becoming a parent.
The twins and Brandi sang an unplugged acoustic version of "Cannonball" to its audience after declaring the Palace "a singing room." The band members' strongest pipes are clearly shared among the three vocalists; all three could fill the hall with equal harmony. If you closed your eyes, you could mistakenly believe you were in church. The screaming fans, of course, would ground you back to the theater.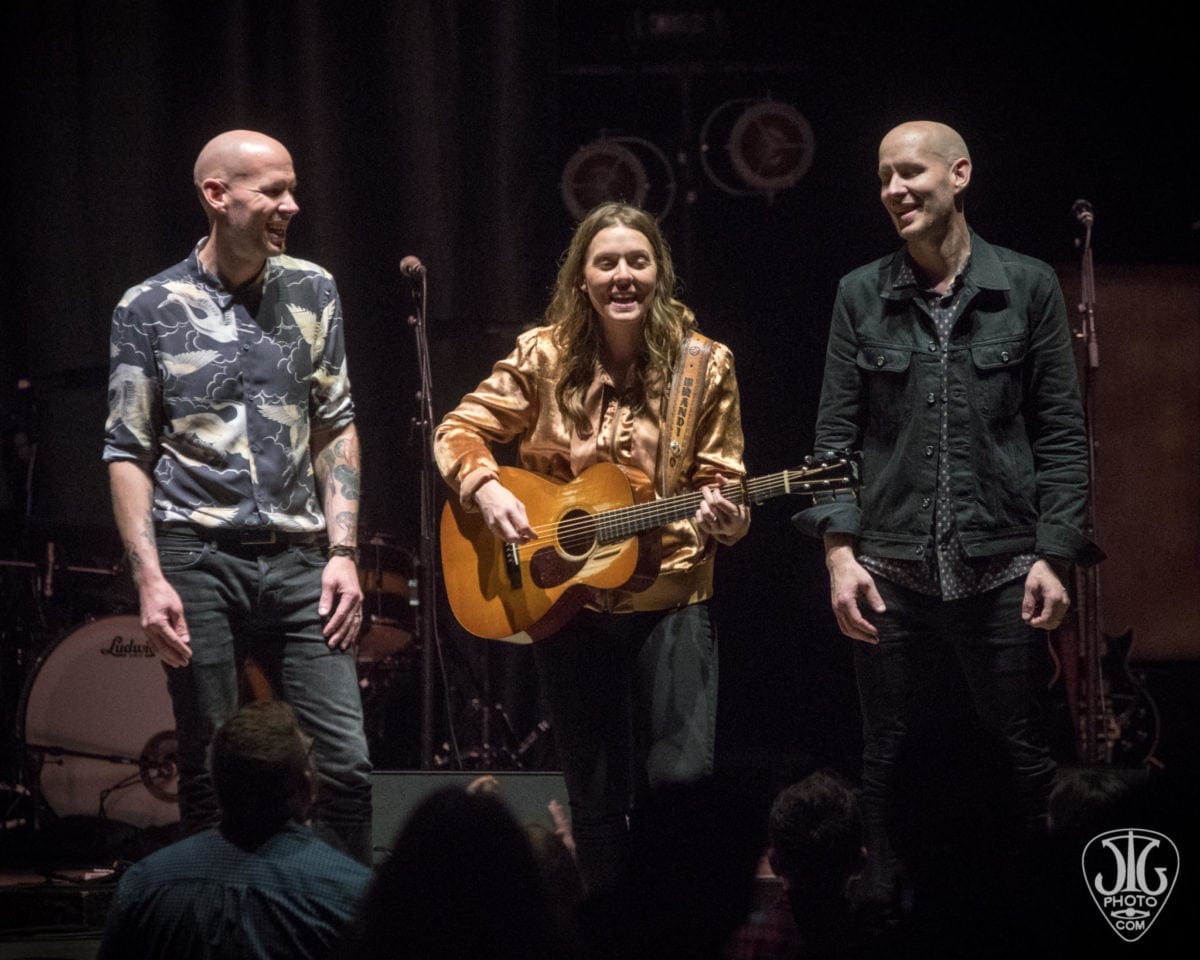 Sounding of country, rock and folk music, Brandi Carlile's diversity and range was showing. And she was clearly having fun, jumping around the stage like a teen and sharing stories that charmed about her children. She even introduced her four-year-old daughter Evangeline to the audience, who waved and said, "Thank you Albany."
And just when you thought they had done everything possible, Brandi Carlile covered the Led Zeppelin tune "Babe, I'm Gonna Leave You" in quite possibly the sexiest and most compelling song of the evening. Brandi's achingly gorgeous voice as she leaned into her vocals was a reminder: this band can do whatever it chooses to do.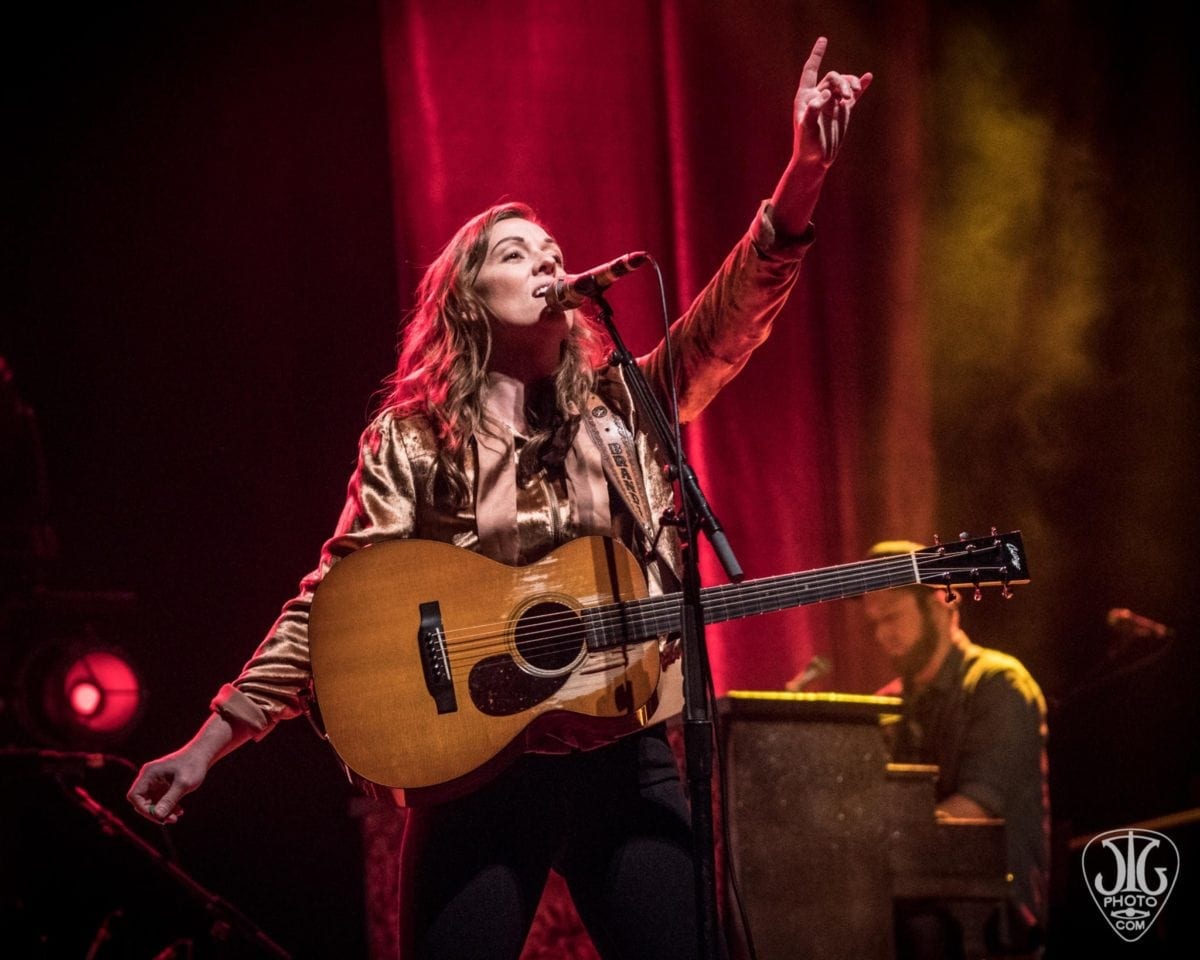 And it does. Brandi Carlile chose to make us cry and remember past loves. They reminded us to forgive our parents and love them regardless of faults. They cued listeners to be social activists who encouraged acts of goodwill. Brandi Carlile took the Albany audience on a very human journey Sunday night. With a diversity of style and sound, and generosity to include their opener in their later acts, Brandi Carlile wrestled with loss and pulled it away from Albany, leaving pure joy in its place.
Setlist: Every Time I Hear That Song, Raise Hell, Harder to Forgive, The Eye, The Mother, The Joke, Have You Ever, Sugartooth, Mainstream Kid, Fulton County Jane Doe, Cannonball (front of stage, off mic), Most of All , Babe, I'm Gonna Leave You (Led Zeppelin cover), Secret Sisters song "Mississippi", The Story, Whatever You Do, Party of One
Encore: Hold Out Your Hand, Amazing Grace
Brandi Carlile at the Palace Theatre
Prev
1 of 19
Next