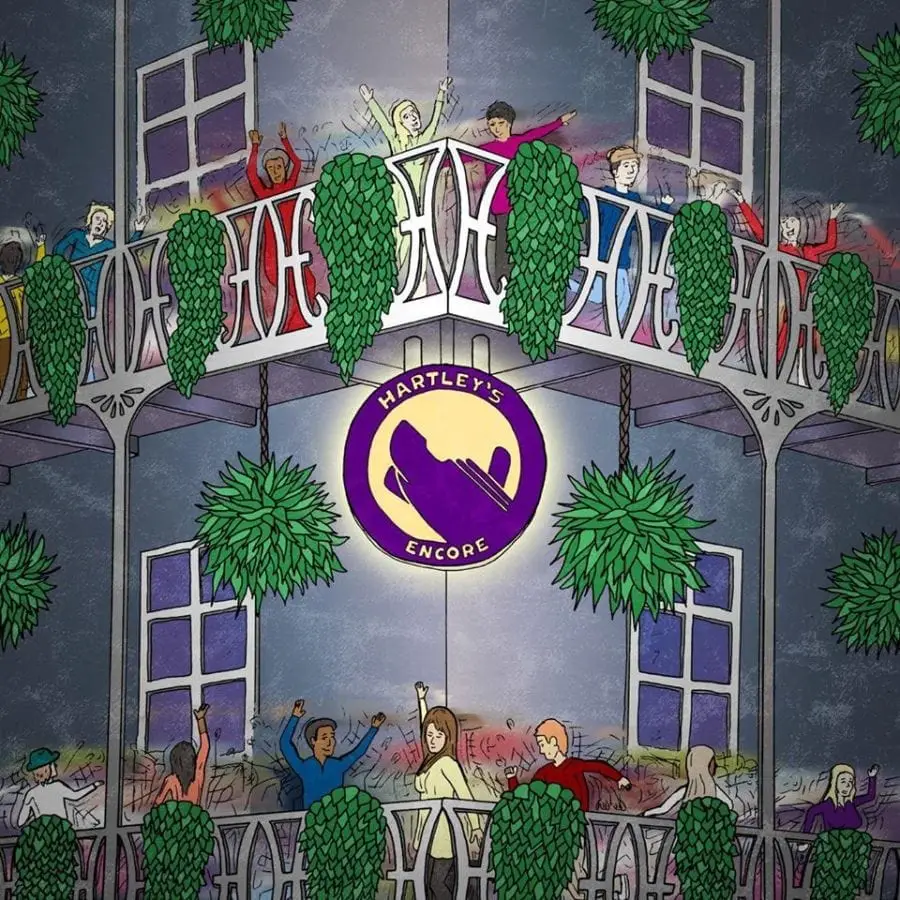 Joining the ranks of Albany's tasteful and expansive live music scene over the last two years, Hartley's Encore has become a recognizable name, plastered on fliers at favored venues and taking on hosting duties for local funk nights, and after rounding up a collection of distinguished tracks, the spunky Capital Region locals finally put forth their first, self-titled album on April 20, 2018. 
The 6-track effort was recorded and mixed by Soulives' Alan Evans at Iron Wax Recording Studio in Millers Falls, MA and comes stacked with talent, including Luke Malamood (Lead and Backing Vocals, Keyboards, Hammond B3, Percussion), Chris Oliver (Guitars, Backing Vocals), Jeff Nania (Saxophones), Josh Gordon (Bass: tracks 1, 3, 4, and 6), Mike Gilet (Drums: tracks 1, 3, 4, and 6) and the help of Erik Pravel (Drums: tracks 2, and 5), Phil Chow (Trumpet) and Brad Monkell (Bass: tracks 2, and 5).
From the album's opening notes, it's apparent the assortment has one goal in mind: create funky, dance-leaning tracks that leave the live crowd and listener at home no choice but to groove in their immediate proximity. "Take 'Em Down" and "Can't Fake the Funk" are full embodiments of dance anthems, complete with transitions between soulful vocals and an impressive horn section splashed throughout. Groovy, harmonized background vocals and a splash of falsetto are quick to grab an ear as well as carefully placed elements of rock and roll.  Although generally funky and soulful, a fiery nugget of psychedelic rock is thrown into the mix with wailing guitar solos by Oliver.
Rotating focus on which instruments shine, "Keep That Bright Light Shining," "All My Funky People" and "Hooklynn" highlight the ability to swap musical hats with tasteful drum lead-ins, tickling of the keys and fleeting solos on guitar. Appropriately named "Hartley's Encore" and placed as the closing track of the album, the repeated mantra of "gonna give you an encore" paired with jazzy pockets of saxophone and trumpet leave you feeling the funk up until the final notes.
Over six tracks, Hartley's Encore manages to fuse their chosen genres in a seamless way, weaving rock and roll amidst funk and jazz while keeping the message lighthearted and fun. Between catchy hooks, tasty riffs and feel-good tunes, the up and comers pieced together a collection of tracks suitable for those live on the dance floor, cookin' and dancin' at home or anxiously wiggling in the car during rush hour traffic.
A record release party took place on Friday, April 27 at The Hollow in Albany with special guest Victory Soul Orchestra and was hosted by Guthrie/Bell Productions. They will also perform at Bowery Electric on May 18 in Manhattan. Hartley's Encore is now available on Spotify and Apple Music.
Key Tracks: (Keep That) Bright Light Shinning, All My Funky People, Hartley's Encore