Southern bands jammed solidly into Albany Thursday night at the Palace Theatre. An almost sold out show for Gov't Mule, a southern rock jam band that started out to be just a side project for Allman Brothers Band guitarist Warren Haynes and bassist Allen Woody, drew a shocking fan following, filling the historic Palace Theatre with an eclectic crowd of hippies, gypsies, and serious musicians alike.
Opening band Black Stone Cherry brought the house to its feet and heads banging chins to chests right on time at 7:30. The Kentucky-based opener includes the talent of Chris Robertson (lead guitar and vocals), John Fred Young (dramatically on drums), Ben Wells (guitar and hands down the most energetic dancer of the evening), and Jon Lawhon (bass). Strong right from the start, the musicians show that experience counts in mastering genres ranging from blues to netal. They were in tune, and capable of playing through some malfunctions with equipment.
The layering of heavier rock sounds, well balanced enough so that a trained ear can tease out each chord, reflected how Black Stone Cherry's music is both interesting and surprisingly complex. Like much heavy metal, the compositions took surprising turns with chord structures.  The drummer's tossing of sticks added to Wells' well-placed kicks in his rose embroidered denim, added to the tempo changes that smoothly showed the members were breathing together throughout their 50-minute set. Interested fans are encouraged to check out their new album Family Tree, which they showcased Thursday night.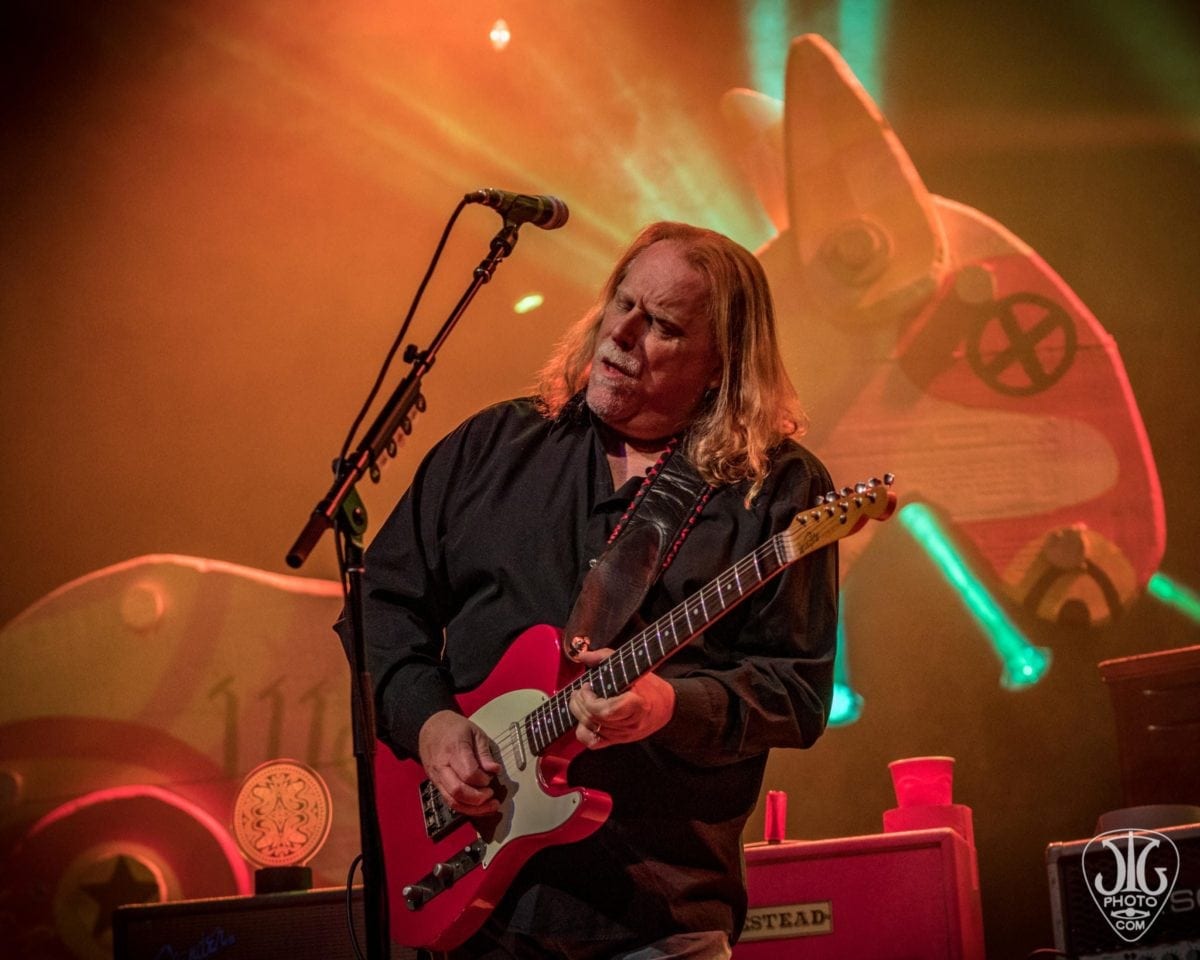 In contrast to the heavy and complex sound of Black Stone Cherry, Gov't Mule took the stage washed in purples and blues as audio played snips from icons including Beatles, Marley, Dylan, and of course the Dead. Mule emphasized their place in history, including social history of demanding social justice, during this entrance. With a backdrop reminiscent of my college dorm room, the mandala flag of burnt sienna and wooden cut out mules dramatically added to the mood of storytelling as the band swooned out the song "Million Miles from Yesterday."
            The band's first set included "World Gone Wild," "Stone Cold Rage," and "Drawn that Way." The lyrical storytelling layered with the upbeat jam vibe had fans jumping and dancing throughout the theatre.  Keyboards contrasted the heavy opening sounds and were both soothing and inspiring simultaneously.
"Mountain Jam" reminded fans that this was, in fact, a southern band. With picking and heavy guitar melodies, the first set ended with "The Man I Want to Be" and "I'm a Ram." After a brief break, the second set picked up with "Catfish Blues," a Robert Petway cover. The band reminded listeners these musicians have been performing both together and apart long enough to have earned some street credibility for soulful, bluesy jazz sound. The band played late into the night with "Bad Little Doggie," "Bad Man Walking," and "Thorns of Life," before adding in "Banks of the Deep End" and "Kind of Bird."
"Soulshine," in full disclosure this writer's favorite song, brought all the fans back to the basic belief system that music reminds us to listen to our inner voice when lost.  The lyrics encourage each of us to let your soul shine, reminding us that it is better than moonshine or rain.  In a crescendo to "Bring on the Music," the band took two separate encores, including covers "Statesboro Blues" and Petty's "You Don't Know How it Feels."
Gov't Mule's messages of embracing inner knowledge and optimism in the human spirit seemed well accepted across the audience Thursday night. While many in the crowd were a bit too inebriated to possibly remember the concert, thanks both to the Palace's new hard liquor license and the cloud of smoke that circled throughout each section of the theatre, the talent of Gov't Mule's musicians should not be forgotten or ignored. This aging group of musicians proves that experience creates excellence.
Without exception, the musicianship demonstrated not only mastery but also real soul-shine at the Palace. In tune with each other and their very lyrical messages of listening to their inner lights, Gov't Mule stubbornly persists in a world that appears to not quite be ready yet to let them fade. Thank goodness.
Setlist via Mule.net
Set One: Million Miles From Yesterday, World Gone Wild, Stone Cold Rage, Drawn That Way, Stratus, Game Face > Mountain Jam > Game Face, The Man I Want To Be, I'm A Ram (with Les Brers In A Minor tease)
Set Two: Catfish Blues (with Hook Herrera), Bad Little Doggie (with Hook Herrera), Bad Man Walking, Thorns Of Life, Banks Of The Deep End, Kind Of Bird (with In Memory Of Elizabeth Reed tease) > Soulshine > Kind Of Bird, Bring On The Music
Encore: Children Of The Revolution (with Reeves Gabriel), You Don't Know How It Feels (with Reeves Gabriel & Hook Herrera)
Encore Two: Statesboro Blues (with Reeves Gabriel & Hook Herrera)