Lake Street Dive, the Boston-born and Brooklyn-based quartet, is slated to release Free Yourself Up on May 4. It will be their seventh studio release to date, and the second on Nonesuch Records. In keeping with their typical schedule of releasing an album every two years, Free Yourself Up will be the band's first since 2016's Side Pony. With more than a decade of recording and touring experience under their belts, nobody knows the intricacies of Lake Street Dive's sound better than the bandmembers, who, this time around, decided to handle the album production themselves. Dan Knobler engineered the recording, which took place at Goosehead Palace Studios in Nashville with the band—Michael Calabrese (drums), Bridget Kearney (bass), Rachel Price (vocals), and Micahel "McDuck" Olson (guitar/trumpet)—who were joined in the studio by touring keyboardist Akie Bermiss.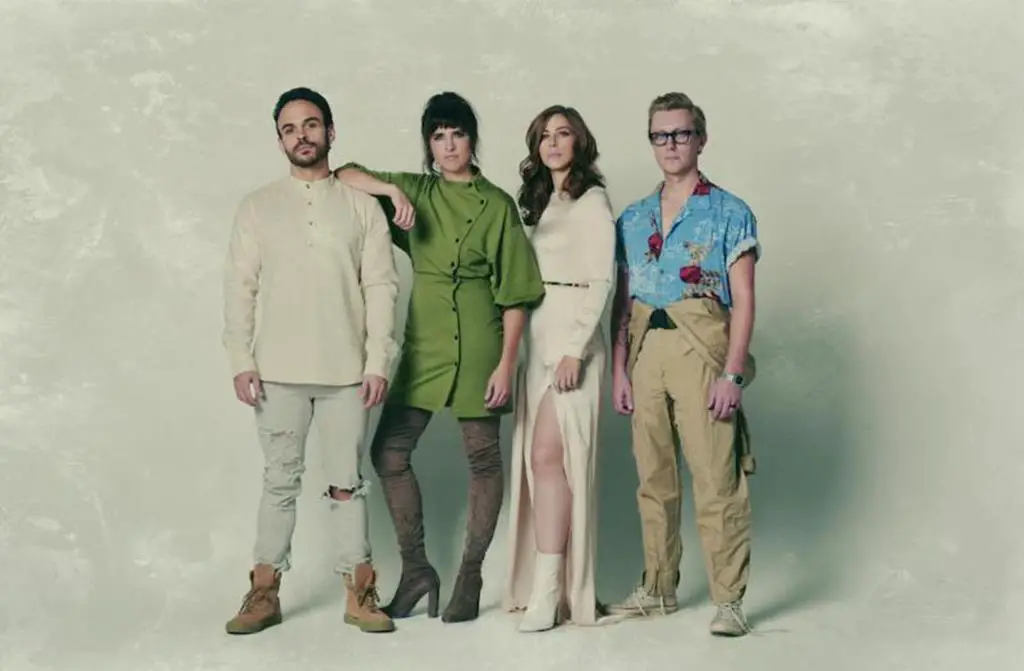 Free Yourself Up is available for preorder now at iTunes, lakestreetdive.com, and nonesuch.com. Two new singles from the album, "Good Kisser" and "I Can Change," are also available for instant download ahead of the release. Check out the music video for "I Can Change," made by filmmaker Claire Marie Vogel, here.
In support of the new album, Lake Street Dive is embarking on a lengthy international tour that features many dates across North America, including several stops in New York. They will play at the Ulster Performing Arts Center in Kingston on May 6, a sold out show at Brooklyn Steel on May 10, then again at the International Jazz Festival in Rochester on June 28, at the State Theatre in Ithaca on November 3, and finally two nights at the Beacon Theatre on November 5 and 6.
Concert tickets are on sale at lakestreetdive.com and most packages include a free CD of Free Yourself Up
Lake Street Dive Tour Dates:
May 4 – Boston, MA – The Sinclair* SOLD OUT
May 5 – Turners Falls, MA  – Shea Theater* SOLD OUT
May 6 – Kingston, NY – Ulster Performing Arts Center*
May 8 – Burlington, VT – Higher Ground* SOLD OUT
May 9 – New Haven, CT – College Street Music Hall*
May 10 – Brooklyn, NY – Brooklyn Steel* SOLD OUT
May 12 – Philadelphia, PA – The Fillmore*
May 13 – Pittsburgh, PA – Mr. Smalls* SOLD OUT
May 15 – Chicago, IL – Thalia Hall* SOLD OUT
May 17 – St. Paul, MN – Palace Theater^
May 18 – Des Moines, IA – Simon Estes^
May 19 – St. Louis, MO – The Pageant^
May 21 – Albuquerque, NM – Kimo Theater
May 23 – Los Angeles, CA – Ford Theater* SOLD OUT
May 24 – Anaheim, CA – House of Blues*
May 25 – San Francisco, CA – The Fillmore* SOLD OUT
May 27 – Napa Valley, CA – Bottle Rock Festival SOLD OUT
May 29 – Vancouver, BC – Commodore*
May 30 – Seattle, WA – Showbox at the Market* SOLD OUT
June 1 – Ogden, UT – Ogden Music Festival
June 2 – Stateline, NV – Montbleu Resort Casino +
June 20 – Cleveland, OH – House of Blues +
June 21 – Charleston, WV – Clay Center for the Arts & Scienes of West Virginia
June 23 – Ottawa, ONT – Ottawa Jazz Festival
June 25 – Toronto, ONT – Toronto Jazz Festival
June 26 – Royal Oak, MI – The Royal Oak Theatre +
June 28 – Rochester, NY – International Jazz Festival
June 29 – Red Bank, NJ – Count Basie Theatre +
July 2 – Richmond, VA – The National +
July 3 – Black Mountain, NC – Pisgah Brewing (Outdoor Stage) +
July 5 – Baltimore, MD – WTMD First Thursday (Free Show) +>
July 7 – Portland, ME – Thompson's Point +
July 8 – Marshfield, MA – Levitate Festival
July 10 – Charleston, SC – Charleston Music Hall +
July 12 – Raleigh, NC – North Carolina Museum of Art +
July 13 – Atlanta, GA – Variety Playhouse +
July 14 – Atlanta, GA – Variety Playhouse +
July 16 – New Orleans, LA – House of Blues +
July 20 – Dallas, TX – The Bomb Factory +
July 21 – Austin, TX – Austin City Limits, The Moody Theatre +
Aug. 31 – Lexington, KY – Manchester +
Sept. 3 – Iowa City, IA – Englert Theatre +
Sept. 4 – Omaha, NE – Slowdown +
Sept. 6 – Morrison, CO – Red Rocks Amphitheatre
Sept. 10 – Bozeman, MT – Bridger Brewing +
Sept. 12 – Missoula, MT – The Wilma +
Sept. 14 – Portland, OR – Revolution Hall +
Sept. 22 – Glen Ellen, CA – Sonoma Harvest Festival > SOLD OUT
Sept. 28 – Columbia, MO – Roots N Blues BBQ Festival +>
Sept. 29 – Memphis, TN – Levitt Shell +>
Oct. 11 – London, UK – 02 Shepherd's Bush Empire
Oct. 25 – Louisville, KY – Brown Theatre +
Oct. 26 – Milwaukee, WI – Pabst Theater +
Oct. 27 – Chicago, IL – The Riveria Theatre +>
Oct. 29 – Indianapolis, IN – The Vogue +
Nov. 1 – Nashville, TN – Ryman Auditorium +
Nov. 2 – Columbus, OH – Newport Music Hall +
Nov. 3 – Ithaca, NY – The State Theatre +
Nov. 5 – New York, NY – Beacon Theatre +>
Nov. 6 – New York, NY – Beacon Theatre +>
Nov. 9 – Washington, DC – The Anthem +
+ newly announced
*Mikaela Davis supports / ^Liz Vice supports
> non-bundle date