Disc Jam Music Festival announced today the initial lineup for the 8th installment of the annual music festival held in Stephentown, NY. Slated for June 7-10, the music-filled weekend promises over 80 artists, along with Disc Golf Tournaments, Flow Tribe dancers, craft vending, yoga workshops and much more.
The 2018 artist lineup includes a heavy dose of national and regional funk and jam artists, in addition to collaboratives and side projects, including unique pairings only found at the festival. Headliners include Lotus, Beats Antique, Galactic, The Motet, Electron (feat. members of Lotus and Joe Russo's Almost Dead), Disco Biscuits guitarist Jon 'The Barber' Gutwillig (solo acoustic set), DJ Logic and Friends (feat. members of The Disco Biscuits, Dopapod and Turkuaz), Gubbulidis (Twiddle side project), Kung Fu, Moon Hooch, Aqueous, Ghost Note (Snarky Puppy side project) Tom Marshall's Amfibian All-Stars, Ghost Light (Tom Hamilton and Holly Bowling project), among more than 80 artists performing on 4 stages over 4 days of camping at the picturesque Gardner's Farm.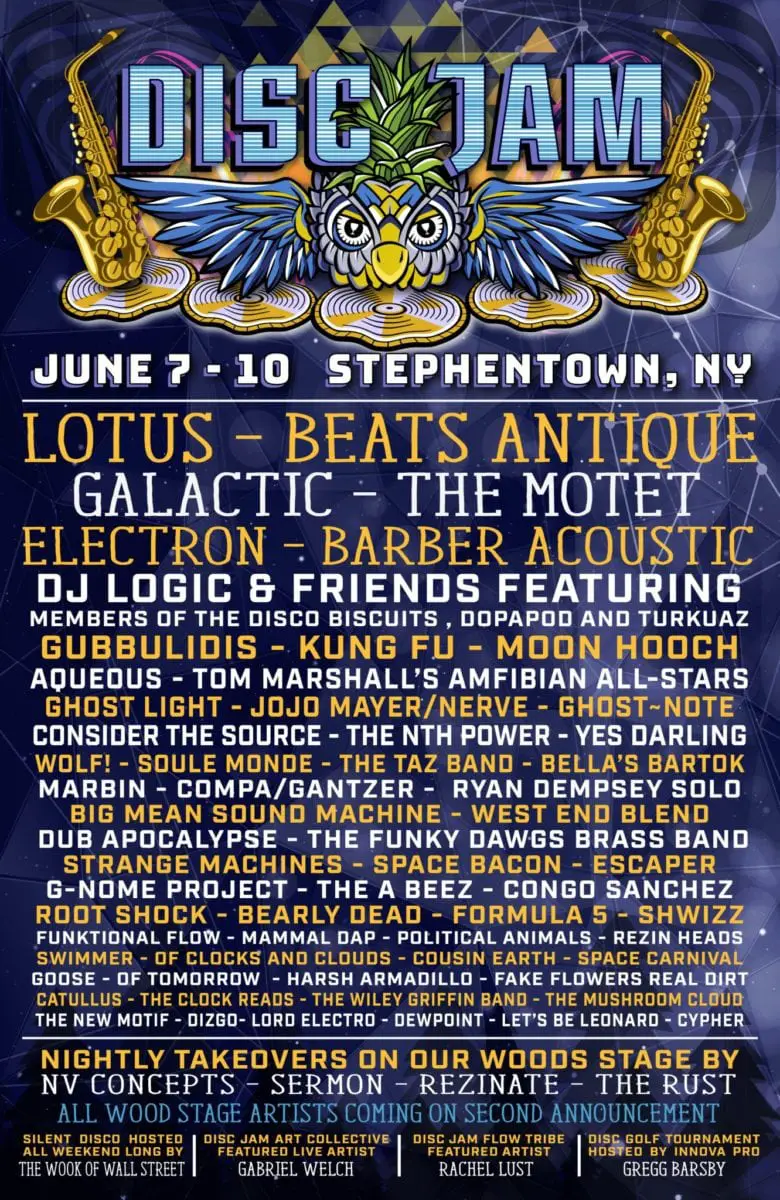 "I spent the entire off-season trying to come up with a festival experience that could one-up the magic we conjured up last year. I think what we have in store will set the bar high for next year. And I'm already nervous thinking how we'll top this in 2019." In their 4th consecutive year at Gardner's Farm, Disc Jam has found a venue that feels like home.  "I truly believe that we have been blessed with the perfect festival grounds, surrounded by rolling hills with picturesque views and soft grass beneath our feet."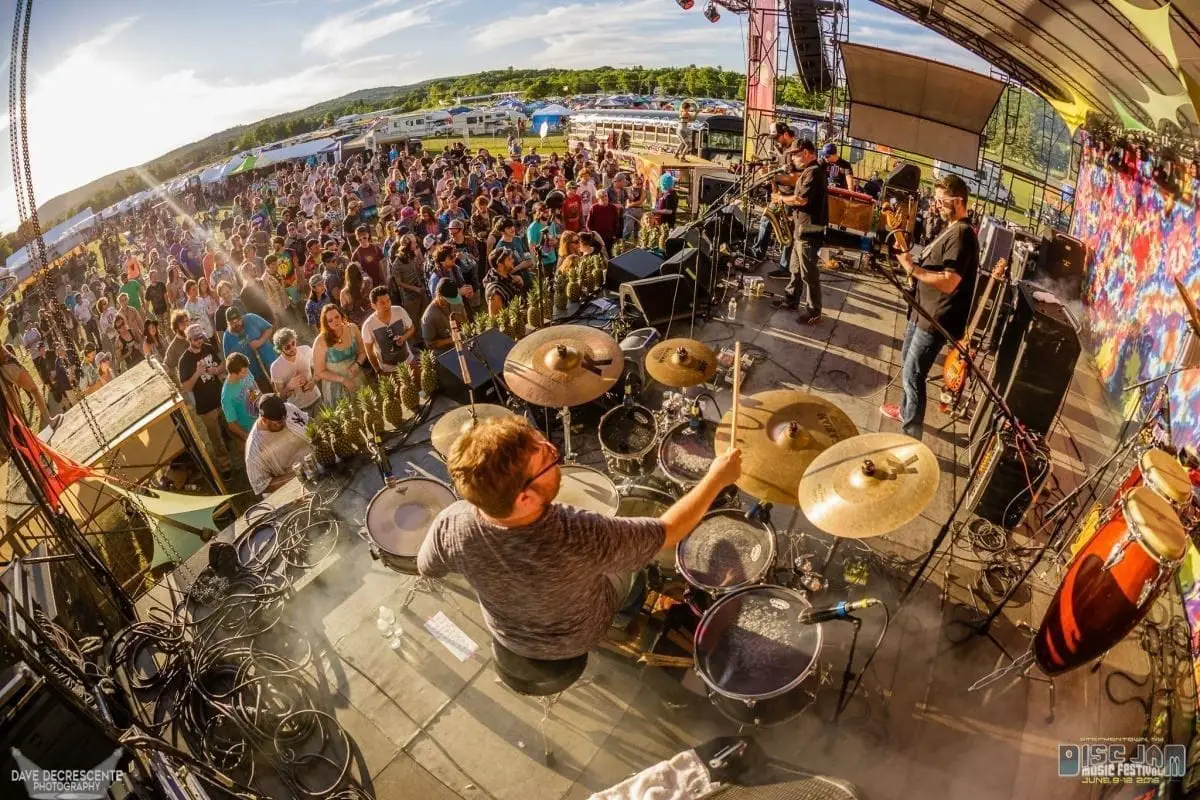 As the name Disc Jam would imply, this 4 day and night event features the fast growing sport of disc golf and festival grounds hold a 27-hole disc golf course on site. Disc Golf Tournaments for men and women are held throughout the weekend, with prizes from Innova and Pure Flight Disc Golf. The annual tournament is a must for Disc Golf enthusiasts and encourages the casual and first timer players to try their hand on the course all weekend long with no additional costs to play and even provide discs free of charge for those interested in trying their hand at the course.
VIP packages include hotel and condo style rooms at the beautiful Jiminy Peak Ski resort just 5 minutes from the venue. A variety of activities and workshops are a big attraction for Disc Jam, including flow art workshops, daily yoga sessions, interactive music and art amidst the festival grounds, plus craft and art vending that help make Disc Jam create a unique and memorable experience for both new and returning fans.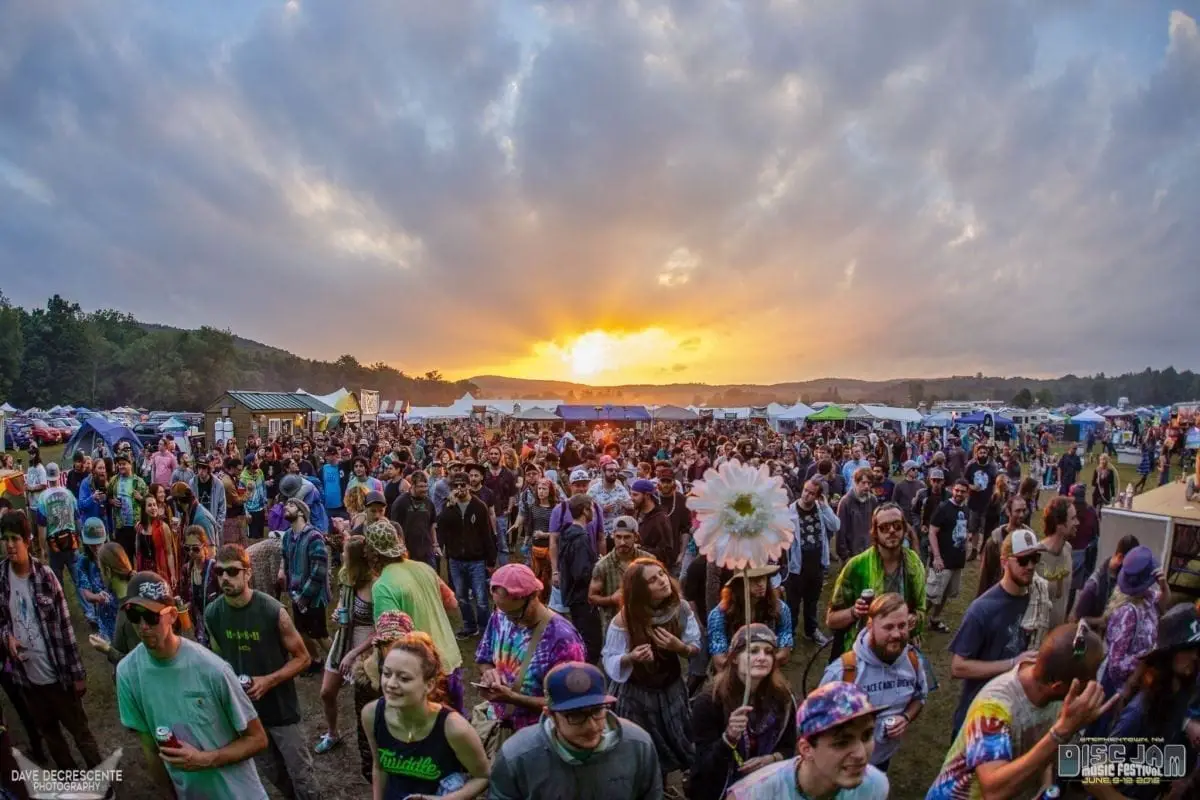 Music can be found on twin Main stages, ensuring nonstop music well into the night along with the massive Tent stage and Woods stage, the latter of which features nightly takeovers from some of the top names in bass and house music, with The Wook of Wall Street hosting a Silent Disco Party lasting until sunrise.
Check out our review of Disc Jam 2017, Watch the 2017 Disc Jam Recap video and check out the lineup below!
Disc Jam 2018 Music Festival Initial Lineup
Lotus
Beats Antique
Galactic
The Motet
Electron
Jon 'The Barber' Gutwillig (Acoustic Set)
DJ Logic and Friends (feat. members of The Disco Biscuits, Dopapod and Turkuaz)
Gubbulidis
Kung Fu
Moon Hooch
Aqueous
Tom Marshall's Amfibian All-Stars
Ghost Light
Jo Jo Mayer / Nerve
Ghost-Note
Consider The Source
The Nth Power
Yes Darling
Wolf!
Soule Monde
The TAZ Band
Bella's Bartok
Marbin
Compa/Gantzer
Ryan Dempsey Solo
Big Mean Sound Machine
West End Blend
Dub Apocalypse
The Funky Dawgs Brass Band
Strange Machines
Space Bacon
Escaper
G-Nome Project
The A Beez
Root Shock
Bearly Dead Formula 5
Goose
Shwizz
Funktional Flow
Mammal Dap
Floodwood
Blind Owl Band
Swimmer
Of Clocks and Clouds
Cousin Earth
Space Carnival Of Tomorrow
Harsh Armadillo
Fake Flowers Real Dirt
The Clock Reads
The Wiley Griffin Band
The Mushroom Cloud
Catullus
Lord Electro
Dizgo
Dewpoint
Let's Be Leonard
Cypher