The latest addition to the Live Phish series is Phish's show from Central New York's harness racing mecca, Vernon Downs, on Aug. 12, 1998. The only show Phish has ever performed at this venue worked perfectly into Phish's wordplay throughout the night. The "Makisupa Policeman" lyric, "Woke up this morning, burning down," was met with rapturous applause due to its resemblance to the venue's name. Later in the show, the band performed a cover of the Talking Heads classic "Burning Down the House," which took on a new persona as Trey Anastasio sang, "Vernon Down the house," much to the delight of those in attendance.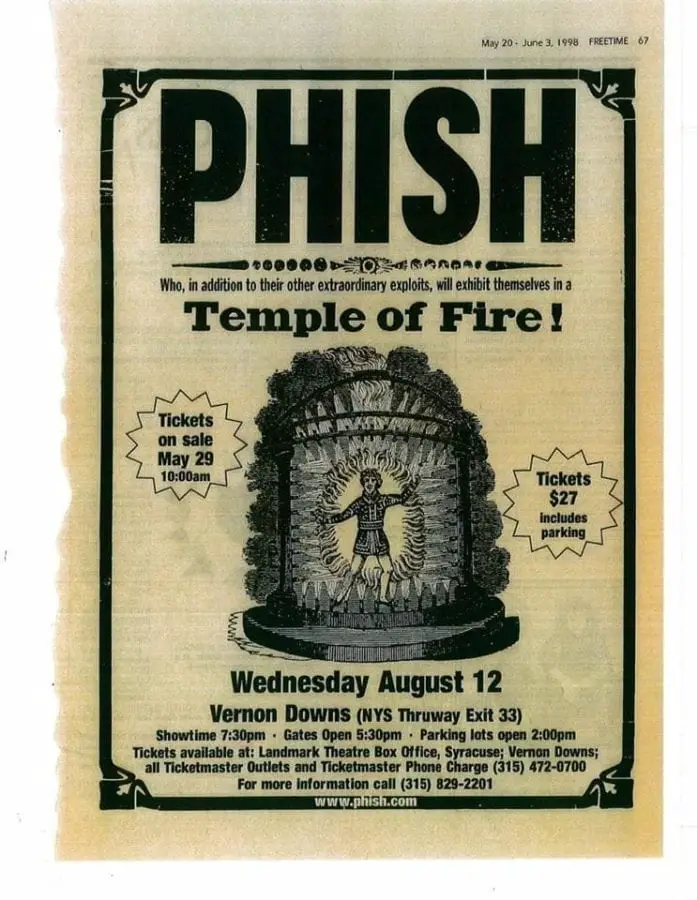 The show was also somewhat of a hometown show for drummer Jon Fishman, a graduate of nearby Jamesville-DeWitt High School. Anastasio refers to him as "Bob Weaver" during the show. He also continuously busted Fishman's chops throughout the show, referring to his old high school band, Frodo, on several occasions.
As far as Phish shows go, this one has to be one that would convert many first-timers. Covers of ZZ Top, Led Zeppelin, Talking Heads and the Rolling Stones, along with several popular Phish standards, definitely converted many in attendance for the first time.
SET ONE:
La Grange (ZZ Top cover)
Makisupa Policeman
Funky Bitch
Possum
Roggae
Character Zero
Ramble On (Led Zeppelin cover)
Slave to the Traffic Light
SET TWO:
Mike's Song
Simple
Rift
Loving Cup (Rolling Stones cover)
Sleeping Monkey
Weekapaug Groove
The Squirming Coil
ENCORE:
Burning Down the House (Talking Heads cover)
You Enjoy Myself