In baseball, one of the most effective tools in a pitcher's arsenal is to throw a pitch the batter isn't expecting. Kansas City resident and unabashed Royals baseball fan Samantha Fish was equally effective in keeping a Syracuse audience guessing what was coming next by throwing a variety of aural curveballs at them during her performance on February 9 at the Westcott Theater.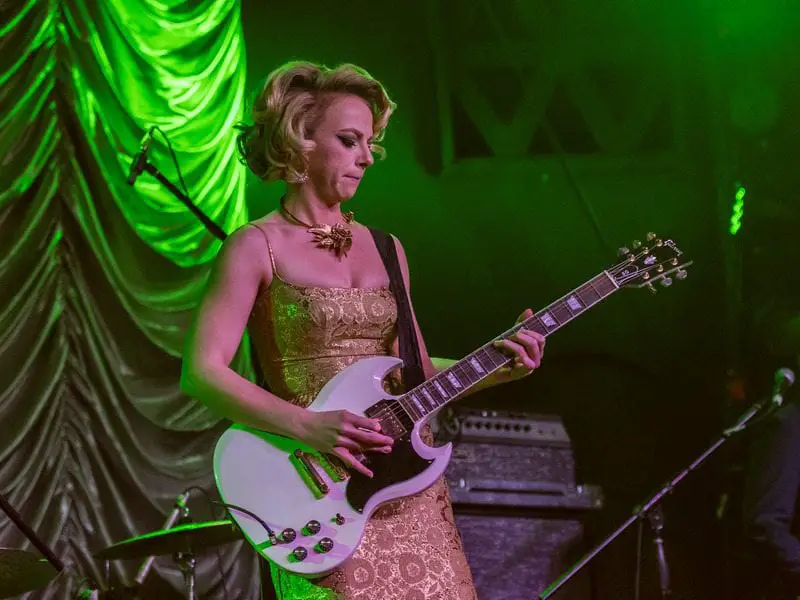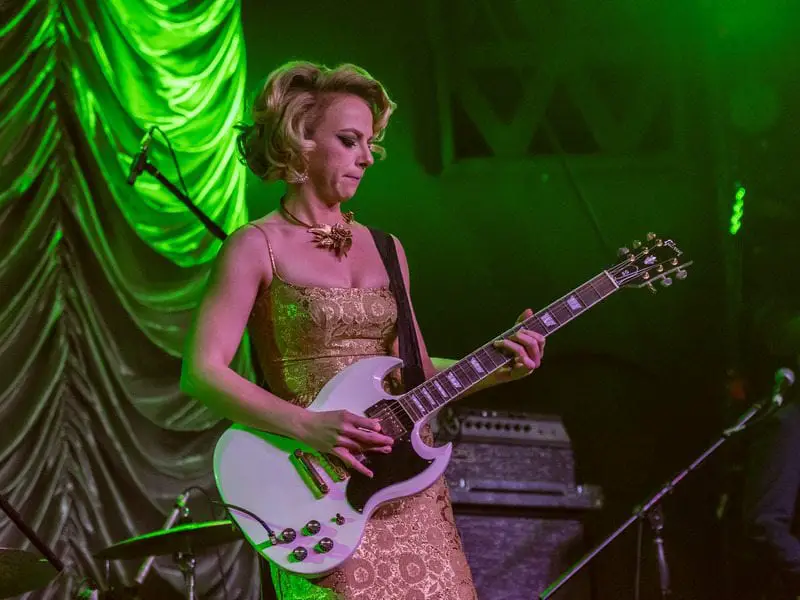 A blustery winter evening saw over two hundred music fans turn out at the Westcott Theater in Syracuse, New York for a double bill of Judge Gazza and headliner Samantha Fish. Both of these artists held surprises for anyone expecting straight ahead blues music. Gazza is a ubiquitous presence at Central New York live music events, supporting his fellow artists and promoting future shows. A burly, barrel-chested man with some prominent chin whiskers, he opened the show accompanied by Joel Reissig on drums. Gazza played slide and finger-picking style on a colorful folk art style cigar box guitar decorated with his name on the fretboard. His vocals were a gruff, gravel-throated sound that took some getting used to, but fit well with a number of the more aggressive tunes in a spectrum that drew from from Mississippi hill country blues to punk rock. Overall, his set was reminiscent of everything from Social Distortion and the White Stripes to Sleepy John Estes and R. L. Burnside, whose "Poor Black Mattie" was covered by Gazza.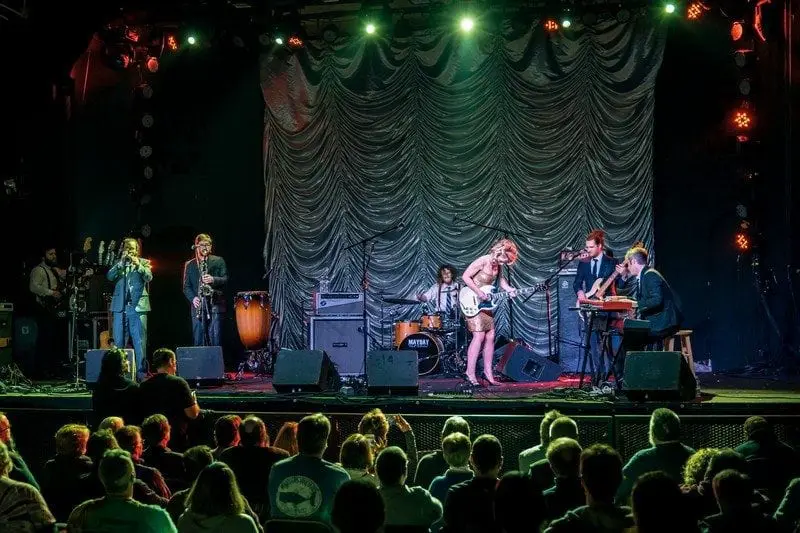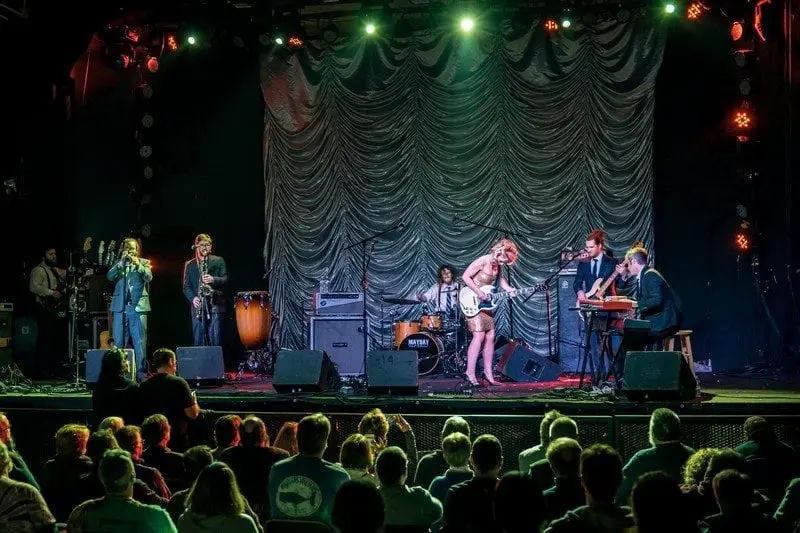 Samantha Fish has built a reputation as a popular festival act touring for nearly a decade as a blues trio, with a large slice of cigar-box slide guitar playing of her own. Her latest album and her latest touring band are a decided sonic shift from many of her previous recordings and performances, more roots rock than blues. That may have been unexpected for some attendees anticipating only her older repertoire. Fortunately, Fish's guitar skills, vocals, and the dense layers of sound that her five piece backing band added were enthusiastically received by the vast majority. Her songs had elements of soul, gospel, country, and Americana, and she was sure to show off her guitar chops on the more blues-tinged numbers, as well as on a roaring cover of the Rolling Stones' "Heartbreaker." The variety of styles and sounds kept Fish's guitar tech busy, frequently changing between an offset Telecaster, Fender Jaguar, Gibson SG, Taylor acoustic, and a gorgeous custom Delaney guitar, before making her way to a cigar box guitar for a second encore.
Among the highlights were the beautiful, plaintive "Need You More," and the infectious "Somebody's Always Trying," accented by the punch of Alex Massa on trumpet, Chris Spies on saxophone and the driving beat of Scott Graves on drums that had dozens of folks up and dancing. Rounding out the band were Chris Alexander on bass guitar and Phil Breen on keyboards.
Fish's set consisted primarily of songs from her two most recent recordings, Chills and Fever, and her latest, Belle of the West, both on Ruf Records. Each of these 2017 releases have received prominent critical acclaim. The former was named in NY Times music critic Jon Caramanica's Best of 2017 list. Regarding the latter, Rolling Stone, despite calling Fish a country artist, said, "it sounds like the intersection of coffee-shop folk and juke-joint blues, performed in a sophisticated jazz club." A broad but apt description, as Fish would likely appeal to fans of artists as diverse as the retro sounds of Duffy or Amy Winehouse, the alt-country of Maria McKee and Lone Justice, to the blues and soul of the Tedeschi Trucks Band. Perhaps most remarkably, Fish now has five studio albums to her name, thousands of performances, international acclaim, and is not yet thirty years old. The future is bright for the Kansas City-based artist, and you should be part of it the next time she's playing nearby.
Judge Gazza Setlist: Nobody's Fault But Mine, Going to Brownsville, Jelly Roll, Black Mattie, Bunny Foo Foo, Up Da Punx, Amen, Black Betty, Rollin' & Tumblin', Dirty Get Down, You Gotta Move> Nobody's Fault But Mine
Samantha Fish Setlist: Hello Stranger, American Dream, Blood in the Water, You Can't Go, Chills and Fever, Little Baby, Don't Say You Love Me, Need You More, No Angels, Somebody's Always Trying, Belle of the West, Gone for Good, Nearer to You, Cowtown, Daughters> Heartbreaker
Encore: Go Home, Unidentified (cigar box guitar)