Buffalo rocker Jorian Holka is at it again. Not long after the release of his debut EP, EP1, he went right back at it to bring us his new single, "Loser With Ambition." The track starts off with a pounding drum intro that immediately gets the blood flowing, and leads into a melodic swirl of fast paced, hard rock riffs from what feels like a small orchestra of distorted guitars. The lyrics are a raw reflection of what it feels like growing up differently than everyone else, and what it is like breaking away from the status quo as a youth by rejecting what is forced down your throat by society.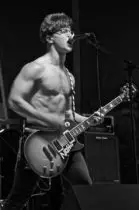 Holka reminds listeners that it is okay to think differently, and that doing so is often a good thing, even if others believe you are weird for it. The incredibly catchy chorus makes a statement that even if other people might not see the world the same way as us, it doesn't matter. What matters is that you are comfortable with who you are and doing the best you can, so you should not care what other people think.
While the song may provide a very positive message, that does not mean it does not rock. It does, hard. The guitar solo following the second chorus highlights Holka's technical knowledge on guitar, reminding listeners that although he may be playing every instrument on the track, the guitar is where his true talent lies. As he creates more music, it is very clear that Holka is becoming a more proficient songwriter, instrumentalist, and producer.