To many jam band fans, catching a RAQ show is like finding a four-leaf clover; it doesn't happen often, but when it does you know you're having a legendary day. The four-piece jam band from Burlington, VT made a name for themselves in the early millennium by touring relentlessly and creating some of the most distinctive psychedelic albums of the early 2000's. After seven ferocious years of creating music together, the band decided to take a hiatus in 2007. Then in 2010, the band decided it was time to reunite with a show at the Bowery Ballroom in Manhattan.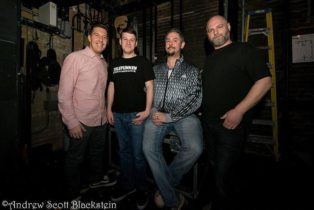 Since they have gotten back together, RAQ has not toured the same way they used to. Their focus has been on shorter, more condensed runs rather than the "50 shows from coast to coast" tour model. Fans have come from all over the country for a chance to see RAQ again during these runs, and this Fall they will have another opportunity. RAQ will be performing a five-night east coast Halloween run with special guest 'Goose' starting on 10/31 at Gypsy Sally's in Washington, DC. The Halloween show is being billed as "FOO-Q-AZI" as they will be mixing in material from the Foo Fighters and Fugazi, along with their own songs. From there they will play The Stanhope House on Nov. 11 in Stanhope, New Jersey, the Abby Bar at Appalachian Brewing Co. Nov. 2 in Harrisburg, PA, The Hollow Nov. 3 in Albany, NY, and will finish things off at the Arch Street Tavern Nov. 4 in Hartford, CT. I had the opportunity to speak with Chris Michetti (guitar and vocals) and Jay Burwick (bass and vocals) about their upcoming run:
Ryan Randazzo (RR): You recently got back together again. Why did you initially take a break, and what made you want to start things up again?
Chris Michetti (CM): We took a break in 2007 because we played together for 7 years at that point. We did 50 show tours, lived in a van for what felt like forever, and got burnt out. RAQ hit their stride in 2004-2005, then we hit a point where we were spending a lot of money, people's lives got in the way, and we just needed a break. Looking back on it, we had no one to tell us to take a short break to just play a New Year's Eve or big show, so we just stopped.
We have been on and off since, and all have our own musical and life projects around the band. I like it better now because I'm not relying on it. Back then, we relied on the band, our manager, the lighting guy, our agent, etc. It was our sole source of income. It was hard relying on all that, and became stressful. We're doing it for fun now. It takes all the bullshit away of how much money we make each night, how many people came to see us, and how we did that night.
I remember, when we were younger, if someone missed a note we would get made at each other. Now we laugh about missing a note and joke about it. It's almost the best part. At the end of the day we have a new attitude: "who freaking cares, we're having fun." It sounds silly, but we just have fun. It was so hard to do when we were young. We still had fun, but things were more serious.
Jay Burwick (JB): It's different when you're doing it for fun. Now we're just having a good time and it's apparent in both the band and audience. We were shooting for the golden ring in the early day. Everything was focused on being a huge band and making it big. Now we get to get together with our brothers and play music to people who appreciate it. It's such a blast to not have to worry about the end game. It's more about music, fraternity, and having a good time. It's also really cool to see dedicated fans who are excited about it.
RR: Is this going to be the same RAQ on stage, or will things be changed up musically?
CM: It will be and it won't be. We used to call what we play "high performance rock and roll" and that's what it is, but the attitude of having fun has made us a bit more mellow and that's been great. We used to get compared to Phish and other jam bands because we used to come out and play a million notes. We still do that, I guess, but are more relaxed with it. When we're on it's super fun. Like riding a wave; there's nothing like it. That's the goal. I used to think we had to slow down, but really, we just need to get into a groove and do our own thing. When we first formed the band and played at parties we would do this thing where we'd get ultra-loose, and it was infections. We were having such a good time it would spread and people would be freaking out. We have hit more of those moments in the past four years than ever. It happens once every two shows now.
JB: What he said. It's different because now we just relax. We don't worry about impressing anyone. We have a good time and let the music come out as it does.
RR: What are you most excited about for this Halloween run you're about to embark on?
JB: I'm honestly most excited for Halloween night. The FOO-Q-AZI thing is going to be a ton of fun.
CM: I'm looking forward to playing The Hollow. The last time we played there it was crazy loose, like, what's going on with this place?!? I'm also excited to hang out with friends and play some music.
RR: How has not playing together often changed the band?
JB: A great aspect of us not playing together often is that the jamming is epic when we do get together. It's like all the ideas flow out in the first few shows. Sometimes we rehearse and play an epic jam, then we wish we saved it for the show. The lack of jamming together has been a good thing because since we've played together for so long and know each other so well that when we finally get together it just explodes.
CM: Scotty, our drummer, has become the most learned on RAQ songs. The rest of us have played them so many times over the years we've just gotten lazy and forget parts, so Scotty has to show them to us. With the condensed mini tours, we end up reaching points that used to take us 50 shows to achieve. The jams are so fresh. Music can get old, and I bore myself pretty quickly. If haven't played in a while, a jam in 'A' becomes the best thing ever and everything feels so new. Even writing music is different. Now when I'm writing a song and making it sound good, I'm not concerned if others will like it. I just do it for myself.
RR: What are your future plans? Will we see more RAQ after this run?
CM: We have a record coming out soon that's so cool. I'm really excited about this record. I wanted to create a new RAQ album for a while, but I didn't think I had the time. Then it all just started coming together. With today's technology, we can basically create a record on our own. We used to have to hire producers and spend a lot of money, which can drain a band. It also meant someone else had control of our destiny, which is a weird feeling. The last time we were in the studio as a band it made me want to learn how to record an album on my own. Now I have a vision, the songs are fun, and there's an attitude of "who cares" so the raw tracks sound freaking good. We're hoping the album will come out by February at the latest, and after that we plan on playing some more shows.
RR: What's been different with this album compared to past ones you've made?
CM: The biggest thing is technology. You can have an idea and just do it all yourself; the drums, bass, keyboard. Then you just hand it out to everyone and it's done. Then the band members interpret it differently, so you let go of some control and collaborate. Like, I did all the drum parts on drum a software. I could have spent a lot more time on there, but then Scotty will just practice to drum tracks he made anyway. We get to where we want to be for each part without having to explain to each other what it should sound like since it's already there. Then he gets it, and it makes it easier to record. I wish it was like this years ago. We're not just sitting in a room all day recording. Now we have layers, textures and polish.
RR: What are your thoughts on the jam scene now as opposed to when you started?
JB: It's definitely changed, but when I go out in Denver I still see the same things. The same people seeing shows. Bands still tour the hell out of themselves to get recognition. The biggest change is how people market themselves and advertise to get people to shows. They post on Twitter and Instagram now. When you go out to see a jam band you still get the same feeling though, and you know it's a jam band. The festival scene is very different. It's crazy. There are groups of people who just go to festivals. They weren't that big when we first started, so it's very different in that aspect.
CM: It's changed on so many levels, but I love the use of technology. It's interesting to see it stay the same yet change in so many ways. Musically its consistent across the board. Even with newer bands, it's the same vein of music. If you hear jam music you know it's a jam band, but electronic bands are where there is a big difference. With a lot of bands, the internet had brought the secret out. Sometimes there is extra hype for a show that normally wouldn't have had any. Because of this there are new ways of navigating way to find a band, and people have to be convinced to see them or like them. The best bands I like I had to be convinced to like at first. But overall the scene is pretty much the same. If we play Camp Bisco this year, it might as well be 15 years ago. We play the same songs, get into the same hijinks, see the same people. It's the same thing. Most changes are technological. Social media, ticketing, and sound.
RR: What are your biggest influences for you, and how have they changed over the years?
JB: Early on it was the Dead, Phish, Zappa; live music bands. Lately I've been big on the Foo Fighters. I'm psyched to play some Foo Fighters on Halloween. I love Grohl's writing style. It's easy to absorb. It's also fun to have a metal vibe when I'm in a jam and just want to shred. It's influenced me to play harder, dig deeper, and get heavier.
CM: Everything Jay said, but I'm not as big into the Foo Fighters. Anyone who plays guitar well is a big influence on me. I love music everywhere. Sounds, production; I like it all. Sounds absurd. There are a million good guitar players out there, and many people wouldn't recognize them if I listed them. I find a lot on social media, like Andy Wood. I find them online and am amazed. It's fun to find new guitar players on Instagram.
RR: What advice do you have to young bands just starting out?
CM: The best thing is to understand business aspect of music and the music business. It's gonna help you. Help with struggle. The struggle is real, be ready. Know the backend before booking a show. Think: how can we maximize this? Learn the deal: What you will make, how you can make it better, and understand the settlement sheet with club. If you want to make your living off music, it's very important to understand the business and how to actually make money doing it. If you follow and understand what's happening you can make it better. You have to rely on yourself, not the tour manager who is gonna quit in two weeks.
JB: I second that; study business. It will bite you in the ass if you don't have someone in the band who knows business.