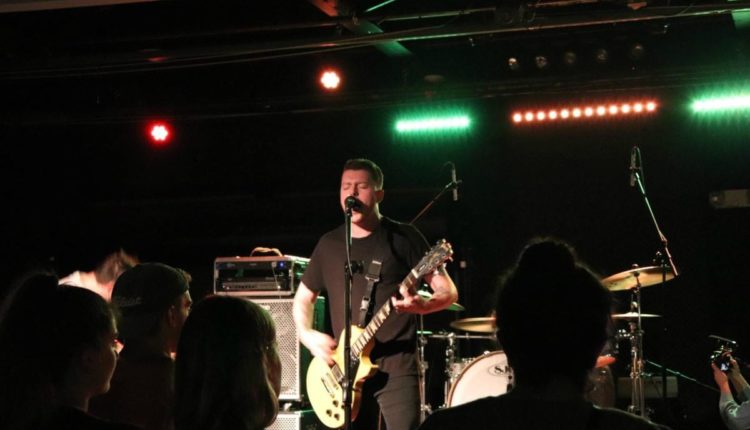 Firestarter's latest album, The Time It Takes, is proof that good things do come to those who wait. While the band from New York retains their songwriting and lyrical prowess, their latest work exceeds expectations. They've risen to a higher caliber by amplifying punk elements. The release was celebrated with a show at The Cave featuring support from Light It Up, The Weekend Classic, and Something More.
The Cave is located within RVP Studios in New Haven, Connecticut, just southwest of Yale University. In addition to the venue, this hub of the local scene offers rehearsal space and music lessons. Most places where up-and-coming independent artists play aren't this well equipped. They've got a top-notch sound system and a great lighting setup, which were immediately apparent upon arrival during Light It Up's sound check.
From nearby Wallingford, Light It Up is fronted by Gina Fritz, a no-holds-barred punk rocker who could hold her own toe-to-toe against any other singer on the scene, male or female. Their original pop punk songs speak to empowerment and strength in the face of adversity. They threw a cover of Paramore's "Misery Business" into their set, too, to the delight of the members of the audience.
Next on the bill was The Weekend Classic from Indiana. It took a few minutes to set up the drum kit, so the guys noodled around on their guitars to the house music, which was Toto's "Africa." Their set officially started with "More Alive." It's one of their newer songs, more refined and polished than the tracks off their early EP's. And when they played a couple of songs they wrote a couple years ago, like "Disbelief" and "The Better Half," they gave them a fresh spin, with more intricate instrumental work and enhanced melodies in the three-part vocals.
Something More from Maryland stormed the stage, rife with positive pop punk attitude. What's not to love about a band who names two of their three works Dogs and Dogs Part II, with a cute canine on the covers? Their set included "Distance & Space," "All My Friends Are Dogs," and "It's Not About You, Part II." The energetic set included tons of punk jumps and an impassioned speech about making a collective effort to keep venues safe.
Fans, friends, and family were pumped up by the time Firestarter took the stage. They started with the first track off the new album, "One Year Later." Right off the bat it was apparent that they've come a long way from 2013's New Beginnings and Rooftop Acoustic Sessions. The riffs were heavy, the beats hit hard. The introduction of harsh vocals by bassist Dan Sheehan enhanced lead singer Matt LaPerche's emotionally charged lyrics.
They were there to have a good time. Sheehan was hamming it up on stage right during the set. But he was sincere in thanking everyone for coming, and made a point to give a shout out to guitarist Mike Held's dad. They threw themselves into the performance, stomping and spinning around the stage as they played. Drummer Matt Bliss was in the zone. The crowd was feeling it: heads were bopping to the fat beats. It was impossible not to sing along on the amped-up remakes of their hits "Troubled Existence" and "Headstones & Old Bones," with lines like, "So make the change, fight through the pain and make it through another day."
The night was over way too soon. Band members hung around afterwards to meet up, sell merch, and sign autographs. Firestarter has a couple gigs lined up in Pennsylvania and Massachusetts, and are booking more shows in and around New York. The Weekend Classic makes their way back to the east coast next month with support from Massachusetts' In Good Nature and Albany's Young Culture on select dates.
Firestarter setlist: One Year Later, Forgotten Yesterday, Empty Roads, A Light To Guide You Home, Troubled Existence, Headstones & Old Bones, What's Left Of Us.
Firestarter's The Time It Takes is available now to stream on Spotify and to purchase on Bandcamp, Amazon, and iTunes. Order a physical copy of the CD and merchandise through their webstore. Follow them on Facebook, Instagram, and Twitter for updates and show announcements.