With the seasons being so diverse in their nature, many find comfort with each emotion they bring along with them. The cold bitterness of winter as wildlife and forestation finds rests, the welcoming embrace of spring when life resurrects again, summer brings the heat to keep our spirits filled with fire, and fall the season of beautiful changes and wonderful spices. Much like the four seasons, metal has the ability and beauty of melding together all sorts of aspirations. Only a few groups have been able to incorporate these elements to make  masterpieces in our time.  It has been five years since the 2012 release of Time I (released via Nuclear Blast Records), which pushed boundaries which a metal band should sound like. With much anticipation of the latest album from Wintersun, The Forest Seasons (released via Nuclear Blast), the musicians of this ever changing and growing tribe has without a shadow of a doubt created another masterpiece that will stand throughout time. This band is no other than Wintersun! With their third studio album under their belt, it is time to give into nature and give this album a proper review!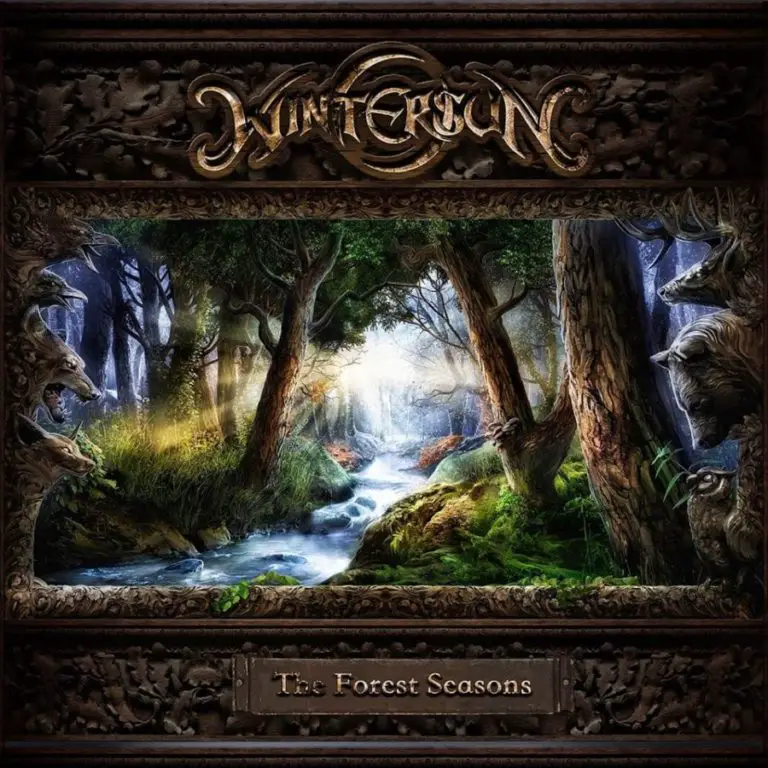 Back in January 2017, Wintersun announced they were finished recording the newest album and you can bet the metal community was set on fire. Through every metal forum I was on to my Facebook feed, the flavor that everyone wanted to taste the most this year was Wintersun. Upon them releasing this album, you bet metalheads world wide were eating this up like the mead from Thors goblet! The first track of the album, "Awaken From The Dark Slumber (Spring),"  opens up with such galloping force, it will overtake you in mere seconds. Jari Mäenpää (vocals/guitar) has the perfect mold for beauty and relentless attitude with both his clean vocals and growls. Mäntysaari  joins Mäenpää on guitar to help propel the song on an ever ending journey of soaring guitar riffs as well as very delicate yet masculine precision. Much like many great progressive metal bands, such as Dream Theater and Symphony X, you will find the guitar work is mesmerizing as much as the lyrical content. The visual of dreams fading and life not returning back to the lands, this track will take you on a brand new journey of rebirth and darkness.
What I adore most form the boys in Wintersun are the elements they bring across the spectrum into all of their material. Pulling influences from folk metal, black metal, power metal, and progressive elements to craft a very unique sound that many tried over the years to copy, but failed doing so. With such huge amounts of inspiration from previous projects they have done like Ensiferum for example, they know how to make the influences work as one. The track which really builds upon the many musical backgrounds of the members is "Eternal Darkness (Autumn)." This song is so over the place, yet the band knows exactly how to bring it altogether. Koskinen adding some more bass along with Mäenpää (also drum programming), they give it a very sinister sound with a hint of sorrow hidden in the wall of sound they have created. It has the power symphonic feel of Dimmu Borgir while giving it such a technical sound, it blows your mind! This track is made for the black metal type of fans as well the symphonic metal camps. The tremolo picking is so fast it is face melting. If I can suggest you listen to any track by itself to get the main idea of the album, you should blast this one when you can. You will not regret it, I promise!
With such a huge amount of production they used on this album you see some great vocals on the choir pieces with great vocalists that worked with Tyr, Children Of Bodom, and Moonsorrow for a couple of  examples. What gives this album even more of a  mystic vibe to it are the liner notes giving those who had the most hands on this album  their own seasons. Mäenpää (winter), Mäntysaari (spring), Koskinen (Autumn), and Hahto (Summer). This album carries all the best elements of what metal and what musicianship should be crafted as. It gets a 10/10. Go check out the album on the band's page.
Key Tracks: Eternal Darkness (Autumn), Awaken From The Dark Slumber (Spring), Loneliness (Winter)