The final weekend of Phish's historic Baker's Dozen, a run of 13 shows at Madison Square Garden, kicked off on Friday to much fanfare and a lot of fingers in the air, with Friday being lemon donut night.
These shows sold out in advance and were a hot and dwindling commodity throughout the week. On Friday, Phish came on stage and performed a cover of Blind Lemon Jefferson's "See that my Grave is Kept Clean," before jumping into a standard, but well played take on fan favorite "Punch You in the Eye," which bled into a fun, short "Party Time."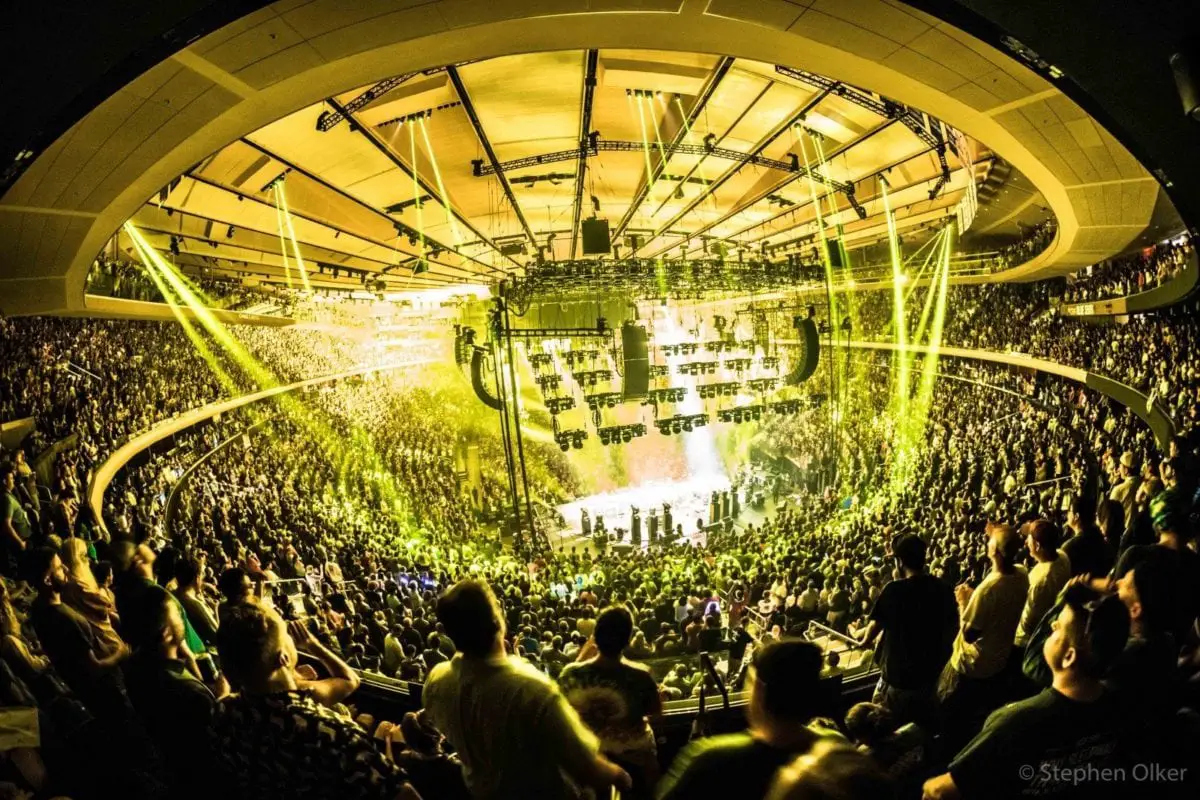 "Big Black Furry Creature from Mars," "Dinner and a Movie," a rousing and Trey-led "Ocelot," "Poor Heart," "Winterqueen" and "Bold as Love" continued what turned out to be a straight rock set without too much in the way of improvisation. Just when it felt that Phish may have laid a clunker set, they dropped into "First Tube," which had the Garden shaking and crowd going absolutely ballistic heading into setbreak.
To open the second stanza, Phish performed an acapella "Dem Bones," before leaping into "No Men in No Man's Land." A long and spacey jam followed, something Phish has displayed it can do with utmost patience this run. Out of "NMINML" came "Everything in its Right Place," by Radiohead. There was confusion over what the song was, before word spread that Phish was playing Radiohead. It was well played, if not spectacular.
"What's the Use?" blended into "Scents and Subtle Sounds," which featured the most interesting jam of the night, a nearly 17-minute type-II journey that finished when Mike took the lead at the end. A nice and jammed out "Prince Caspian" led directly into "Fluffhead," and it's safe to say that the Garden crowd ended the set on the highest of notes. "Frankenstein" served as the encore, which was a fun ending to a rather unspectacular Phish show. But if you place this show in the middle of any typical tour, it will be talked about as a highlight for years to come. That's how spoiled we have become during these 13 nights.
Setlist via Phish.net
Set 1: See That My Grave Is Kept Clean[1], Punch You In the Eye > Party Time, Big Black Furry Creature from Mars, Dinner and a Movie, Ocelot,Poor Heart, Winterqueen, Bold As Love, First Tube
Set 2: Dem Bones, No Men In No Man's Land > Everything In Its Right Place[1], What's the Use? > Scents and Subtle Sounds[2] > Prince Caspian >Fluffhead
Encore: Frankenstein[3]
[1] Phish debut.
[2] No intro.
[3] Page on keytar.