Music fans have lost another amazing artist that helped reshape the rock genre since coming on the scene in 1996. The music world is in shock with the news of Linkin Park frontman, Chester Bennington, committing suicide by hanging at his private home in the Palos Verdes Estates in California. He was only 41 years old.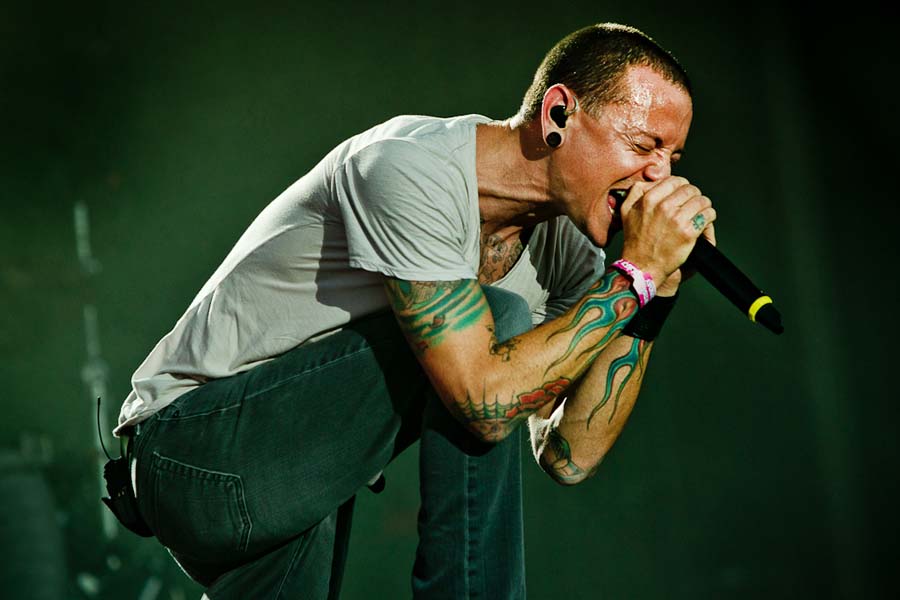 Bennington had struggled with drugs and alcohol for years and had stated at one time that he once considered suicide because of abuse that occurred when he was a child by an older male.
Coincidentally, Linkin Park released their new music video "Talking To Myself," around 9 a.m., just minutes after Bennington's body was found according to TMZ. It is also reported that Bennington committed suicide on what would have been Chris Cornell's 53rd birthday. Bennington wrote an open letter to Cornell after his passing from suicide by hanging in May. In that letter, Bennington stated that he couldn't imagine the world without Cornell in it.
Blabbermouth has compiled early tweets by shocked artist and TV personalities, including bandmate Mike Shinoda.
Mike Shinoda tweeted: "Shocked and heartbroken, but it's true. An official statement will come out as soon as we have one." 
TV host Jimmy Kimmel tweeted: "Bennington was one of the kindest people he has ever had on his show."
Lacuna Coil frontwoman Christina Scabbia posted: "Lost for words. Why why why."
Skillet's John Cooper posted: "Absolutely no words. Speechless and so sad. I am such a fan."
Slipknot/Stone Sour singer Corey Taylor stated: "Jesus no."
Also in the report, the article touched on some past interviews Bennington has had. Bennington stated to The Guardian in 2011 about the abuse he went through as a child:
When I was young, getting beaten up and pretty much raped was no fun. No one wants that to happen to you and honestly, I don't remember when it started. I remember that stuff happening to me at that stage and even thinking about it now makes me want to cry. My God, no wonder I became a drug addict. No wonder I just went completely insane for a little while.
Then in an interview with Metal Hammer last year, Bennington talk about his substance abuse problems. He stated:
I was on 11 hits of acid a day. I dropped so much acid I'm surprised I can still speak! I'd smoke a bunch of crack, do a bit of meth and just sit there and freak out. Then I'd smoke opium to come down. I weighed 110 pounds. My mom said I looked like I stepped out of Auschwitz. So I used pot to get off drugs. 

In 2006… I did some counseling with the guys and they really opened up and told me how they felt. I had no idea that I had been such a nightmare. I knew that I had a drinking problem, a drug problem and that parts of my personal life were crazy but I didn't realize how much that was affecting the people around me until I got a good dose of 'Here's-what-you're-really-like.' It was a shock. They said that I was two people — Chester and then that fucking guy. I didn't want to be that guy.
In an interview with The Pulse of Radio he said:
I lived on alcohol. It was either beer, or Jack and Coke, or Jack Daniel's in a pint glass with ice. And then it got to the point where my wife said to me about seven months after we got together, she goes, 'I don't think there's been a day since I've known you that you haven't drank.' And I was like, 'What are you talking about? That's crazy' — as I'm drinking a Jack and Coke. That was where my life went.
Besides Linkin Park, Chester Bennington has also fronted the bands Dead By Sunrise and Stone Temple Pilots. He also appeared in a few motion pictures including Crank, Crank (High Voltage), Saw 3D, and Artifact. He and his bandmates in Linkin Park have released seven studio albums and won two Grammy Awards. They have sold over 70 million albums worldwide.
Bennington leaves behind his wife, Talinda Bentley, and six children, three with Bentley and three from a previous marriage.
Please call the National Suicide Prevention Hotline at (800) 273- 8255 if you feel you need help and someone to talk to.