Dead and Company roared into Saratoga Springs on a rainbow for a show at SPAC on Tuesday, June 20 after a hot weekend of shows at Fenway Park. The national tour has Deadheads and Mayerheads alike buzzing about the continued pairing of the Grateful Dead's Bob Weir, Bill Kreutzmann and Mickey Hart with John Mayer, Oteil Burbridge and Jeff Chimenti. Few tours of this nature attract an audience where grandparents bring grandkids to the show, tying music across generations and inviting fans of all ages to enjoy the music of the Grateful Dead with an infusion of new blood.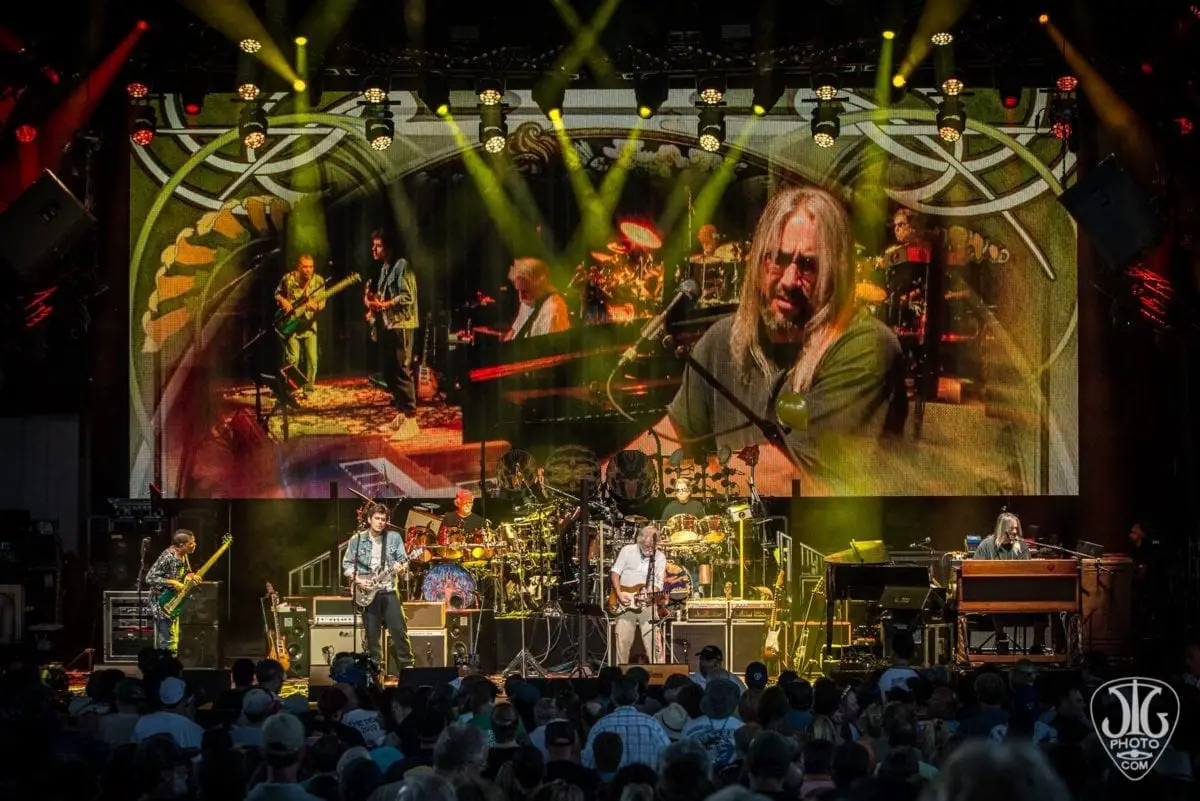 Out of the gate, Weir led the troupe through "Hell in a Bucket," and let Oteil take over on "Next Time You See Me," laying down the deepest of bluesy grooves that Pigpen would nod at approvingly. "Loose Lucy" and "Mississippi Half Step" had the audience singing along with Bob and John, but "Looks Like Rain" was where the music connected with Mother Nature. Just as Weir returned to the chorus, the skies opened up and a soft sunshower began with a subsequent rainbow appearing over the gleeful crowd moments later. The refreshing rain led to a "Dire Wolf" sing along followed by "Lost Sailor > "Saint of Circumstance" that wrapped up a tight first set.
The second set started with "Chinacat Sunflower" and instead of expected "I Know You Rider," Mayer shifted gears into "Deal" where he let off steam, jumping up and down as he led through a rip roaring version of "Deal," easily the highlight of the night. "China Doll" with Oteil's heavenly vocals and "Terrapin Station" were the centerpiece of the second set feast. Bass ripples from "Drums>Space" rolled into mellow noodling that soon became "All Along the Watchtower" with Bob charging full ahead before pulling up the reigns for "Black Peter." To sandwich the set, a patient segue into "Rider" tied the night together with tantric energy built up throughout. For an encore, "Goin Down the Road Feelin Bad" capped the night with a delighted crowd singing loudly and gleefully.
Set 1: Hell in a Bucket, Next Time You See Me, Loose Lucy, Mississippi Half-Step, Looks Like Rain, Dire Wolf, Lost Sailor>Saint of Circumstance
Set 2: China Cat Sunflower>Deal>China Doll>Terrapin Station>Drums>Space>All Along the Watchtower>Black Peter>I Know You Rider
Encore: Goin Down the Road Feeling Bad