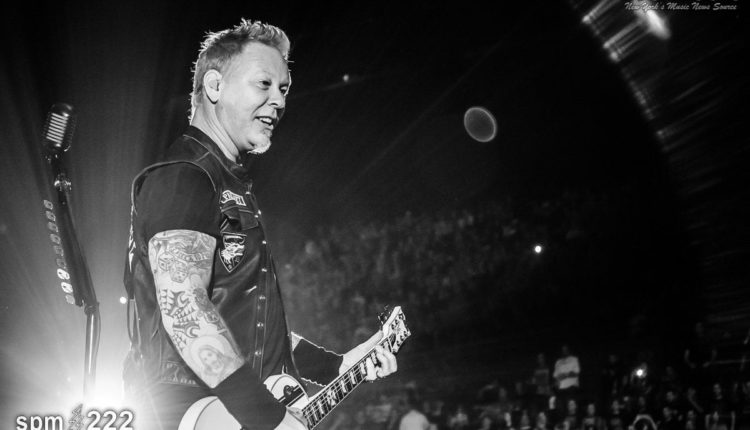 Metallica's Hardwired World Tour made it's second of two stops in the New York Metro area on May 17 at the newly renovated Nassau Coliseum on Long Island.
Volbeat kicked the night off with several of their new songs from Seal The Deal & Let's Boogie along with a few of their previously released tunes. This wasn't Volbeat's first time supporting Metallica on tour either and their set was a treat for those who beat the Long Island rush hour traffic to get to the Barn before Metallica's set.
[singlepic id=11561 w= h= float=center]
Metallica's Hardwired World Tour is entirely at large stadiums, except for the Nassau Coliseum show. While the stadiums certainly have their appeal for a monster show, nothing compares to catching one of the world's biggest metal bands at a comparatively small indoor area (although their private fan club show at the 1,500-seat Webster Hall this past September might have this beat).
The setlist had a tasty mix of what could be fit in a nearly two and a half hour show with just enough to tease their latest release Hardwired…To Self-Destruct and to satisfy the palate of the old school fans. Not to mention that the pick of songs was somewhat different than the MetLife Stadium show just a few nights prior.
[singlepic id=11547 w= h= float=center]
Metallica has been playing together for 36 years now, which is a well-seasoned career mark not every band sees. After the last sustained note of "Enter Sandman" and some stage banter, Hetfield noted that it was the eleventh time Metallica had played the Nassau Coliseum…and won't be the last.
Setlists:
Volbeat:
The Devil's Bleeding Crown, Seal the Deal, Heaven nor Hell, Sad Man's Tongue, Black Rose, Let It Burn, 16 Dollars, Hallelujah Goat, Lola Montez, Dead but Rising, Still Counting
Metallica:
Hardwired, Atlas, Rise!, For Whom The Bell Tolls, Ride the Lightning, The Unforgiven, Now That We're Dead, Moth Into Flame, Harvester Of Sorrow, Welcome Home (Sanitarium), Kirk/Rob Guitar/Bass solos, The Four Horsemen. Sad But True, One, Master of Puppets, Fade to Black, Seek and Destroy, Blackened
Encore: Nothing Else Matters, Enter Sandman
[ngg_images source="galleries" container_ids="725″ display_type="photocrati-nextgen_pro_mosaic" row_height="180″ margins="5″ last_row="justify" lazy_load_enable="1″ lazy_load_initial="35″ lazy_load_batch="15″ display_type_view="default" ngg_proofing_display="0″ captions_enabled="0″ captions_display_sharing="1″ captions_display_title="1″ captions_display_description="1″ captions_animation="slideup" order_by="pid" order_direction="ASC" returns="included" maximum_entity_count="500″]