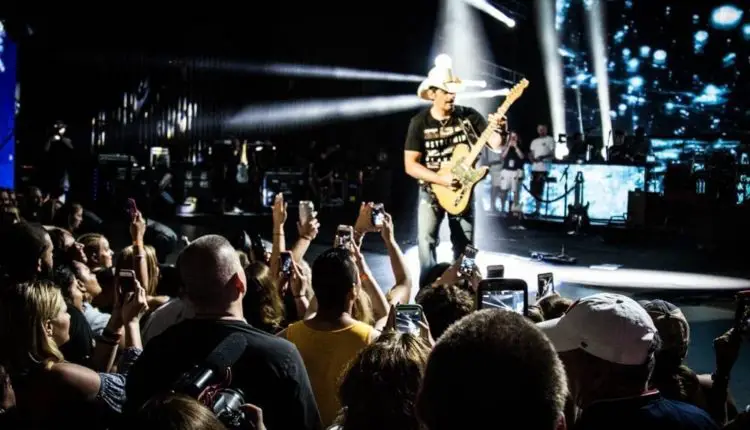 Brad Paisely Opens Saratoga Performing Art Center's Summer Concert Series
Brad Paisely kicked off Saratoga Performing Art Center's summer concert series with a bang, bringing an all-star line up of guests. Paisley played his array of songs to a crowd of over 10,000. He brought his incredible guitar capabilities that left the crowd on their toes.
Country stars such as Dustin Lynch, Chase Bryant and Lindsay Ell supported Paisely on the tour giving the fans a bang for their buck. After Lindsay Ell ended her set, a huge storm made its way to the venue which then forced them to shut down all equipment and bring everyone on the lawn inside for shelter. After an hour delay, Chase Bryant quickly came on to get the crowd back on their feet.
Brad Paisely came on shortly after 10 pm, playing his hit songs such as "Crushin' It" and "Old Alabama." Paisely then welcomed Dustin Lynch on stage to sing a duet for the song "I'm Still A Guy." During that song, a fan was brought on stage to propose to his girlfriend and she said yes. Paisely was very happy with the first show of the tour telling the crowd, "I can't tell you how much it means to be playing in a place where my favorite jam bands played for a bunch of stoners."
[ngg_images source="galleries" container_ids="712″ display_type="photocrati-nextgen_basic_thumbnails" override_thumbnail_settings="0″ thumbnail_width="150″ thumbnail_height="150″ thumbnail_crop="1″ images_per_page="0″ number_of_columns="0″ ajax_pagination="1″ show_all_in_lightbox="0″ use_imagebrowser_effect="0″ show_slideshow_link="1″ slideshow_link_text="[Show as slideshow]" ngg_triggers_display="never" ngg_proofing_display="0″ order_by="pid" order_direction="ASC" returns="included" maximum_entity_count="500″]