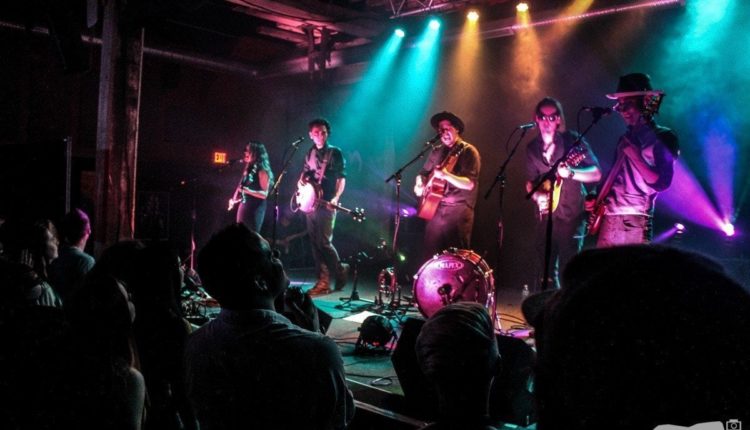 PA Line Folk-ed Up Buffalo Iron Works
PA Line is a five-piece band hailing from Buffalo, New York. Forming just two years ago, they are yet another band on the rise in the plump music scene in our beautiful Queen city. The band consists of Trevor Stribing (vocals, guitar, percussion), Pat Brown (banjo), Adam Nicpon (mandolin), Alyssa Wainwright (violin, vocals) and Lucas Honig (bass, vocals).
The 2016 Western New York Music Awards winners of both Best Folk Band and Best Indie Band lived up to those credentials for their third ever performance at Buffalo Iron Works. Their set provided high energy and the band seemed to feed off of the crowd's positive reaction. Filming was completed for their first official music video throughout the duration of their set at Iron Works. Stay tuned to NYS Music for when that drops.
PA Line will be announcing some upcoming tour dates in the very near future.  The band had this to say: "All of us at PA Line love performing and when the crowd has great energy, we really feed off that. Its a priceless feeling when everyone at the show is just having fun and good energy is in the air. With that being said the fans were absolutely amazing last night, definitely a night we wont forget."
Setlist: Breathe, Time, Baby Don't Go, Scream Out, Open, Shadows, Shut Up, The King, Liar, Escape
Encore: The End
[ngg_images source="galleries" container_ids="705″ display_type="photocrati-nextgen_pro_horizontal_filmstrip" image_crop="0″ image_pan="1″ show_playback_controls="1″ show_captions="0″ caption_class="caption_overlay_bottom" caption_height="70″ aspect_ratio="1.5″ width="100″ width_unit="%" transition="fade" transition_speed="1″ slideshow_speed="5″ border_size="0″ border_color="#ffffff" override_thumbnail_settings="1″ thumbnail_width="120″ thumbnail_height="90″ thumbnail_crop="0″ ngg_triggers_display="always" order_by="pid" order_direction="ASC" returns="included" maximum_entity_count="500″]