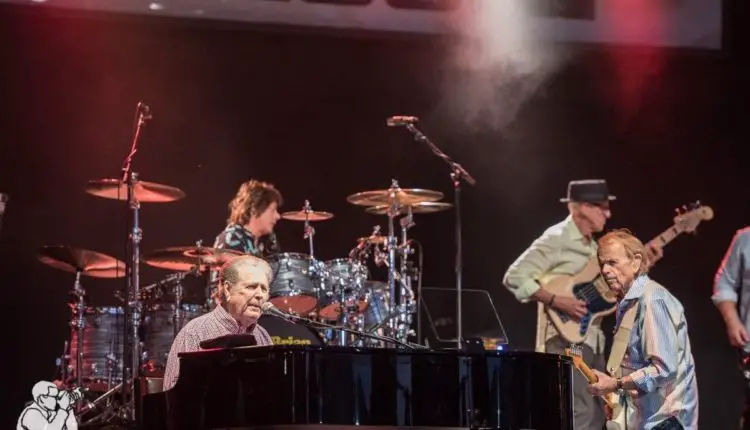 Brian Wilson extended his Pet Sounds: The Final Performances tour. The new dates include stops in Rochester, New York City and Syracuse.
Brian Wilson has been on an extensive tour performing the Beach Boys album Pet Sounds in its entirety. The tour, billed as "Pet Sounds: The Final Performances," was recently extended to add a number of dates in Europe and North America. The tour makes three stops in New York. Rochester's Kodak Hall at the Eastman Theatre gets a visit on Sept. 19. They make a stop on Sept. 23 at Radio City Music Hall in New York City. The final New York date is Oct. 1 in Syracuse at the Oncenter Crouse Hinds Theatre.
The tour extension also includes several stop in the nearby Northeast. Wilson plays Foxwoods Resort Casino in Mashantucket, Connecticut on Sept. 21. They stop by Boston's Orpheum Theatre on Sept. 22. Following their stop in New York City, they head to Lancaster, Pennsylvania on Sept. 25 to play the American Music Theatre. The next day, Sept. 26, they hit up the Count Basie Theatre in Red Bank, New Jersey. They head back to Massachusetts on Sept. 29 to play New Bedford's Zeiterion Theatre before returning to New Jersey on Sept. 30 for a show at the Golden Nugget in Atlantic City.
Pet Sounds: The Final Performances North American Tour Extension
Sept. 15 – Molson Canadian Centre, Moncton, NB
Sept. 16 – Scotiabank Centre, Halifax, NS
Sept. 18 – Centre in the Square, Kitchener, ON
Sept. 19 – Kodak Hall at Eastman Theatre, Rochester, NY
Sept. 21 – Foxwoods Casino, Mashantucket, CT
Sept. 22 – Orpheum Theatre, Boston, MA
Sept. 23 – Radio City Music Hall, New York, NY
Sept. 25 – American Music Theatre, Lancaster, PA
Sept. 26 – Count Basie Theatre, Red Bank, NJ
Sept. 29 – Zeiterion Theatre, New Bedford, MA
Sept. 30 – Golden Nugget, Atlantic City, NJ
Oct. 1 – The Oncenter Crouse Hinds Theatre, Syracuse, NY
Oct. 3 – Morris Performing Arts Center, South Bend, IN
Oct. 4 – Stranahan Theatre, Toledo, OH
Oct. 6 – Rosemont Theatre, Rosemont, IL
Oct. 7 – Belterra Casino, Florence, IN
Oct. 8 – Civic Center Theatre, Peoria, IL
Oct. 12 – The Big Fresno Fair, Fresno, CA
Oct. 13 – The Mountain Winery, Saratoga, CA
Oct. 14 – Pacific Amphitheatre, Costa Mesa, CA