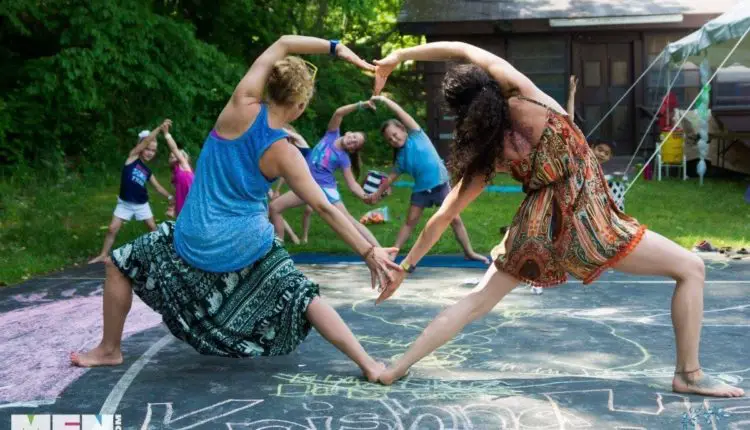 This Memorial Day weekend, MAYfest returns to Surprise Lake Camp in Cold Spring, NY, about an hour north of the NYC metro area. Highlighted by Music, Arts and Yoga, MAYfest brings together dozens of all-star yoga instructors including Elena Brower, Sadie Nardini and Amy Pearce-Hayden​ during the day alongside headliners Rusted Root​, Ozomatli​, Dar Williams​ and DJ Drez​, as well as combination yoga/live music sessions that are part of a memorable festival weekend.
MAYfesters can come for the weekend of just for a single day and create their own schedule online for any of the 140 sessions of yoga that vary in type and skill level. In between sessions, Vendor Village is open to attendees where they can shop for local and hand crafted goods and receive holistic services from healers in the Wellness Center. At night, the main stage is alight with national and regional touring acts. MAYfest and Catskill Chill founder Dave Marzollo spoke to NYS Music about the upcoming festival and how the yoga and music focus of MAYfest sets it apart from other festivals.
Pete Mason: Where did the idea to start a music and yoga-based festival first start?
Dave Marzollo: My wife has been a yoga studio owner for over ten years, For the last five years, and she currently hosts a ton of different styles of yoga, pilates, meditation and kids programs at SkyBaby Studio. Meanwhile, I had spent five years founding and developing The Catskill Chill Music Festival. When a yoga class at The Chill in 2014 hosted over 300 people, we had a vision. We felt that we could combine our skills to create a new and different kind of event: one where people could workshop or relax all day, and then hold a big rock 'n roll concert at night.
PM: MAYfest highlights Music, Art and Yoga. What sets MAYfest apart from other music festivals?
DM: People go take classes and workshops to further themselves. They work to develop their minds, their bodies and their creative and loving spirits. We want to be able to gather like-minded people together in the interest of cultivating an environment where people can experience this growth together. On the flip side, people go to concerts to reveal and celebrate in a different spirit, through dancing and singing. Again the community is gathered, but after the hard work of a day's pursuit or self-betterment, it just feels nice to see everyone be able to let loose again. Celebration always feels better after accomplishment!
PM: Over the last two years of MAYfest, you have attracted a wide audience. For fans considering attending, what kind of festival-goer does MAYfest invite?
DM: That is the perfect follow up question! This festival's aim is to give people a place to pursue their personal development by day, and then give them a place to party and celebrate life by night! We are seeking to attract are the type that love both pursuits!
PM: The lineup is tailored a little differently than other fests, including Catskill Chill, with what feels like more roots based music. How did the lineup for this year come together?
DM: When we pick the bands for this event, we are looking for music that lifts the human spirit. If you look at our bands from this year and in years past you will see soulful, spiritual, uplifting and conscientious. In these turbulent times we like to feature bands who are both fun to dance to, while also delivering powerful messages of growth and harmony.
PM: You have more than 4 dozen yoga instructors on tap for the weekend. What variety of yoga is possible with so many yogis on hand?
DM: My wonderful wife Melia is the curator of the yoga program, but I can speak for both of us when I say that one thing we both love about yoga is how many different interpretations of yoga there are. Sometimes yogis or yoga studios can be to narrow focused on one specific kind of yoga, but we think it is best to offer as many varieties as possible. There is a lot to choose from, and you can never take every class, but there is something for everyone.