Carolyn Wonderland returned to Central New York April 14, performing a benefit for the NYS Blues Fest in a night of raucous blues at the Dinosaur Bar-B-Que in Syracuse. The Austin-based performer showcased her powerful voice and mastery of the lap steel and Telecaster to the faithful gathered upstairs at the famed Willow Street venue.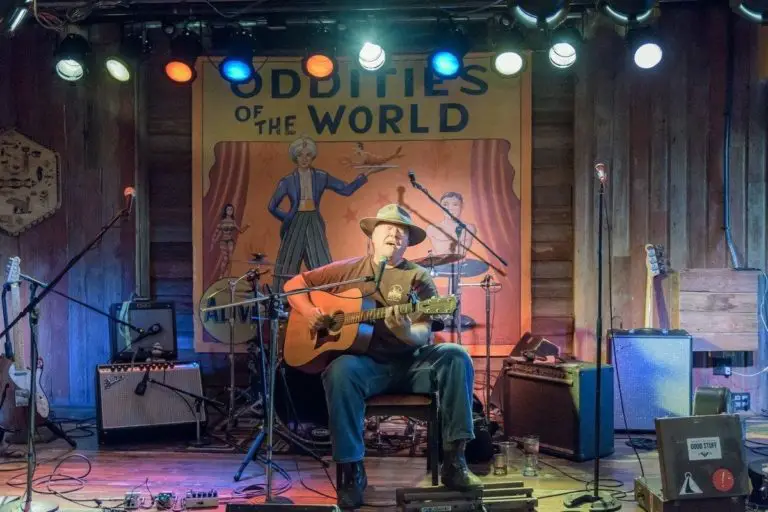 Whether belting out blues standards like Blind Willie Johnson's "Nobody's Fault But Mine" or her own soulful original, "Only God Knows When," Wonderland proved that she is one of the genre's most dynamic acts. Her Joplin-esque rasp held the crowd's attention while her six-string prowess had jaws on the floor.
Wonderland (Her real name is Carolyn Bradford.) and her band, Kevin Lance (drums), Bobby Perkins (bass) and special guest Shelley King (guitars/vocals) turned in a 15 song set mixed with classics and originals. The rhythm section kept the time with an understated tone while Wonderland and King stood front and center, beautifully harmonizing and joking with each other throughout the set.
To say the crowd was appreciative would be an understatement. Throughout the set, fans jockeyed for position to get a glimpse of Wonderland's furious fretwork. Wonderland has garnered a loyal Upstate New York following since she opened an impromptu Midnight Ramble at Levon Helm's studio in Woodstock in 2009. She has since performed in that hallowed room at least a dozen times. Performances at Rochester's Lilac Festival in 2010, the 2012 NYS Blues Fest in Syracuse and the 2016 Chenango Blues Festival in Norwich have provided strong word of mouth recommendations most artists can only dream of.
Watching Wonderland perform, it is obvious that the stage is her place. She becomes the music, whether it's her song or somebody else's. This was especially obvious during her solo in the King-penned "Welcome Home." The sound coming from her Telecaster was a mix of emotion and intensity. At one point, as she reared her auburn mane back, her eyes rolled back in her head, lost in the song. Wonderland never goes through the motions. When she's strapped in, the audience better as well because she's taking you on a trip from South Texas through the Delta, straight up to Chicago.
The show opened with an acoustic set from Syracuse's Colin Aberdeen. He has been working the Central New York music scene for more than 25 years and has become somewhat of a godfather to Syracuse musicians. Aberdeen is well steeped in everything from the blues to all forms of Americana.  Joining Aberdeen for several songs was young harmonica player Max Eyle. He and Aberdeen goaded the crowd into some call and response and the crowd eagerly responded. Aberdeen, a member of Los Blancos, the Barking Loungers and the Westcott Jugsuckers, is one of Central New York's hardest working musicians and was a perfect fit to open this show.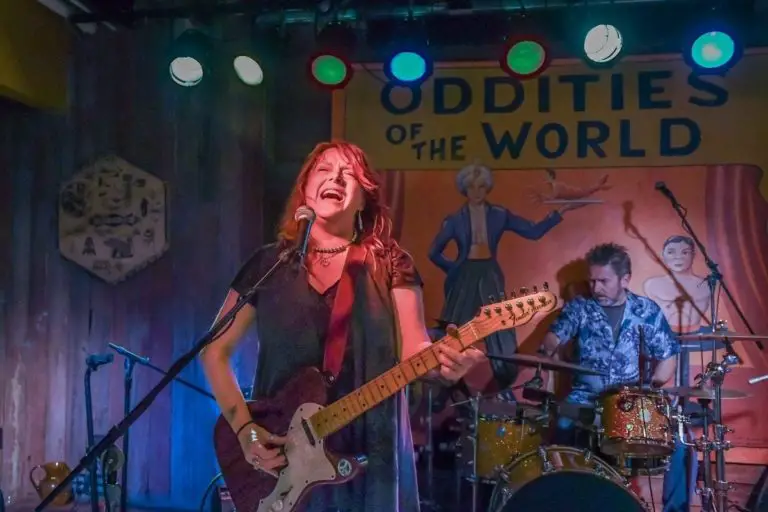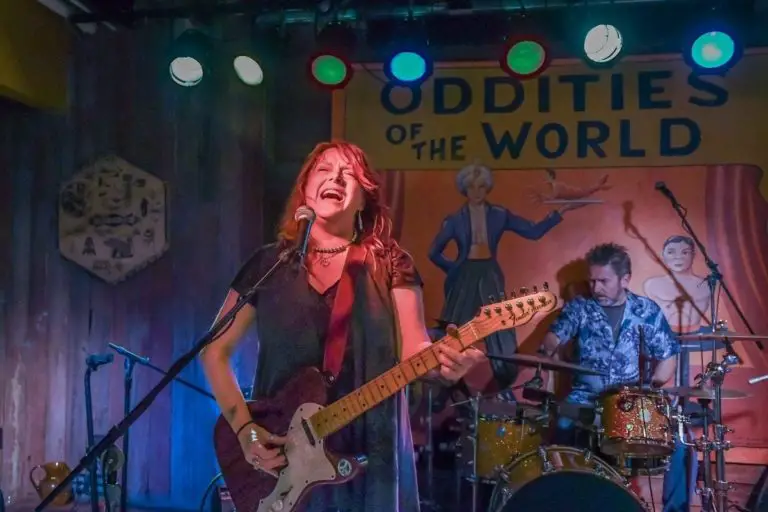 Following Wonderland's show, the party continued on the main floor of the juke joint as the Carolyn Kelly Blues Band took the baton on Carolyn night. Kelly's soul, especially in the Roosevelt Dean song, "Somebody Told Me," brought tears not only to her eyes but to many of those in attendance as well.  Todd Fitzsimmons' stellar guitar work kept the blues going well into the night, capping off yet another terrific night of music in the Salt City.
The 2017 NYS Blues Festival lineup was announced at this show. You can find more information about this free downtown festival, taking place July 7-8 here.