With the spirit of Chuck Berry present, church was assembled on Sunday, March 19 at Madison Square Garden, with the legendary Eric Clapton presiding. Over three and a half hours, Clapton performed songs from across his 50 year catalog, particularly the covers he popularized that brought him fame over his career which served as a tribute to legends he has admired, called a friend or, in many cases, both.
Opening the show was Jimmy Vaughn, brother of Stevie Ray, who performed a 30 minute set that began with Wilson Pickett's "Midnight Hour" and was capped off by "Tra La La." Gary Clark, Jr. followed, and shortly after "Travis County" he noted, "That last one would not have been possible without the influence of Chuck Berry," the founder of rock n roll who passed away a day earlier. Highlights included "Our Love" off Clark Jr.'s The Story of Sonny Boy Slim, which had a painful yearning that only the blues can alleviate, and his signature "Bright Lights Big City."
As Eric Clapton arrived to the stage, the room illuminated with projections behind him. "Key to the Highway" and "Badge" kicked off the night with Sharon White and Michelle John on backing vocals. Clapton wore a blue shirt and black vest as he led the band through nearly two hours of surefire rock n' roll, including "I Shot the Sheriff," his cover that skyrocketed Bob Marley to fame in 1974.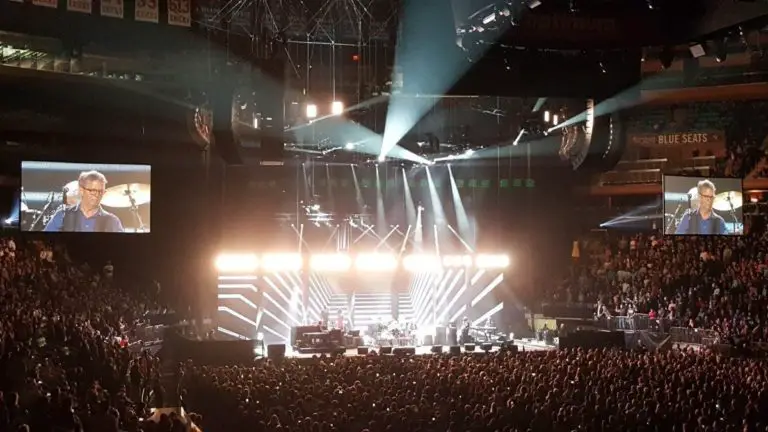 Clapton took a seat for a handful of acoustic songs, including "Driftin' Blues," "Nobody Knows You When You're Down and Out," "Tears in Heaven" and "Layla," all the while exhibiting that pained look singing the blues requires you to have. After each song, Clapton gave that short, quick "Thank You" to the audience, a truncated comment that has almost never changed in cadence or elocution and was the extent of his banter with the audience this evening.
A beautiful "Wonderful Tonight" preceded "Crossroads" and "Queen of Spades," both tunes by Robert Johnson, the eldest of blues legends, the latter of which found Clapton the most dialed in of the night. Longtime friend and guitarist JJ Cale's "Cocaine" closed the set with Chris Stainton going to town on the piano. The two song encore featured "Sunshine of Your Love," the lone Cream song of the night which was as powerful as ever, and "Before You Accuse Me," with Vaughn and Clark, Jr. each taking solos and rousing the sell out crowd once again.
Be thankful that bluesmen live long lives, for we have a combined century of living legends in Eric Clapton and Jimmy Vaughn and many more years of Gary Clark, Jr. keeping the tradition of the blues alive.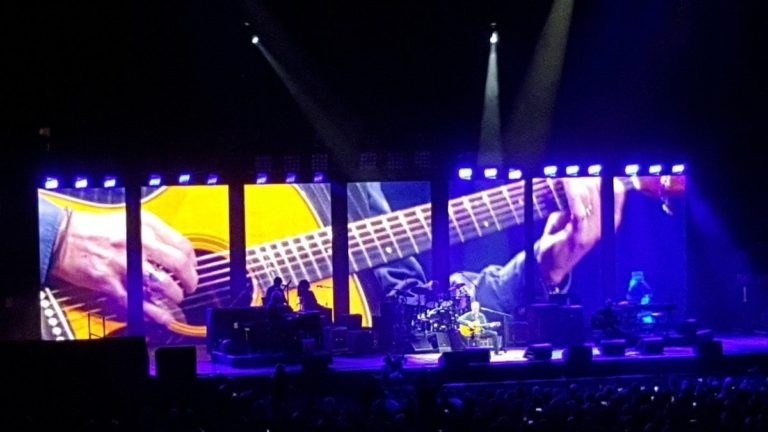 Setlist: Key to the Highway, Badge, I'm Your Hoochie Coochie Man, I Shot the Sheriff, Driftin' Blues*, Nobody Knows You When You're Down and Out*, Tears in Heaven*, Layla*, Somebody's Knocking, Wonderful Tonight, Crossroads, Little Queen of Spades, Cocaine
Encore: Sunshine of Your Love, Before You Accuse Me^
* acoustic
^with Gary Clark, Jr. and Jimmy Vaughn