It is already the second month of 2017 and it is already showing this year is the year of the thrash! With Kreator's Gods Of Violence and Sepulutura's Machine Messiah released in January, both are perfect examples why the genre will never go down without a fight. Now it is time for another thrash/speed heavyweight to show the spirit of cheap beer and denim is still alive. I am speaking of course of the mighty Overkill with their latest album, The Grinding Wheel, released via Nuclear Blast. Time to give this giant a well deserved review.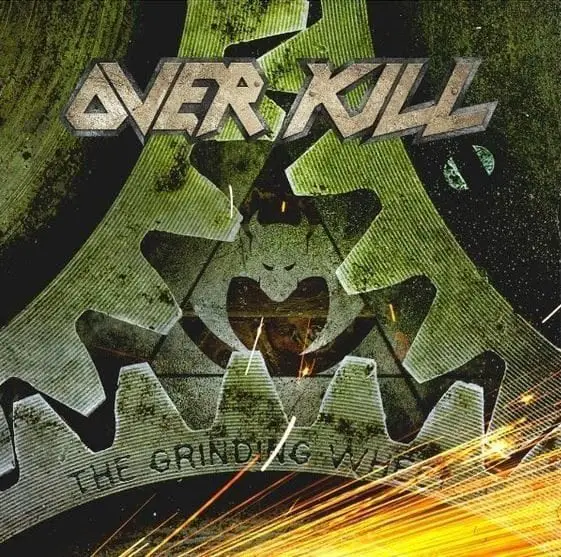 Being the eighteenth studio album from Bobby "Blitz" and the boys, it is safe to say these veterans of the genre know what makes the name Overkill so great. A great follow up from White Devil Armory (released 2014 via Nuclear Blast), this album has their brand of metal written all over it. The groove aspects of D.D Verni (bass guitar) and Derek Tailer (rhythm guitar) gives the album many memorable tracks. The most dominant tracks on the album that showcase their type of approach are the tracks "Come Heavy" and "Red White and Blue." With "Blitz" vocals, you will find yourself singing along while the general public just stares at you. Let them stare! You are a thrasher. These tracks just keep you bobbing your head more than a headbanger from "Brütal Legend". It is called heavy metal.
Another key element of this album are the 80s classic thrash riffs that makes you wanna toss your friend in the circle pit while you hold his beer. You totally got it dude! The single off the album, "Our Finest Hour," is the powerhouse staple that drives the aggression from start to finish on this shred-tastic release. The machine gun style drumming of Eddy Garcia, always keeping up the groove and the pace of the song, is like a kick in the jaw. . Every snare and cymbal hit sounds as if a storm is coming over the horizon. You might as well get a mouth guard while listening to it. It is a a non-stop ride of pure danger, but we know you love the abuse.
There are so many tracks on this work of art which which will keep you windmilling for days. It is safe to say this album will constantly be blasted by those who are thirsty for the glory days of American thrash. Prepare those neck muscles. This album gets a 4.5 out of 5 stars. Pick it up now via Nuclear Blast or at your local record store.
Key Tracks: Come On Heavy, Our Finest Hour, Red White and Blue.
Overkill is currently on a North American tour w/ Nile, Amorphis and Swallow The Sun.
Overkil. Hitting up Clifton Park at Upstate Concert Hall on September 3rd, 2017.
For all concert check the band's page. http://wreckingcrew.com/Ironbound