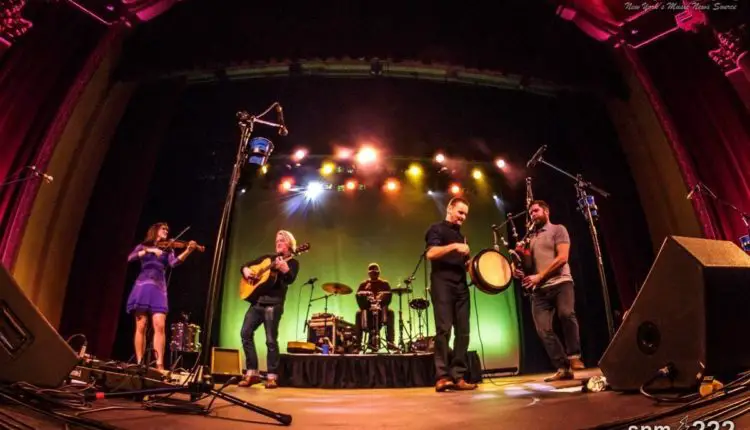 A mainstay of the Celtic touring bands, Gaelic Storm returned to the Hudson Valley in January with a delightfully entertaining night of music to wrap up one segment of touring before heading back out on the road for a number of shows in Florida.
[singlepic id=7966 w= h= float=center]
Hitting the stage with a swift start, Gaelic Storm quickly warmed the room up with "Pina Colada in a Pint Glass." The mood for the night was set early with some quick jokes from the stage about football including an affectionate jab at the Jets. Before the set was through, the band had a little dance contest fun for both the ale-tipped adults and the few kids in the crowd, to the tune of "Darcy's Donkey."
With over 3,000 shows under their belt in their 21 years, it's no surprise that the band was so natural and comfortable with being on stage. With plenty of humor and wit, singer Patrick Murphy was cracking jokes and sharing plenty of stories between songs which, most of the time, were as entertaining as the music itself.
[singlepic id=7964 w= h= float=center]
After a break, Gaelic Storm came back for a looser, rowdier second set with a set of jigs and their version of the classic "Whiskey in the Jar," getting a few more dancers in the isles. The second set also brought the entertaining far-fetched, but possibly true, story behind "The Night I Punched Russell Crowe" and audience favorite "Scallywag" to close the set.
The band returned for a two song encore starting with a cover of "Stand By Me" and their own "One More Day Above the Roses." Before the last song, Murphy took a moment to praise the Paramount – "small towns have the nicest theaters" – a remark made with regard to the many venues the band has played.
Setlist:
Set 1: Pina Colada In A Pint Glass, Jigs, Never Drink 'Em Dry, Cape Cod Girls, Rustling Goat Gang, Girls' Night In Galway, Girls of Dublin Town, Darcy's Donkey, Black And Tan
Set 2: Jigs, Whiskey in the Jar, The Night I Punched Russel Crowe, Rubber Arm, Drink the Night Away, Green Eyes/Red Hair, Scalliwag
Encore: Stand By Me, One More Day Above The Roses
[ngg_images source="galleries" container_ids="316″ display_type="photocrati-nextgen_pro_thumbnail_grid" override_thumbnail_settings="0″ thumbnail_width="150″ thumbnail_height="150″ thumbnail_crop="0″ images_per_page="0″ border_size="0″ border_color="#eeeeee" spacing="2″ number_of_columns="0″ ngg_triggers_display="never" ngg_proofing_display="0″ captions_enabled="0″ captions_display_sharing="1″ captions_display_title="1″ captions_display_description="1″ captions_animation="slideup" order_by="sortorder" order_direction="ASC" returns="included" maximum_entity_count="500″]