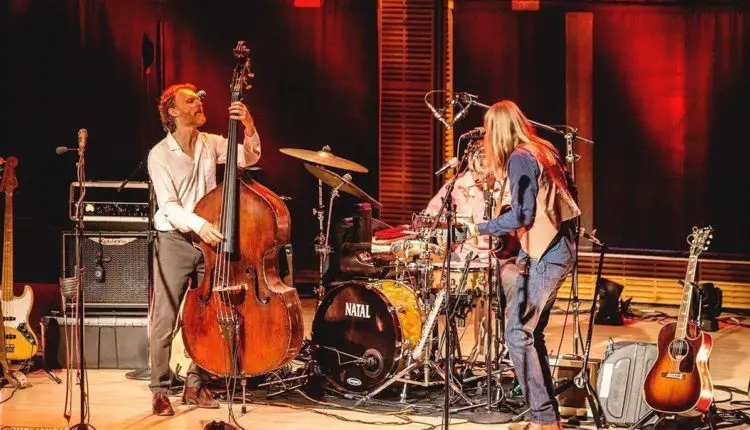 NYS Music had the chance to sit down with Oliver Wood of The Wood Brothers just days before they embarked on their 2017 Winter Tour, which is currently under way. Due to their familial connection, the Woods come from the same musical roots, but their talents grew in all different directions over the years prior to forming the soulful folk band that now has a worldwide following. Some dates on this tour are already sold out, so if the spirit of their music moves you, purchase your tickets today!
Ben Boivin: Let's start from the very beginning…The Wood Brothers connection with the state of New York.  Your first ever show was at Tonic in NYC and two of the first five shows were at Savannah's in Albany. How did the Capital District wind up as your first stomping grounds?
Oliver Wood: Well, part of it was a matter of convenience because my brother [Chris Wood] used to live in Saugerties and in the early days of The Wood Brothers we were trying to find little gigs and do things that were realistic and convenient. I was living in Atlanta at the time so I would just go up there and hang out for a few days and work on music and then get a few gigs in the area. We played gigs nearby Atlanta for the same reason. My brother would come down and that just made the most sense. Sort of how we cut out teeth and started to figure out what The Wood Brothers was all about.
BB: What do you feel is different about playing in New York State compared to other parts of the country?
OW: Every region has its own unique vibe and certainly New York State has that. The first thing that comes to mind for me is obviously New York City. That's where we got our record deal and where our management company is located and where we played our first gig. There's a sentimental connection to it. Also, we played several times at Levon's [Helm] barn, his rambles, while he was still alive. Besides Chris living in that part of the country, it certainly has some sentimental value to me as well. There is such a rich tradition there.
BB: Is there one band member that chooses the set lists or is it a group effort?
OW: We definitely tweak it as a group, but I would say Chris is the master set writer. He is the guy that masterminds it and really thinks it through. I don't know why, it is just something he started doing and was really good at. I guess he is a better decision maker than me? We certainly consult each other and as a group make a list of songs, but Chris is really good at putting them all together.
BB: Do you ever consider cutting songs based on the crowd?
OW: Oh, absolutely. If the crowd is rowdy, we add some rowdier songs. Sometimes we try to tone it down for people and they might be rowdy, but what they don't know is that they actually want to shut up for a minute and really be in the moment and that's cool too because it brings them in.  It gives them something they didn't expect.
BB: I read something you said about touring with the Zac Brown Band in front of 20,000 people and how that is a much different level than the normal tours you do as a trio. What makes that different from the theaters and bars where you primarily play?
OW: In a large venue, it is more consistent, there is this one gear. But, I like the variety of small and medium places because they are all unique and you can play them in different ways. It is very satisfying to not just do the same thing every night.