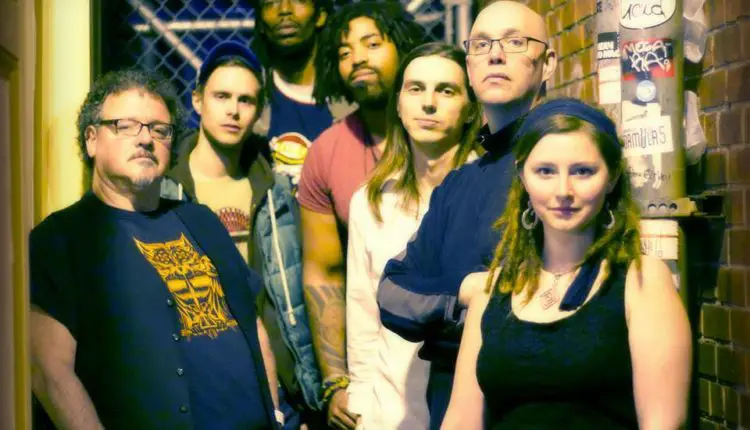 Hearing Aide: Root Shock 'Root Shock'
It's been a long time coming for Syracuse roots soul reggae group Root Shock to finally lay down some tracks in the studio to produce the record fans have been lustfully longing for. Their self titled debut is an authentic embodiment of the magnetizing performances that have continued to draw in larger crowds wherever they go. The Root Shock fam is: Jessica Brown (vocals/percussion), Bill Eppel (bass), Nick Kaczmar (keyboards/electronics) Dan Valvassori (guitar), Phil Grajko (guitar/vocals), Fafa Fain (drums/vocals) and Jason Randall (percussion/theremin).
Root Shock has also attracted a diverse fan base because their identity cannot be pigeonholed into the reggae genre. Their varied blend of soul and funk guided by the potency of Jessica Brown's weighty vocals sets them apart from the droves of white boy reggae groups offering little variation from one another.
Feeding off the hype from a radio spotlight on 105.9 The Rebel with Dave Frisina, and artist profiles in two separate Syracuse publications in the same week, Root Shock gained plenty of momentum going into their December 17 album release party at Funk 'n Waffles Downtown. Now, with the album officially out, the band is standing tall and branching out to share the fruits of countless long hours spent in the studio. Curious about the new album, I posed a few questions to shed some light on the inner workings of the thirteen-song compilation.
Ally Dean: Jason "Jocko" Randall who produced your record at More Sound Recording Studio in Syracuse is now performing percussion with Root Shock during live performances. Is he a long-term fixture? When Root Shock branches out into more extensive touring will Jocko be part of your entourage or is he more of an added spice for local 'Cuse shows?
Phil Grajko: Jocko has not only been a huge asset to the band as a producer/sound engineer, he's also become a close friend and collaborator, both on and off the stage. Having him come on board as a percussionist felt totally natural and easy. His involvement with the band is totally voluntary, and while he's definitely busy running a successful recording studio, he's expressed that he loves playing with us and will continue to make himself available as often as possible. He's already signed on to play several out-of-town gigs with us, so we certainly welcome his presence and count him as a member.
AD: To follow that up, is it ever weird having your record producer performing with you? Obviously the members of Root Shock have been playing together for several years and know how they want the band to sound but Jocko also has an incredible ear for how he thinks music should sound. Is it ever a contentious issue?
PG: I think an important point to make is that the band has managed to stay in a pretty steady state of evolution. We've had lineup changes from the beginning, and an addition or subtraction of a member is always going to affect the overall feel. Root Shock functions very democratically, so when someone voices an opinion, it's always heard and respected, often implemented. Having Jocko on board has forced a lot of us to sharpen our attentiveness to some of the finer details of the production/songwriting process. It's been great having his input, but ultimately decisions are made collectively. There have certainly been some differences of opinion, but the mutual respect we all share for one another has cultivated a really easy environment for those differences to be reconciled.
AD: The opening of both "Freedom" and "Babylon Tree" contain this echoey chorus that is stylistically reminiscent of classic Jamaican reggae group The Congos. Is it an intentional nod to them?
PG: "Freedom" and "Babylon Tree" are what I'd call the 'heavy roots' tunes on the record. Several of the members (including Jocko) have a deep appreciation for some of the 'dubbier', delay/reverb laden roots reggae sounds that came out of Jamaica in the 70's, and The Congos rank high on our list of the greats from that era. So yes, you could say we've drawn some influence from that world.
AD: Jess, your vocals throughout this album contain the same gut wrenching force you deliver in live performances but in a slightly more controlled manner. Was it difficult for you to translate what you do on stage with what makes sense for a recorded project?
Jessica Brown: Honestly it was a little challenging. As a mostly live performer who feeds off of the crowds energy and emotions, I had to really channel my own emotions into the songs. Which I do live as well, but this time with my voice under a microscope. It's a very different experience being in the studio than being on stage in front of a crowd of people. I usually don't think too much about what I do for a live performance, which is part of the beauty of the experience. There's a lot of improvisation. For the album, I definitely thought more about note choices and what words and feelings I wanted to emphasize. I really enjoyed the process, even though it was a little scary. But I'm excited to get back into the studio since I feel more confident and experienced this time around!
AD: Making a record can be an exciting and inspirational endeavor but also a laborious undertaking that tests the limits and patience of band members. Now that the album is finished, do you feel stronger as a band moving forward?
PG: It was all of those things! We feel truly blessed to have had the opportunity to create this album. We all love each other as people. We believe in each other as musicians and songwriters. We had faith in Jocko and More Sound Studio to create a truly memorable product that was also honest and representative of our real-life sound. In the months leading up to recording, we often referred to our rehearsals as 'boot camp' sessions. We trained hard and saw a lot of progress during this period. The whole process before, during and after making the album turned us into better individual musicians and a better band overall. There's no doubt that we're a stronger unit. There's a confidence and a steadiness that wasn't nearly as pronounced as it is now. And it's making its way into our newer material in a big way, so we're excited!
Review:
The songs are peppered with Brown's reflections on her life experiences playing on religious motifs, standing up for what's right, love, loss, honoring both the natural world and the gift of life itself. While some songs seek to provoke the listener to heighten their mental awareness, others serve as curative tools for self healing through deeply personal, intimate lyrics. The words are delivered through an interfusion of springy beats and heavier instrumental grooves delivering musical diversity that outcompetes a majority of existing reggae.
The album opens boldly with an onslaught of playful hand percussion, a stomping bass line and a delightfully whimsical whirl of organ in "Come Alive." This song is a call urging listeners to free their minds from captivity and to open their eyes to the reality around them. It's a danceable memorandum relevant to the turbulent political and social chaos that pervades human existence. Brown's impressive vocal range is on full display, particularly towards the end. She hits the notes with crisp clarity as she's nearly screaming the words "come alive" like there's a demon holding a knife to her throat.
"Sunlight" lightens the mood with a breezy, feelgood melody imploring the listener to look within and create the life they want for themselves with the help of a little honest soul searching. The lyrics offer an uplifting four-minute therapy session as Brown cheerfully chirps:
"If you're soul doesn't feel right inside,
break down those walls that you're hiding behind
Happiness comes with the sunlight of a brand new day"
The brisk opening bass line, uninterrupted tick of tambourine and pulsating organ on "Freedom" forms an underlying urgency before entrancing choral repetition of the word "freedom" opens the sound by creating an expansive distance. This elusive quality complements lyrics speaking to the compelling drive to discover that sense of purpose which can often evade us. "Babylon Tree" is the only song with Grajko on lead vocals and offers that dubbier old school reggae tone. Again the lyrics draw attention to a need for social consciousness:
"Can't you see your system is a vampire
Insatiable wildfire that's poisoning the air we breathe?
Here we stand on the brink of evolution
Yet your minds are on your power grabs of greed
Don't need your cursed cash to find some soil and plant some seeds
But I'll die on my feet before I live upon my knees"
"Sage" detours from the overall uptempo rhythm felt through most of the album in exchange for a more delicate, sensual blues tone. It takes its sweet time building tension with a hauntingly melancholy solo from Grajko which sets the stage for Brown to build off it with more of her jaw dropping vocal strength. "Boss Battle" follows as a quick and dirty jam, the only song with no vocals. It's rather repetitive, not terribly exciting, but makes for a good transition song during live performances.
Having lost her mother to cancer at age 20, Brown pays tribute to a lost but not forgotten role model in tender love ballad "Sweet Reunion." Anyone who has dealt with passing loved ones can easily relate to this affectionate homage. The tone is triumphant even in the face of tragic loss, a coming-to terms-reckoning that leaves the listener feeling at peace.
"Cup" is a lighthearted celebration of love with a buoyant feel, followed poignantly by "Games," a heavier song, representative of someone who has been dragged through the dirt by a relationship gone wrong. Accompanied by Syracuse trombonist Melissa Gardiner, the horn addition adds great depth to this tune.
The album culminates with an elevating, uptempo song called "Love Spirit," with lyrics giving thanks for the strength born from a life of independence. Right at the end of the album, we also get a one-verse taste of Fain's smooth and soothing, low octave vocals. We leave this thirteen-song journey having danced and cried to a range of relatable experiences. Though many will tempt to emulate Brown as they shamelessly sing along, Root Shock is not responsible for any vocal chords damaged in the process. Root Shock's self titled debut album will be available wherever music is sold, and will be released on streaming sites within the next few weeks.
Key Tracks: Come Alive, Freedom, Sage