Jam for Tots returns to the Capital Region of New York for the 10th year in a row, with a series of performances that bring the live music community together in supporting children in need this holiday season.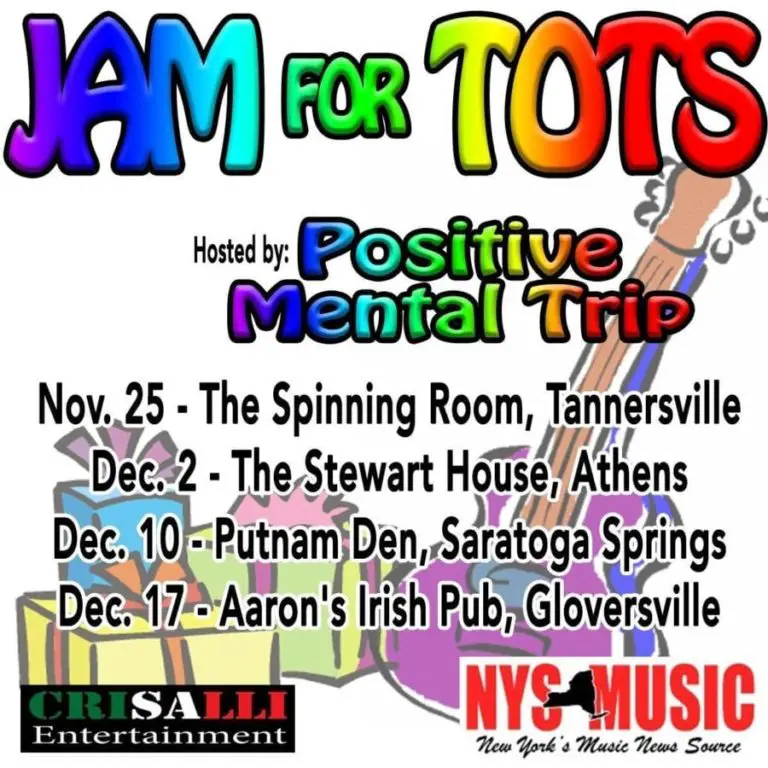 Hosted by Luke Weiler of Positive Mental Trip, the event started as a way to help make less fortunate children happy and doing so through music for a positive cause. Working with The Marines Corps, who run Toys for Tots, the events grew from one in 2007 to nine in 2013, while keeping a focus on the Northeast as an area of need.
"Our goal for 2016 is to make as many children happy on Christmas Day and make sure that every person that comes to Jam for Tots leaves happy and glad that they took the time to come," said Weiler. "We go to great lengths every year to make sure people have a blast at Jam for Tots with raffles, giveaways, great bands and all around good vibes. When a town and a good promoter get behind these events, there is really nothing that can stop them from being successful. This year all four shows are in places that love Jam for Tots and are all about it so they are all gonna rock."
The four Jam for Tots events kick off on Friday, November 25 in Tannersville at The Spinning Room. Bring a toy for a child as your cover charge for the shows.
November 25, The Spinning Room, Tannersville, NY
Bands include Positive Mental Trip (band), The Vicious Knishes, and In Good Company. Doors 8:30pm, Music goes from 9pm-1 am. Event link
December 2, The Stewart House, Athens, NY
Bands include Positive Mental Trip (band), For the Grateful and DUBB Agents. Doors 6:15pm, Music from 7-10pm. Event link
December 10, Putnam Den, Saratoga Springs, NY
Bands include Dr. Jah and the Love Prophets, Positive Mental Trip (band), The North and South Dakotas, Too Much Too Fast, and Dustin Sawyer. Doors at 7pm with live music until 2am. Event link
December 17, Aaron's Irish Pub, Gloversville, NY
Bands are Too Much Too Fast, Positive Mental Trip -Band, Our Secret Love Society, Noise Between Stations and Memory of Me. Doors at 6pm with live music from 7pm – 2am. Event link