The night was beautiful, so beautiful in fact that the only thing that could make it better was blood covered concert goers. That is what was going to happen in downtown Buffalo and Town Ballroom in the heart of the theatre district.  People were wrapped around the building waiting to get in. You know who the veterans are in regards to going to Gwar concerts; they are the ones dressed in white or any lighter color they didn't mind trashing.
Hardcore metal band Mutoid Man was first to hit the stage, and that they did with vulgar sexual references; everything from penis to boob jokes. Guitarist Steve Brodsky and bassist Nick Cageao poured huge, unrelenting riffs out of their amplifiers, while Ben Koller drove songs with his innovative style of drumming. The thing that stood out most about Mutoid Man was they were having fun playing on stage and you saw it in each of them based solely off expression.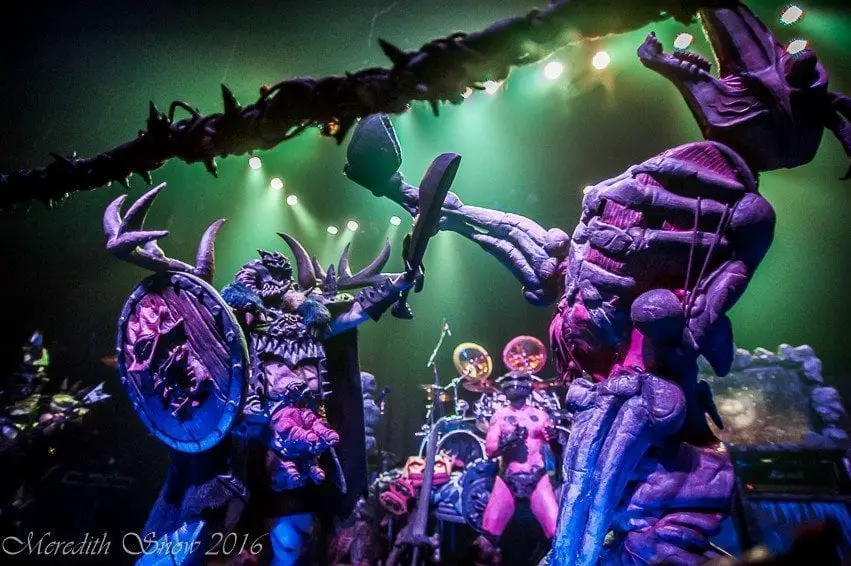 Crowbar is a sludge metal band from New Orleans known as "some dudes" and have been in the music scene for nearly 30 years now. Windstein interacted brilliantly with the crowd and kept everyone engaged in between songs as Crowbar tuned their instruments. Spitting like a cowboy who thinks he's still in the saloon, Windstein rumbles and roars into pit-starter "Conquering," and so the riffs start falling. Frontman Kirk Windstein, metal legend that he is, still sets up his own gear from scratch, tunes guitars himself, and distributes set lists to the band. This shows the humbleness he has a reputation for.
Then as the lights lowered and the elaborate stage was set up by a crew of about 10 workers, people got as close as they could to the front of the stage. This is where my previous statement about being a beautiful night for concert goers comes into play. What`s the indication of Gwar coming on stage? When the music stops you know that's when things are about to get messy.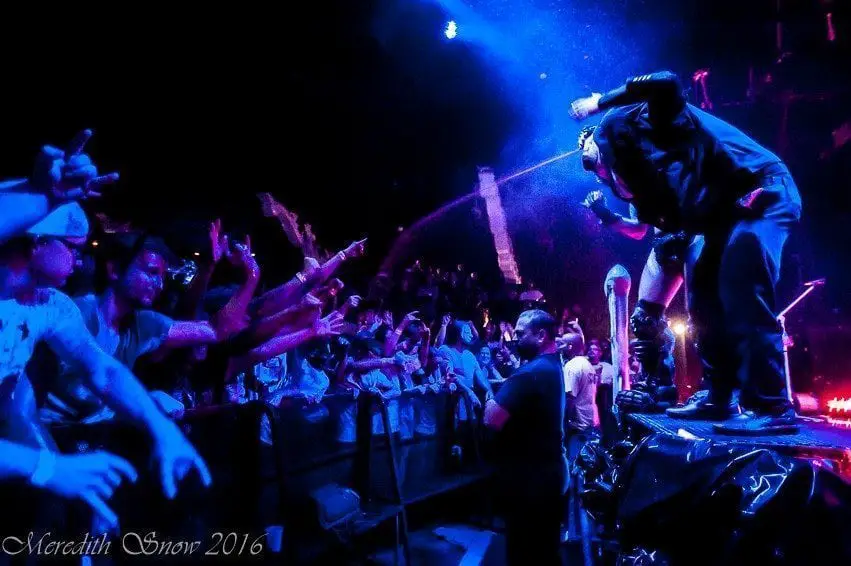 The screen they bring on stage lit up and showed an unflattering picture of Donald Trump and Hillary Clinton. First to the stage was ring announcer Sleazy P. Martini, who talked about what was going to unfold this evening – 3 separate wrestling matches and one of them would be Trump vs. Hillary. The fight between the two led to Hillary as the triumphant winner. She ripped his face off then took out his intestines and pointed his blood splattering chest towards the crowd, soaking several rows of patrons. As Hillary was celebrating her win, Blothar came up and ripped off her breasts and spewed even more blood onto the crowd ranging almost to the back of the venue in distance.
Viciously some aliens from another planet came in and fought Blother and Bone Snapper, stealing the title! Musically this group of guys are very talented in their respected instruments; Brent Purgason (Pustulus Maximus) shreds a mean guitar, and Gwar front-man Blothar has appeared on Ted Talks and is quite intelligent. The cult following they have is undeniable. Dave Brockie (Oderus Urungus) was the front man prior and that's what most people knew Gwar as, granted it will never be the same but Blothar is a great replacement.
Back to the wrestling match, the intruder aliens came back to fight the final fight and this time Bone Snapper and Blothar were victorious! They won the title and Blothar announced to the crows that he was best suited to be the president of the United States. Fans cheered like they were at a rally and with the election candidates we have now, I think our best bet for a better future is Blothar for president!