Cooperstown, NY, is setting up to be a hot spot this summer for concert-goers as Brewery Ommegang and Dan Smalls Presents will host their short but sweet annual Summer Concert Series.  The concert season kicked off in May with Lake Street Dive and Sharon Jones and the Dap Kings. The next show coming up on July 8, is Colorado-based folk-jam band the String Cheese Incident and Vermont's Twiddle.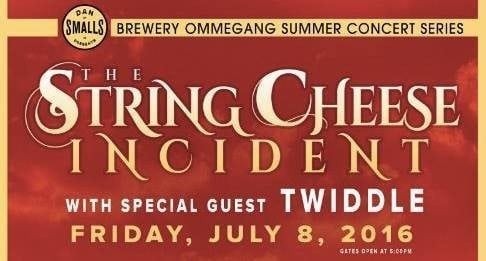 Known for their diverse catalog of bluegrass-rock music with energized jams, the String Cheese Incident thrive on live performances and the fans that push them to rock harder every night. Kings of the festival scene, SCI have been touring for more than 20 years with countless studio and live recordings available as well as DVD's of recent shows courtesy of Tour Gigs. In May 2015, while building their new studio in Colorado, the group chiseled a week out of their schedules to rent a house in Arizona and construct some new material, while bonding like a good band should. Appearing on their website is a free download of a few songs from that recording, titled  SCI Sound Lab Volume 1.
Twiddle, the four-piece groove machine that many people are warming up to, recently just sold-out the stunning Capitol Theater in Port Chester, NY, and are in full work mode with an intriguing list of tour dates this summer, including appearances at North Coast Music Festival, the Peach Fest and Lockn' Music Festival.
While on the road at this very moment, you can catch the String Cheese Incident at some of the major festivals and venues across the states which include Red Rocks, The Peach Fest and Big Sky Brewing Company before returning to New York to pump up the Kings Theatre in Brooklyn.