Life on the road, the sights in the rearview mirror and the hard lessons learned along the way, Devon Allman and his latest album Ragged and Dirty is the perfect soundtrack to crank on the speakers over a nice long summer road trip, perhaps one marked with a few stops at some biker bars and dives.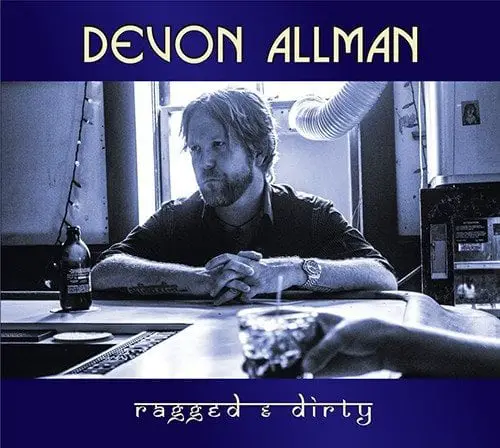 Raised in Texas by his mother, Shelley, he did not meet his famous father, Gregg Allman, until he was 16 years old. Now 43, he's been touring nationally and has released eight albums with bands including Honeytribe and Royal Southern Band.
Ragged and Dirty, Allman's third solo work, debuted at No. 4 on the Billboard Blues Charts upon its release on Ruf Records last October. It's produced by Grammy winner Tom Hambridge, who also co-wrote three songs on the album. Allman shakes the dust off his father's signature style of guitar-driven blues and rock and infuses it with his own modern, hard-hitting licks and powerful lyrics in this latest incarnation.
You can almost feel the grit in your teeth throughout this professional, polished album, which runs the gamut of styles from country roots in track one, "Half the Truth," to blues and rock n' roll with a slight edge of funkiness in the album's title track 11, "Ragged and Dirty." Get lost in the soulful, sultry steam guitar-laden sixth track, "Midnight Lake Michigan," and then find yourself in the honky-tonk stylings of track 10, "Times Have Changed."
A highlight for me was track number three, "Leavin'," which reminds me of a mix of Joe Cocker and the Allman Brothers Band in a song about running away from the same old problems and falling into old routines. A solid rock n' roll journey with heartfelt lyrics, it's a great song for a road trip without a destination.
The seventh tune, "Ten Million Slaves," a song about the journey and trials faced by millions of slaves as they were ripped from their homeland and brought to America to be sold, came as a timely surprise as the original A&E mini-series "Roots" recently aired on television.
Track 10, "Times Have Changed," is a good reminder to stay relevant and not get caught up in looking back on the past and making up your mind to change things. As the lyrics note, "I'd do anything you say, and now there ain't no way/ That was yesterday, and times have changed/You've got to pick and choose, and I was bound to lose, but I've got some news for you, times have changed."
Track 12, "Leave the City," is the perfect way to wrap up this album, with Allman's soothingly familiar voice gently commingled with sounds of a resonator guitar seeping through to wash you clean, as you leave the dirty city for land of riversides and mountain tops.
It's clear this an album inspired by life on the road. To steal a line from the fifth song, "a road runner baby, Citadel platinum frequent flier," Allman brings his tour to New York with a June 15 show at Iron Works in Buffalo, at the Wescott Theater in Syracuse on June 16 and Albany's Empire State Plaza on June 29. Catch him before he travels on.
Key Tracks: Times Have Changed, Midnight Lake Michigan, Leave the City