Summer Camp Music Festival has developed into a time-suspended Bonnaroo, c. 2002-2005. Big names and small alike are found at the annual festival in Chillicothe, IL, and while the size of the festival grounds have grown only as needed to accommodate growth, attendance reached a reported 30,000 in 2016, the festival's largest year. But Summer Camp seems to know when to stop, unlike Bonnaroo; the number of stages has been mostly consistent for a number of years, and the propensity to add-on the big names is reserved for acts that fans may only get one chance to see this year, like Jason Isbell or Mudcrutch, and not reverting to bringing in an LCD Soundsystem or 2015 Outkast when they can be found at many festivals.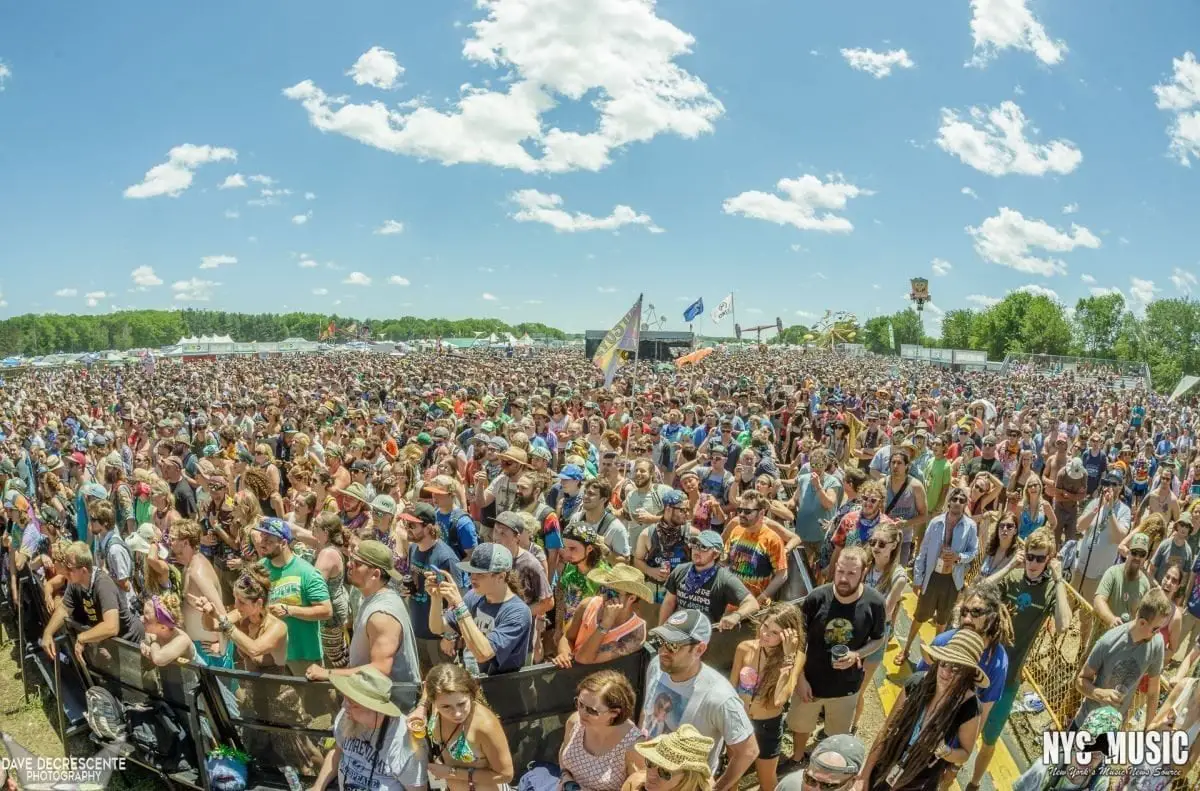 What makes Summer Camp standout is that it sticks to a lineup that works; start with moe., Umphrey's McGee, a handful of Chicago and Midwest bands, the best funk and jam bands touring today, some new names, some DJs and a couple of random acts (Big Grizmatic, George Clinton and P-Funk) and you have a functional recipe that doesn't need to be reevaluated each year to bolster the bottom line or appeal to a newer fanbase. Summer Camp remains an annual tradition for thousands, and the familiar yet diverse lineup with must-see acts from around the country is the origin of this tradition. Collaboration and a constant flowing party with the Midwest's finest soundtrack is the focus of the weekend at Summer Camp, with a little rain mixed in for good measure.
Now when it comes to attending a large festival, or really any festival for that matter, it becomes impossible to see everything, and sacrifices need to be made. If you'll see Turkuaz in two weeks, do you skip them and go see Future Rock, a band you might not see outside the Midwest? Or pass up a little Sunday night moe. for March Fourth? (Answers may vary.) That being said, when your RV blows a tire on the way out to Summer Camp, you can cross a few artists off your Thursday list and pray the tire repair gods smile kindly upon you. And with that, we begin at Summer Camp, in the Vibe Tent on Thursday night, with Wyllys.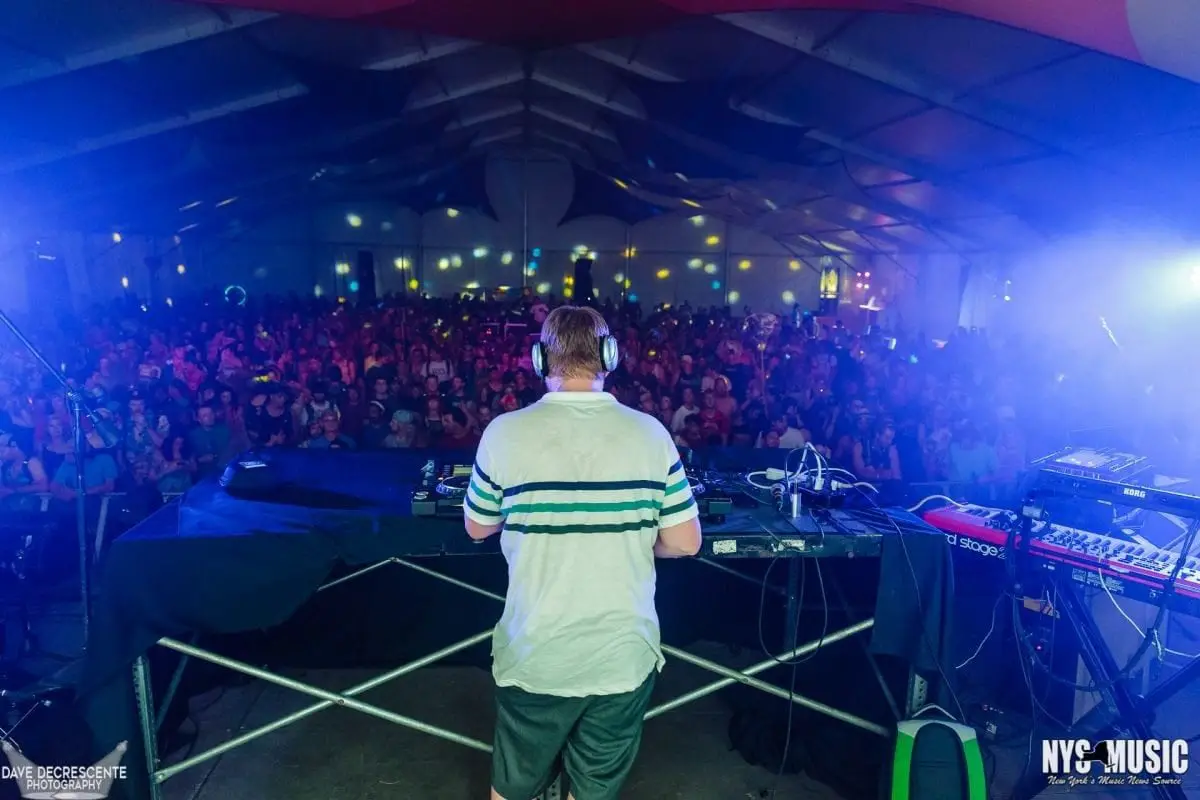 Creating a bookend for NYS Music's Summer Camp as he performed late night in the VIP tent until dawn on Sunday, Wyllys threw down a powerhouse set in the Vibe Tent, dropping nu disco on the unsuspecting crowd, followed by Break Science, who was joined the next evening by the Shady Horns on the Starshine Stage. After getting warmed up in the Vibe Tent, we headed to the Camping Stage and happened upon The Waydown Wanderers who come across as the next Railroad Earth and more than a string band with ardent fans packing the hill. Sun Stereo was a pleasant and energetic surprise, filling in for the delayed London Souls, while in the Red Barn, all guests were welcomed to join the Werks, Louis the Saint and Lettuce for the Thursday night pre-party.
Friday morning got hoppin' with a dose of the Nth Power's high-intensity soul, which transferred over nicely to Sister Sparrow and the Dirty Birds who woke the crowd on the Sunshine Stage with a healthy serving of funk and a cover of Paul Simon's "Diamonds on the Soles of her Shoes." Down at the Moonshine Stage, moe. dropped their first set of the weekend, featuring a monster "Haze," and later played an acoustic "Not Coming Down" > "Wormwood" > "Okayalright" for the VIP crowd that evening.
At the Camping Stage, Aqueous tore into their second set of the weekend with "Origami" and "Kitty Chaser," with Rob Houk behind the kit, a potentially great fit for a band that has been searching for a permanent drummer for the past six months. On Thursday night, Rob handed off the sticks to Vinnie Amico from moe., who sat in for Black Sabbath's "War Pigs." Jimkata followed with a lively set, highlighted by "In the Moment," an indie-pop number that didn't stray far from improvisational roots and showed the trio in great form.
On the Moonshine Stage, Greensky Bluegrass invited Al from moe. to join them for the Wood Brothers' "Luckiest Man," followed by bringing Keller Williams up for "For Sure, Uh Huh" and covering the Band's version of Bruce Springsteen's "Atlantic City" for good measure. Back up at Sunshine Stage, Umphrey's rained down on the crowd with a ridiculous "Plunger" > "Wife Soup," hit fans with a one-two punch of "Syncopated Strangers" and "Divisions" to close their first set of the weekend. A monster second set began with the recent arrival "Stinko's Ascension" and "Ocean Billy," which seemingly turned the spigot in the sky off for the rest of the night. A "2×2" sandwich with "Speak Up" and "In the Kitchen" > "Hurt Bird Bath."
Between moe. and Umphrey's sets, Future Rock's livetronica hit the Starshine Stage, a Second City complement that kept the energy rolling from the two fire sets of Umphrey's. Over at the Campfire Stage was one of the largest crowds of the weekend, where a few thousand filled in for Pigeons Playing Ping Pong. For non-stop late night funk, this four piece from Baltimore was the perfect pre-Sunrise Kickball music you could ask for. Performing songs off their 2015 album Psychology, as well as covers of the "Cantina Jam" from Star Wars and "Psycho Killer," and a second time ever played "We Put the Fun in Funk," made for one of the most enjoyable and exhausting sets of the weekend.
After getting some post-Sunrise Kickball rest, Saturday began with Field Day activities. From 3 to 6 p.m., the music from Starshine Stage and Vibe Tent were the soundtrack to the games this year, and what a soundtrack it was. Unlike Pluto got things started during Dodgeball and Tug of War, treating us to trap and progressive house beats, perfect to warm things up on the field. Michael Menert and the Pretty Fantastics were pretty damn incredible, bringing a dose of soul to electronic music honed under Pretty Lights Music, aiding in an epic Capture the Flag that ended with the Yellow Team winning the event. When it was time for the Twister competition, Gibbz provided the perfect beats for the extended yoga session on a makeshift Twister board. Given that this Brooklyn DJ burst onto the scene only recently, having him as the beats to the last hour of Field Day was perfection in scheduling. (Oh, and the Red Team won Field Day, in case anyone was keeping score.)
Dopapod served as outro music as the weary legs of sweaty Scampers departed Field Day for some rest before another raging night of Umphrey's and moe. A brief storm featuring a double rainbow cooled the festival down a bit before Umphrey's, the timing of which is always welcome to keep dust down and chill the grounds slightly after a long hot day. Umphrey's two sets were a hard rock lovers dream, with "Miss Tinkle's Overture," "Puppet String," "Wizard Burial Ground," "1348," and "Nothing Too Fancy." The encore of Mark Ronson's "Daffodils" was perfectly executed before segueing back into "All in Time," capping off an old-school set, perfect if you were celebrating your 200th Umphrey's show that evening.
Heading back down to the Moonshine Stage, moe. gave a nod to two of the major music losses of 2016, David Bowie, with a cover of "Fame," and Prince, with "Purple Rain." The string of covered continued in the second set with Kyle Hollingsworth joining for "Shine on You Crazy Diamond," "Opium" and "Making Flippy Floppy," the former and latter being usual Umphrey's covers. "George," "Wind it Up" and "Lazarus" closed out the set and fans moved onto campsites or late-night stages. Strolling back to the late-night music, Turbo Suit with Ryan Stasik performed a funked-out rendition of Nirvana's Nevermind, and festival dark horse Sunsquabi threw down at the Camping Stage with serious drive behind his electro-funk.
Relaxing with a keg of Goose Island Green Line and the Field Day crew started the day off just right, with Tom Hamilton's American Babies playing on Starshine Stage. Heading over for Umphrey's day set, the "early" risers (1 p.m.) were treated to a "Cemetery Walk" > "Bad Friday" and some acoustic tunes as well, including "Gone for Good," "No Diablo" and the Pixies' "Where is My Mind?"before wrapping up the day with "Sociable Jimmy" > "JaJunk."
Catching Twiddle in the Midwest made me curious if the Vermont group had the same response they did in the Northeast, and indeed they did. The largest audience of the weekend at Starshine was a captive one for a five-song set, including an energetic opener in "Apples" and an emotional "Hattie's Jam" > "When it Rains it Poors," featuring Chris Houser from the Werks on guitar.
Following Twiddle's set, the Werks invited up Ryan and Mihali to join them on a shredtastic "G Funk" and closed their set with a cover of Edgar Winter's "Frankenstein." Heading over quickly to the Red Barn for Make a Difference's Everyone Orchestra set, guest bandleader Derek Chamberlain led a group including Al Schnier, Marc Brownstein, Jeremy Salken, Kyle Hollingsworth, Jennifer Hartswick, Tom Hamilton, Mimi Naja, Daniel Lamb, Nicholas Gerlach and Chris Gelbuda through his own funky creation, while Matt Butler handled conducting duties for an hour's worth of on-the-spot all-star compositions.
Rushing back over to the Starshine Stage for Here Come the Mummies was worth it—this is one of the best festival acts, period. Award-winning studio musicians from Nashville, who are under contract and thus, cannot perform under their own names, keep their identity under-wraps by performing as mummies. But all the while, they put on the funkiest of shows, one honed in Nashville studios and elsewhere around the country, performing suggestive songs that will keep you smiling, while your feet and hips do the rest.
Tom Petty and Mike Campbell's pre-Heartbreakers group Mudcrutch got their highly anticipated set off to a rousing start with the classic "Shady Grove," selections from their first album, "Orphan on the Storm," "Scare Easy," "Crystal River," and the Byrds' "Lords of the Bayou." The set had a handful of tracks off their latest release 2 that fit neatly into the middle of the set, including the outlaw cowboy tune and Benmont Trench penned "Welcome to Hell," "Dreams of Flying," "Beautiful World" and "Hope." For those who don't get to see Tom Petty and the Heartbreakers sell out sheds when they do tour, seeing Mudcrutch allows you to catch a slightly different Petty/Campbell outfit that is a resounding late-career success.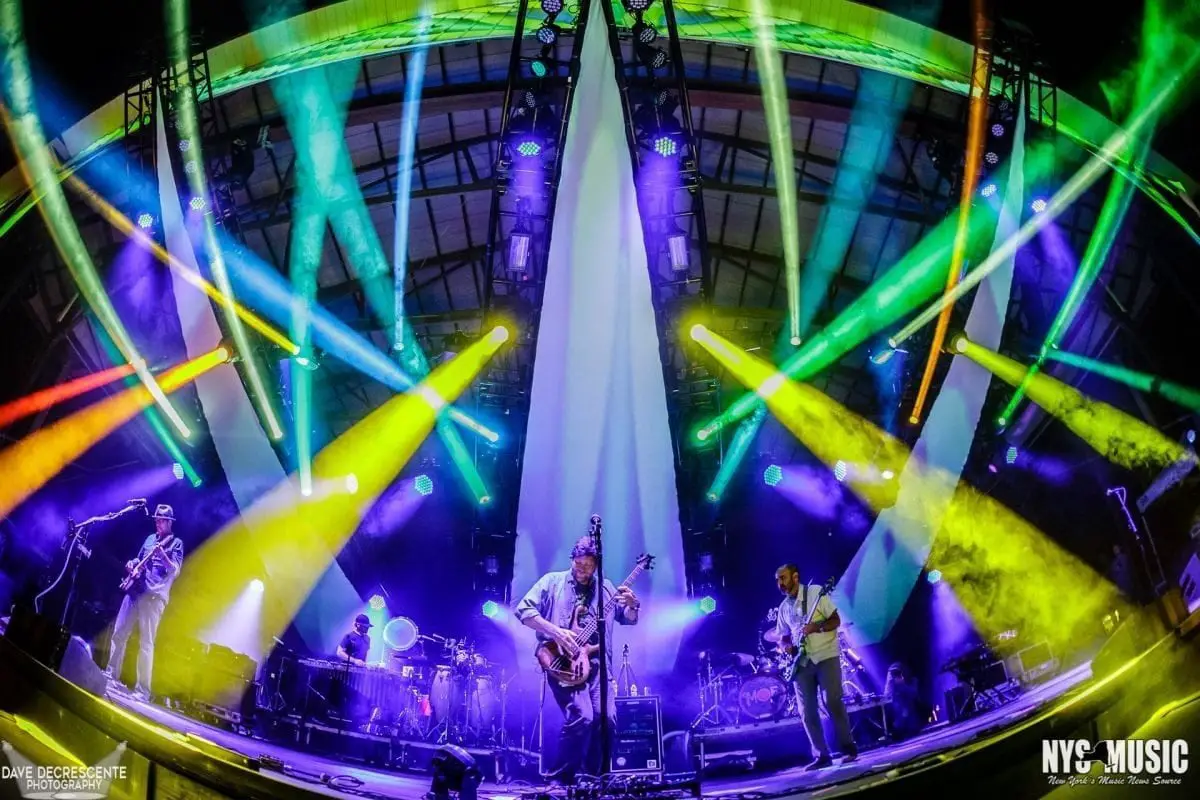 moe. finished the Moonshine Stage off with "Baba O'Reilly," where they were joined by Yonder Mountain's Allie Kral on fiddle, following up with "Spine of a Dog" > "Buster," "Jazz Wank" > "Rebubula" with the benefit of quadrophonic sound emitted from speakers across the bowl. As an added tongue-in-cheek bonus, the Who's Quadrophenia served as set-break music.
Set two began with a bittersweet moment for Summer Camp; Mike Armintrout bid farewell to the festival he had a hand in booking and marketing for 16 years, bringing a large number of Summer Camp staff to the stage as Al Schnier and festival promoter Ian Goldberg gave credit where credit was due to Armintrout, before an emotional on-stage audience.
moe. dropped a five-song set for the last notes of the Moonshine Stage, starting with a 30-minute "Recreational Chemistry" followed by "Kids," and between both Rob was on top of his game on bass, a highlight of moe.'s sets this weekend for sure. A Floyd-ish "Silversun" and rockin' "Timmy Tucker" all brought out Rob's bass, something that Big Grizmatic's crowd missed out on. An encore of Cream's "White Room" featured a Rob on near-perfect vocals and a disco ball lighting up the entire crowd—the perfect ending to the weekend of the host band. Props to the guy behind me shouting out "Chicken rigis," "Utica Club" and "Saranac" during lulls between songs, for a delicious reminder of home while the hometown band closed out their Midwest festival.
One last stop of the night was to catch Crosseyed and Phishless, a unique idea for a Phish cover band in that they only cover Phish covers and jam them out quite well. The five-piece group notably includes the sounds of a Languedoc guitar and Modulus bass, making the performance uncanny to what you might find at Wrigley Field in a few weeks. Covers of "Sneakin Sally Through the Alley," "Roses are Free," "Drowned" and even "When the Circus Comes to Town" were crowd pleasers, hinting at Phish but never fully crossing the line into being a Phish cover band.
As the RVs rolled out Monday morning and Scampers cleaned up their campsites to head home across the country, another year of Summer Camp was in the books. There are few festivals like Summer Camp, and many that can take a page from the successful chapter Jay Goldberg Presents writes each year.
photos by Dave Decrescente